As with most things in our modern lives, home energy is getting smarter. As fuel costs continue to rise, we're all keen to keep our bills down and ensure that we have more control over the heating of our homes. Fortunately, recent advances in modern technology have allowed us to embrace that desire with ease.
We've long been trying to be smart about heating our homes: adding reflective materials to the back of radiators, only heating up rooms we're using, excluding draughts and so on. Now, though, modern technology can help us be smarter about our energy use without us having to lift a finger.
Introducing the Nest thermostat
The art of blending the desire for modern, technologically advanced gadgets and saving money is no more prevalent than in the Nest learning thermostat. Not only is it a rather cool wireless programmer and thermostat, but it can also help lower your energy bills by up to 20%.
It does this by learning your schedule —when you're home and when you're out —and automatically to ensure areas of your home are only heated when you need them to be. You can control it from your smartphone or tablet, too —ideal for those times when you're heading back home early.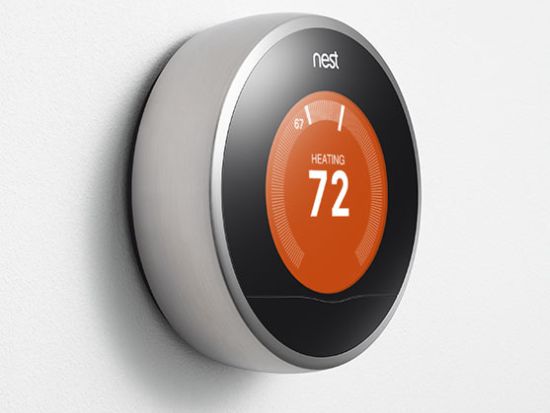 Installation of the Nest learning thermostat
Your new Nest thermostat comes with standard installation from Calor, and costs just £249 including VAT. You'll also get a two-year product warranty, so you can have complete faith in your new smart energy saving device. All you need to provide is clear access to your boiler and a working wi-fi connection so we can get your thermostat set up.
Getting the most out of the thermostat is easy: you just need a smartphone, tablet or computer and a working internet connection. The rest is handled by us, and by the Nest learning thermostat itself. Within days, your Nest thermostat will have begun to learn your routine and will be intelligently heating your home.
Book your installation today
Installation of your new technology really couldn't be simpler, and your qualified Calor installer will take care of all the hard work for you so you don't need to worry about a thing. To kick-start the installation of your Nest learning thermostat, call the Calor team on 0808 250 1965 or enquire online through our website.
Article Submitted By Community Writer