With interior designing getting on hot burner these days, innovation is the new word people are looking for when buying houses. Shipping containers are on the buzz with stylish interior modifications, cheap costs and easy to move advantages. These cheap but tough containers are serving as new building blocks for housing and are being preferred by people around the world. Some of such amazing creations are as follows: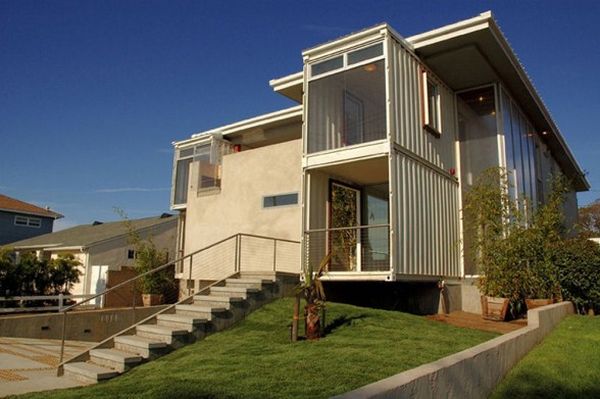 Redondo Beach House, California
Built in 2006 by DeMaria Design and Logical Homes, eight recycled shipping containers combined with traditional building material have been used for the construction of this house. It has turned out to be very strong and resistant to all kind of rusting or termites and fire proof as well. In addition, the construction involved actual work done on different parts in a workshop offsite and then assembled on site leading to efficient utilization of resources. The containers used are of different sizes with even a pool built inside one.
All Terrain Cabin
Built by Canada's Bark Design Collective, this compact home can be folded up to a normal looking shipping container providing advantage of easy shipping via any mean. When reached onsite, it unleashes into a 480 square feet of living space suitable for a four person family provided with decent comforts. Interior beauty of wood and glass, this structure consists of self-sustaining energy like solar cells, rainwater harvesting, composting washroom etc.
Keetwonen Complex
Standing tall in Amsterdam, these container houses are home to around 1000 students. With every dorm consisting of balcony, kitchen and study rooms, these are an excellent option for students. Central heating and cooling are provided additionally. Designed by Tempo Housing, this structure has been internationally acclaimed for its amazing facilities, which also include rainwater harvesting and in house bike parking.
Container City
Built in London Docklands by Developers Urban Space Management, this structure stands up to four storeys. Different component have been sized out of container pieces to fit exact need of combination of living space and work environment. It houses many offices cum apartments, a restaurant and a performance space as well. The success was so much overwhelming that another Container City 2 was built right next to the first one.
Mobile Dwelling Unit
This LO-TEK, New York creation is based on single container use only. It uses movable parts fixed on sides of the container (parts are made up of container sheets on outside) which can be extended out when in use and serve different purposes like cupboards, shelves, bed, kitchen etc. When the container needs to be moved, these all pack in to serve like a regular container and ready to move with no damages.