With an effort from all quarters of the society. Finally, we are in a time where being eco-friendly is almost mainstream. Unsurprisingly, technology is also keeping up with this trend. Eco-friendly gadgets keep on making highlights in all the tech-fests from all around the world. Even on platforms like Kickstarter, we see that people particularly like funding the projects that help the environment. This shows how most of us care about the environment. However, most of us tend to forget this commitment in our day to day life. Nevertheless, by opting to go green at least when it comes buying gifts by going for eco-friendly gadget birthday gift ideas. Let us see what they are.
Read More: 7 – Gadgets that work on kinetic energy
14 – Eco-friendly gadget birthday gift ideas
Choosing eco-friendly gadget birthday gift for friends is tough enough, but especially for geeky friends who love all things techie. And on top of that, if it's an ecofriendly geek, you have your work cut out for you! However, we have found some nice, green and geeky products, which your friend would definitely love. Check out some truly interesting ecofriendly nerdy stuff you can gift your geek friend:
1. Solar speakers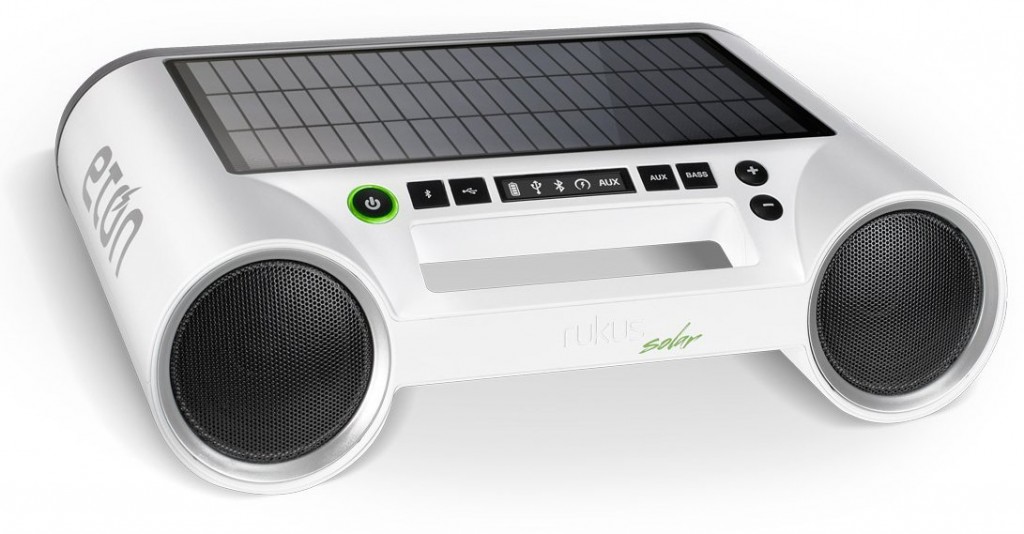 Solar speakers will run continuously, as long as the sun shines and your friend can enjoy listening to music without worrying about the speakers being low on charge. The fact that they are water resistant makes them even more attractive.
2. Alarm clock that runs on water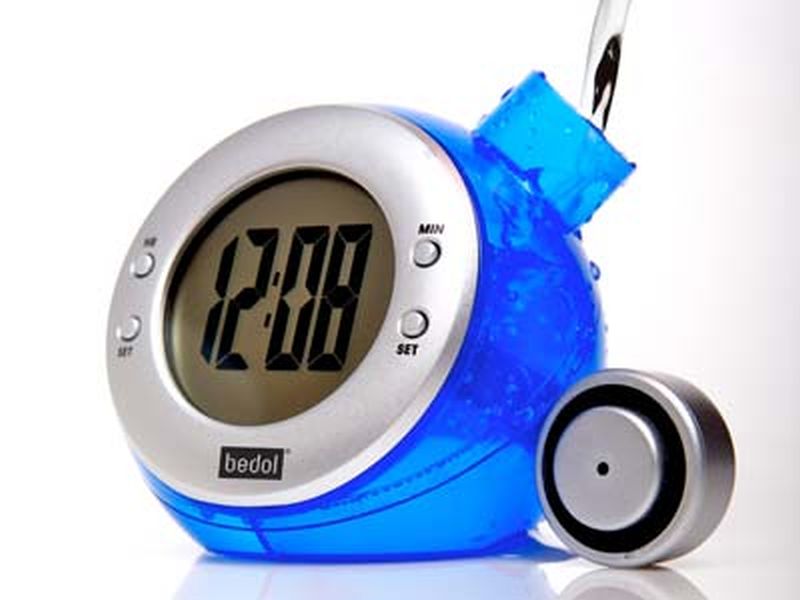 As there's hardly anyone who doesn't need an alarm clock to push them out of bed, an alarm clock is a gift which is always appreciated. And this one is especially suited for green geeks, as it runs on water. Yep, no pollution causing batteries are required, as it uses only water which has to be changed every few months.
3. Solar pest and insect repellent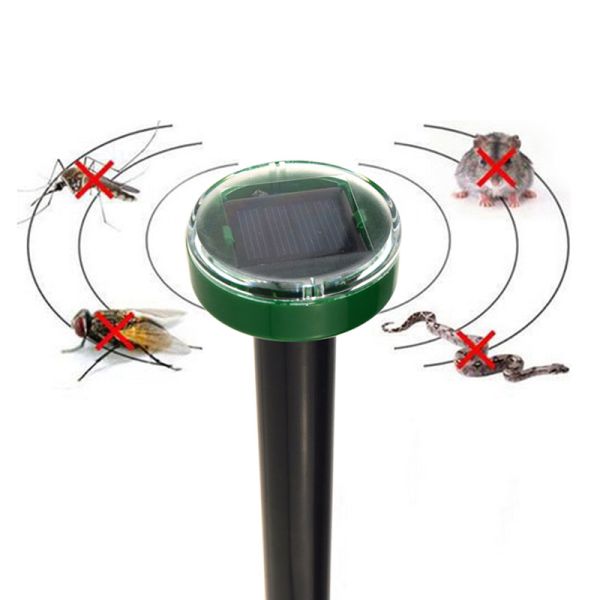 Instead of using chemicals to keep pest and chemicals from harming plants, you can give this solar power-controlled repellent to your green-fingered plant loving friend. This ecofriendly gadget can help to keep pests away from adored plants, both indoor and outdoor.
4. Solar wifi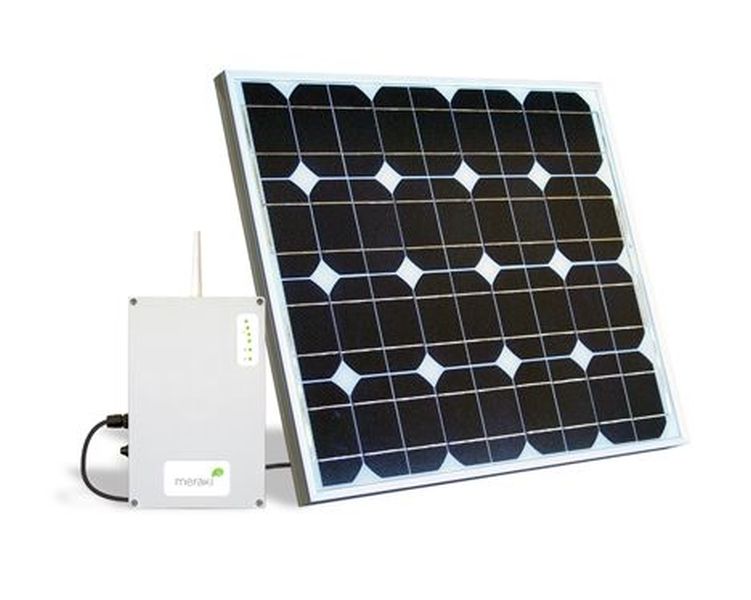 Don't you just hate it when your wifi connection behaves erratically? Your friend would love this solar wifi which promises to provide uninterrupted internet, especially when there is no electricity or when your friend goes camping, far from the grid.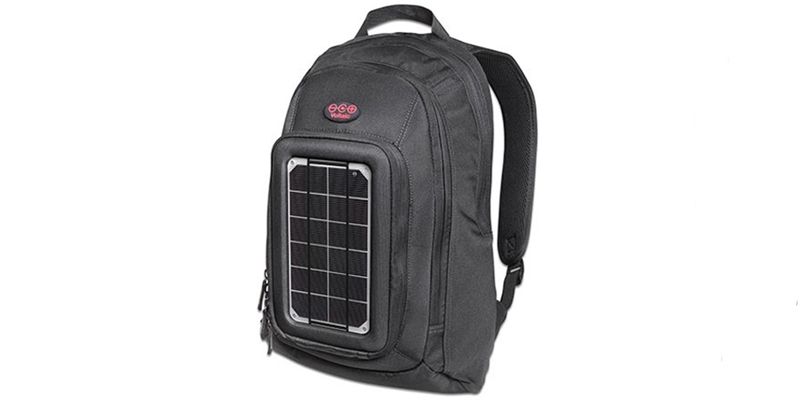 A perfect gift for an adventure lover, who loves spending time outdoors. This backpack soaks up the sun while hiking and trekking, and charges all gadgets, for example, tablets, laptops etc. And of course, it can store all gadgets and clothes and other necessities as well.
6. Recycled phone cases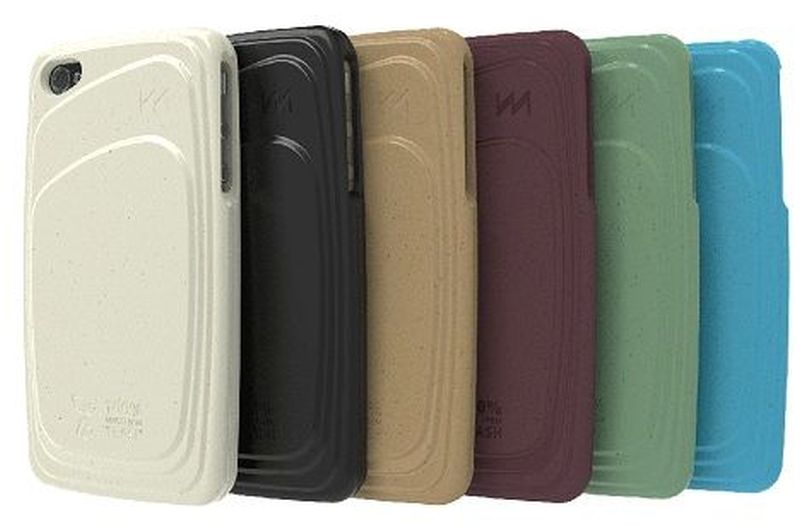 This 'Pela' case is made from a biodegradable and recycled material, called 'Flaxtic'. It is strong and sturdy and will biodegrade once you dispose it off. In addition, it can even be composted along with other household compostables. However, on the down side, it is only for iPhone right now.
A recycled case which can be used by both iPhone and Android users, is the one made by Carved. It is made from recycled skateboards, and looks great too.
7. Hue Motion Sensing lights from Philips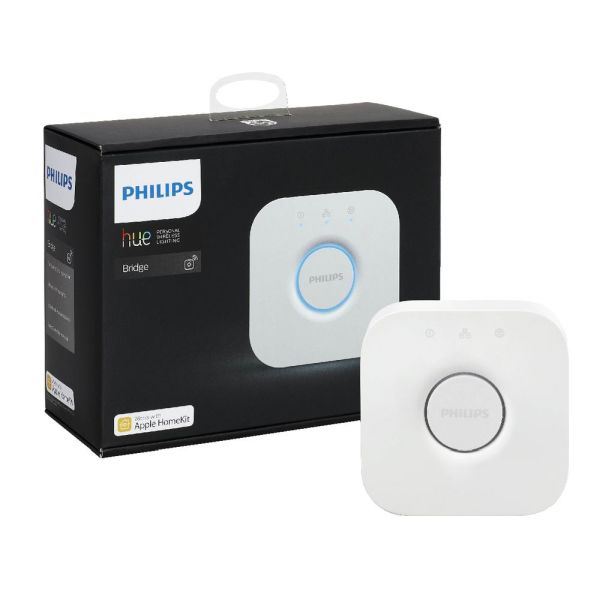 We know geniuses are absent minded, and to help your forgetful geek friend conserve electricity and keep his/her bills down, you can gift this cool light system from Philips. With the help of wifi, your friend can control the color of the lights, and the motion sensors which detect whether a person is in the room or not, turns off the lights when it doesn't detect any motion.
8. ReLeaf Antenna from Mohu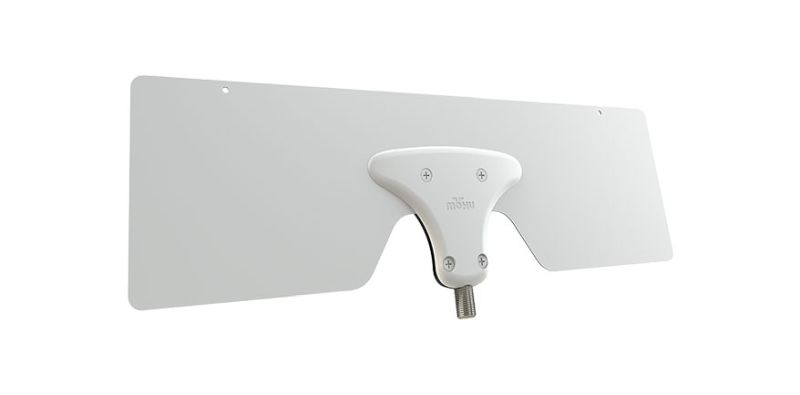 This cool antenna is actually made from cable boxes which were crushed. The packaging box can be used as a stand if your friend does not want to mount it on his wall. The antenna also contains 30% recycled cardboard, which makes it a really good ecofriendly gift.
9. Insight adapter from WeMO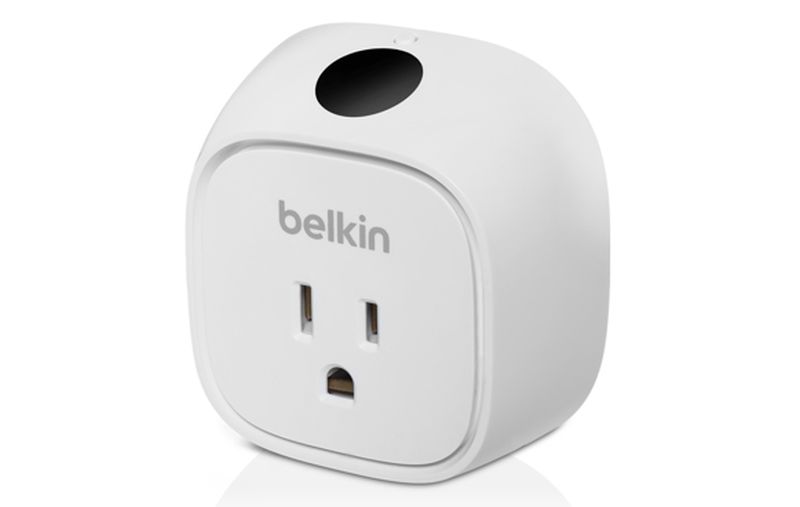 After any device is plugged into this adapter, it can be controlled through the smartphone. Though, the best thing about it is that it can track the electricity consumption of any device that is plugged in it. Your friend can find out whether there is any device which is consuming a lot of electricity and replace it with an energy efficient one. 
10. Solar Lighted Umbrella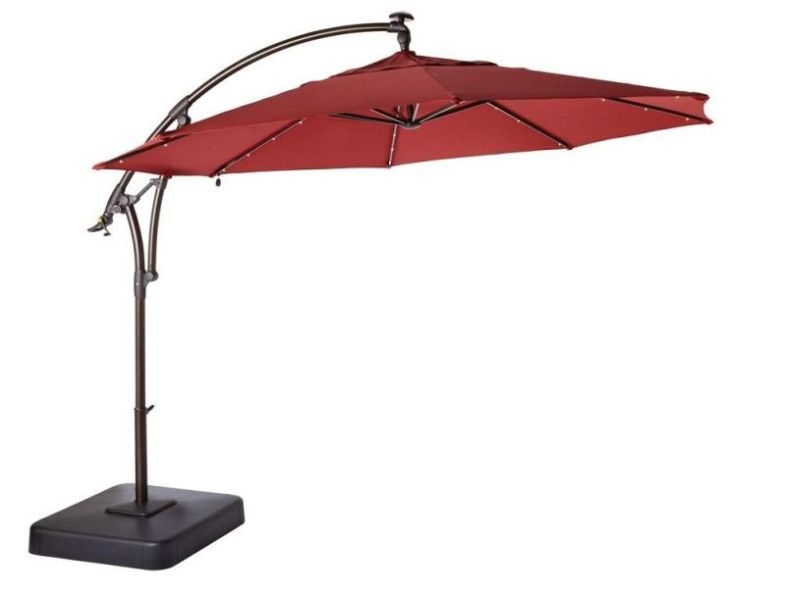 Instead of using lighting solutions that consume huge amount of energy and emit high amount of heat, using solar lighted Umbrella can provide an eco-friendly solution. As the name suggests, the umbrella uses solar energy to provide lighting solution. Priced at $150, it uses LED technology to emit light. Also equipped is the battery backup for six hours.
11. G-Shock Military inspired Solar Watches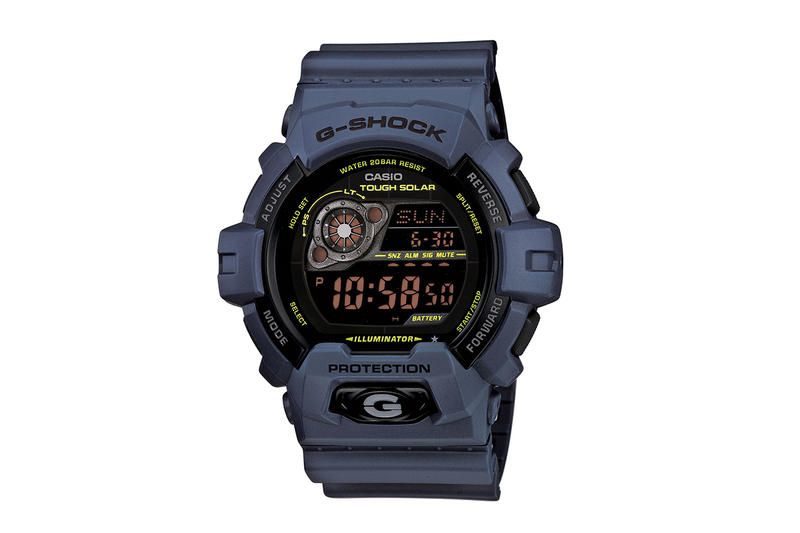 G-Shock has come up with many eco-friendly versions of watches in the past. These military style based watches are stylish and slick. The salient feature of this watch design is that it recharges via solar energy. Thus, the normal problem associated with the wearing down of the battery isn't present in this design. These watches have been made to be resistant to shocks and water as well. Available in three different designs, the price is fixed at $120.
12. Logitech K750 and K760 Light Powered Solar Keyboard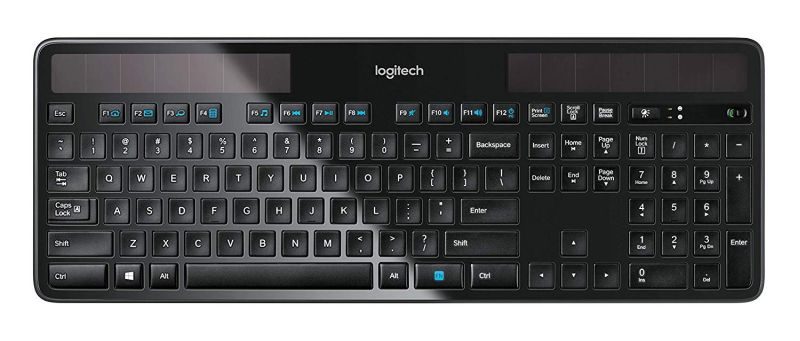 Logitech has long dominated the field of keyboard and mouse making industry. K750 model is designed for Windows operating systems while the K760 has been manufactured for the Mac and Apple operating systems. The key feature is that the keyboard charges itself from solar energy, monitor light or the energy from any other light source. Keyboard surface is made out PVC material, which is again entirely recycled.  Logitech Solar Powered keyboard is priced at $58.
13. iBamboo Speaker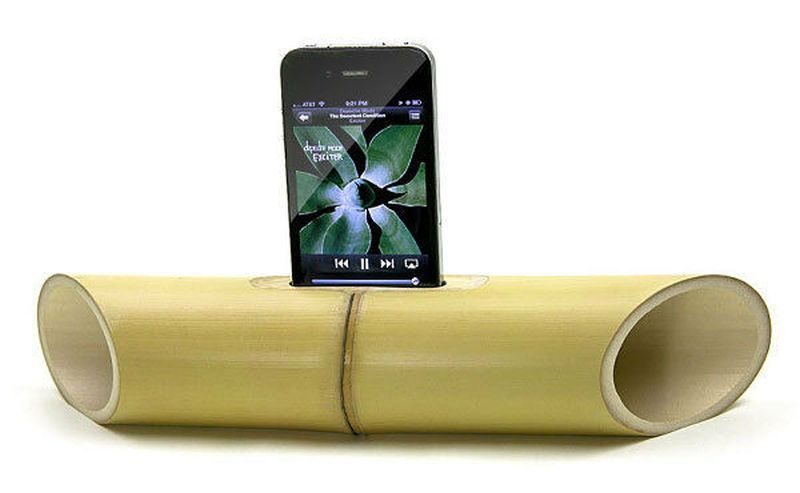 iBamboo speaker utilizes the amplification capacity of a Bamboo to provide crystal clear sound quality. With this sound system, your iPhone can be connected in the middle as the bamboo system is slit in the middle to make space. Bamboo is durable and easily biodegradable. There is no need of any kind of charging or any other kind of electricity. Price of this device is $29.
14. LG Viper 4G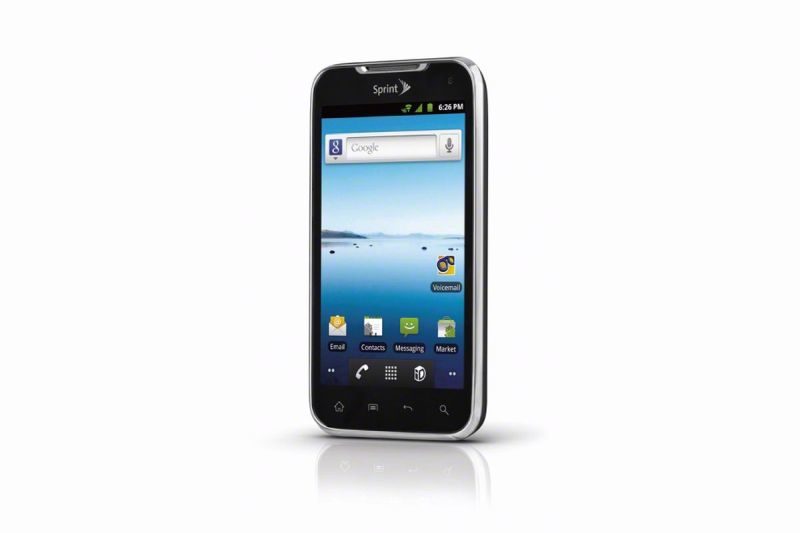 LG has taken an initiative on the mobile phone frontier, to conserve the environment. Its outer casing is made out of recyclable plastic, while packaging is completely carved out of recycled materials.  The charger for the phone is also competent on the energy front. When not in use, the charger automatically gets turned off when not in use. The cell phone costs approximately $100.
Some more Eco friendly gifts for those who care
Eco gifts for men
1. Rubber briefcase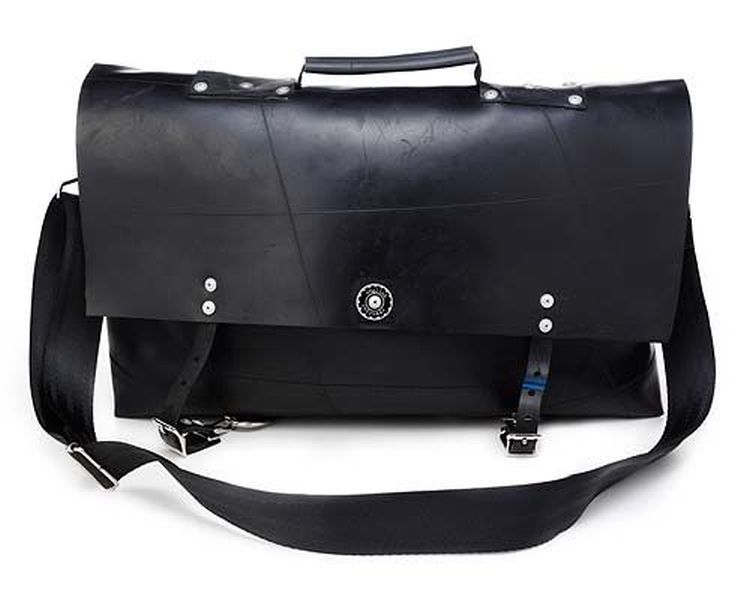 Boulder, Colorado based designer Heather English, has created this designer bag that consist of a small case with a flat bottom like a briefcase with an adjustable shoulder strap. The designer has reused the inner rubber tubes of 18 discarded tyres and has refashioned them into this elegant and refined bag. The bag has enough space to carry your documents and books. It also features a large pocket, top handle and spring hook closures.
2. Vapur Water Bottle Limited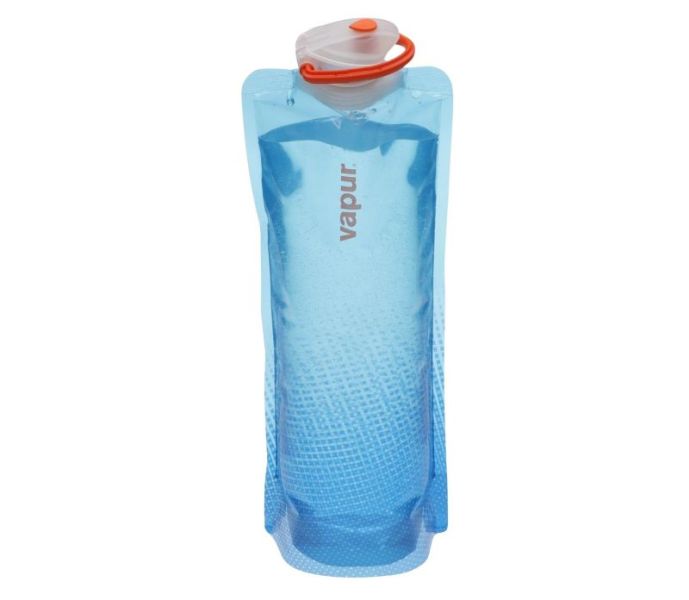 The Vapur water bottle is made from flexible BPA free plastic. The water bottle is sleek and designed to collapse when empty. This is why it can be easily carried in your purse or backpacks without taking up much of room. With the Vapur water bottle, hikers, bikers and campers would not have to worry about disposing plastic bottles, which when empty add to the waste.
3. Eastlake Laptop Case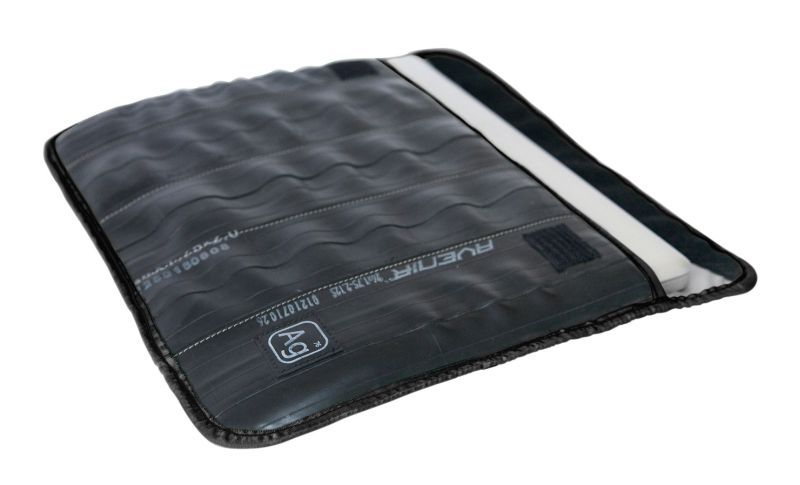 Manufactured in Seattle, the Eastlake Laptop Case is made from the inner tubes of bike tyres that are picked up from local bike shops. It also features a Secure Velcro closure for easy accessing and 1/8 inch foam for added protection. The case can comfortably hold a 15 inch laptop and the recycled rubber material ensures water protection and durability.
4. Wood Thumb Wooden Tie – Large
The wooden necktie is made with hands in USA by reusing redwood beams from old barns. The tie looks classy and is very comfortable to wear. The eleven wood sections are held together by an elastic band on the back of the wood thumb necktie. The stylish tie fits all neck sizes.
5. Solio Bolt Solar Charger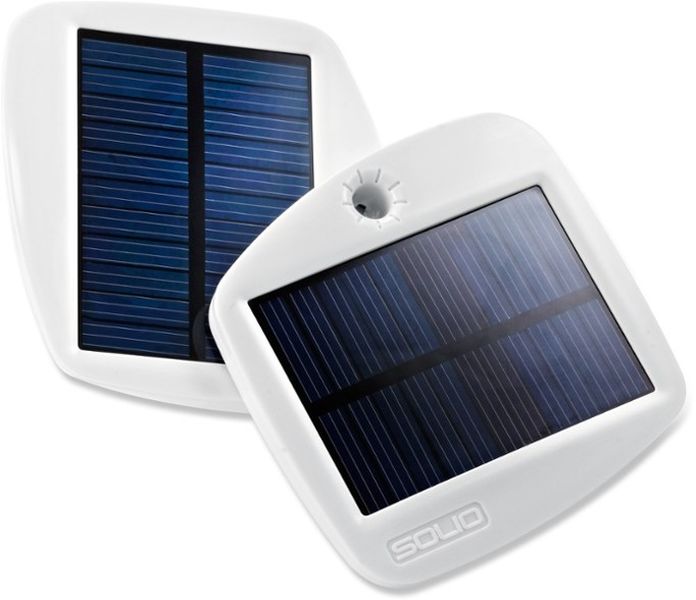 The Solio Bolt is a portable solar charger juicing up all gadgets by harnessing the energy of the sun. It features efficient PV panels that capture solar energy and when fully charged it can power any electronic device. Not only this, it also includes a USB port to get power from a computer or a wall socket.
Eco gifts for women
1. Azuri Classic Pashmina Shawl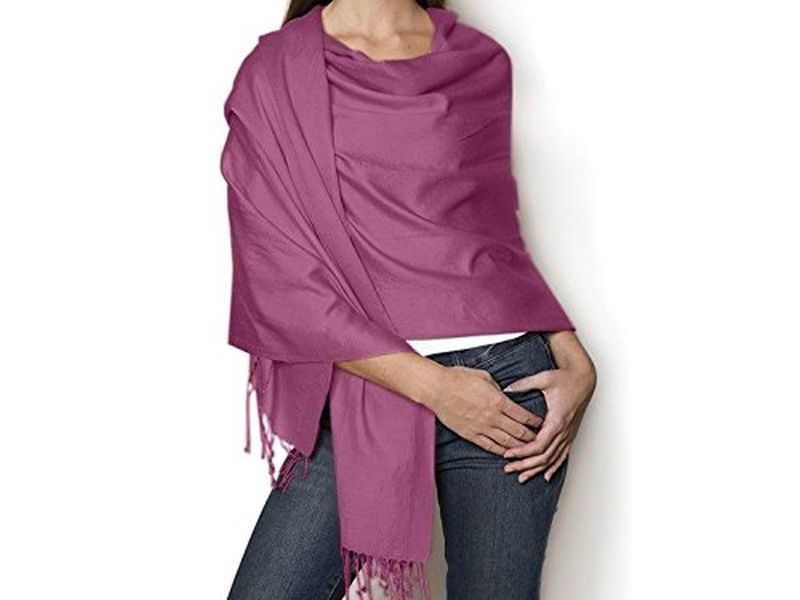 The Azuri Classic Pashmina Shawl is made by a blending 50 percent bamboo and 50 percent Viscose material. This finely woven shawl will make you appear elegant and classy for any formal or casual occasions. This Bamboo Viscose Pashmina Shawl is warm, durable, soft and also eco friendly.
2. Mesh wearable garden dress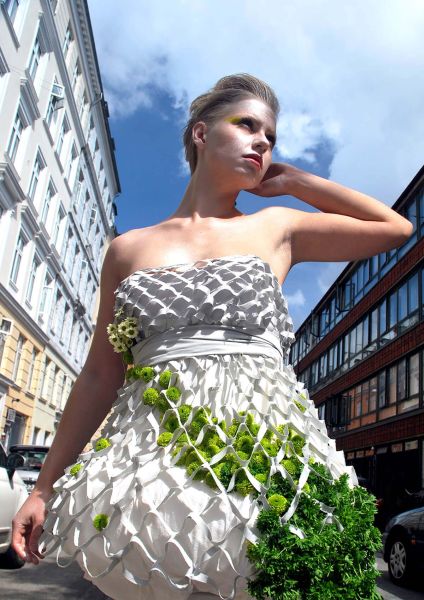 Image Source : aliseckin.com
The Mesh wearable garden is a green fashion dress designed by students of Copenhagen Institute. The kitchen organic waste is converted into a single structure, to which some colourful seeds are added. The seeds get nourishment from the organic debris and grow into healthy plants. The dress behaves like a portable and wearable garden.
3. Recycled Sari Scarf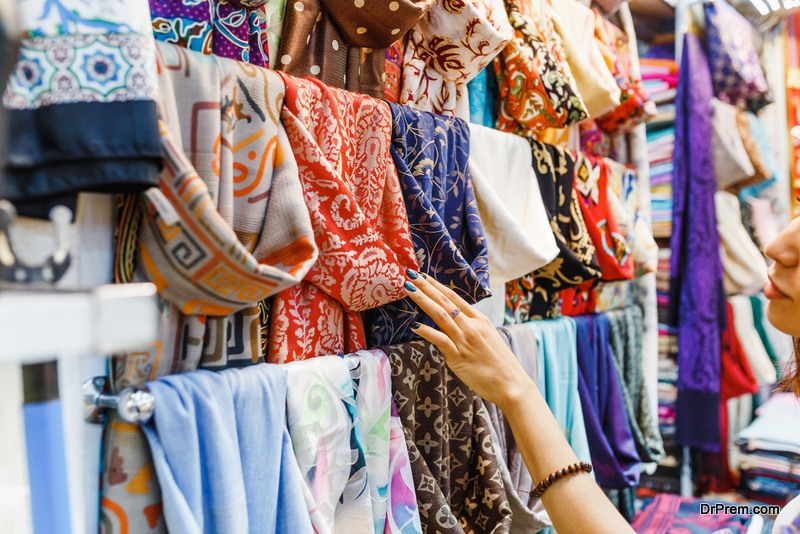 Artisans in Calcutta, India have made the Recycled Sari Scarf from cotton sari materials that were bought at a fair price from people who live in poor regions of the city. These artisans belong to slum families that live near the railway tracks and are trained and employed by a non profit institutes. The recycled saris are hand woven and are crafted into colourful scarves.
4. Recycled Wine Bottle Platters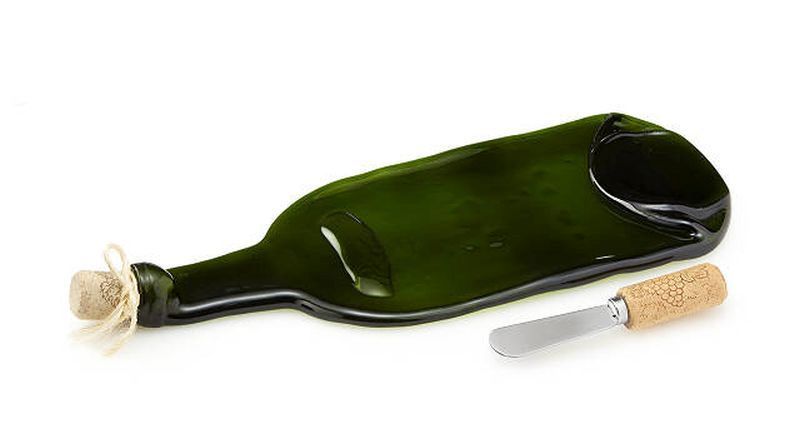 Image Source : uncommongoods.com
These platters casted in the form of wine bottles will provide an extravagance to your cutlery and of course the dish that you will serve in it will become more relishing. This one of a kind platter undergoes an 8 hours process of glass recycling. These are manufactured in India and China by making use of 100 percent recycled glass.
5. Grow Bottle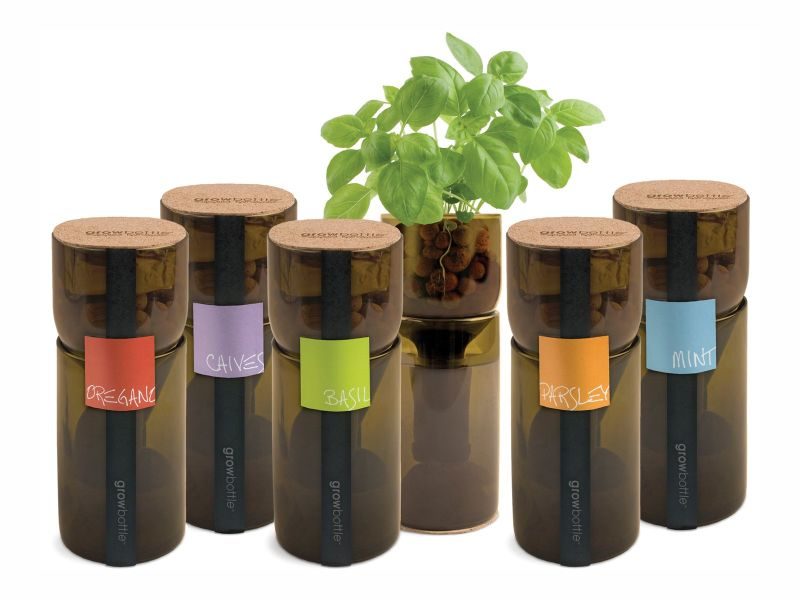 Image Source : images.dwell.com
The Grow Bottle is made in the USA and lets you grow your indoor herb in a reclaimed wine bottle. Each set comes with clay pebbles, wool wick, seeds, plant nutrients and cork coaster required to create a hydroponic environment for the growth of plants like Organic Chive, Organic Oregano, Heirloom Mint etc.
Eco gifts for boys
1. Eco-Friendly Tegu Magnetic Wooden Blocks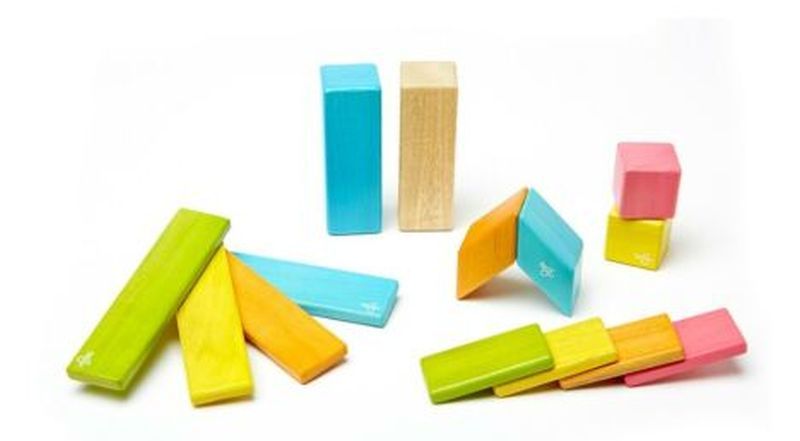 Based in Honduras, the toy company Tegu has come up with a new collection of eco friendly magnetic wooden blocks that will let your kids design structures that can move and bend. These wooden blocks are made from sustainable hardwood originated from Honduras and Central America. These wooden blocks consist of embedded magnets and are packed inside a recyclable box.
2. Wheely Bug Toddler Ride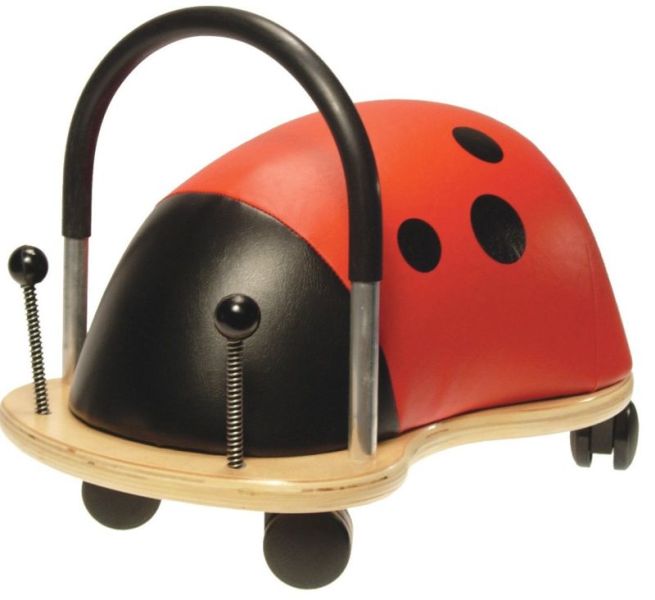 The Wheely Bug Toddler Ride by toymaker Prince Lionheart, is soft and secure for the kids. The body of the bug is made of non compressible, nontoxic foam that includes no PVC while the plywood base is made of renewable plantation timber. This toddler ride is designed to exercise the legs muscle and improve gross motor skills while your child enjoys the bug ride.
3. Bear Felt Children Mask Eco Friendly Kids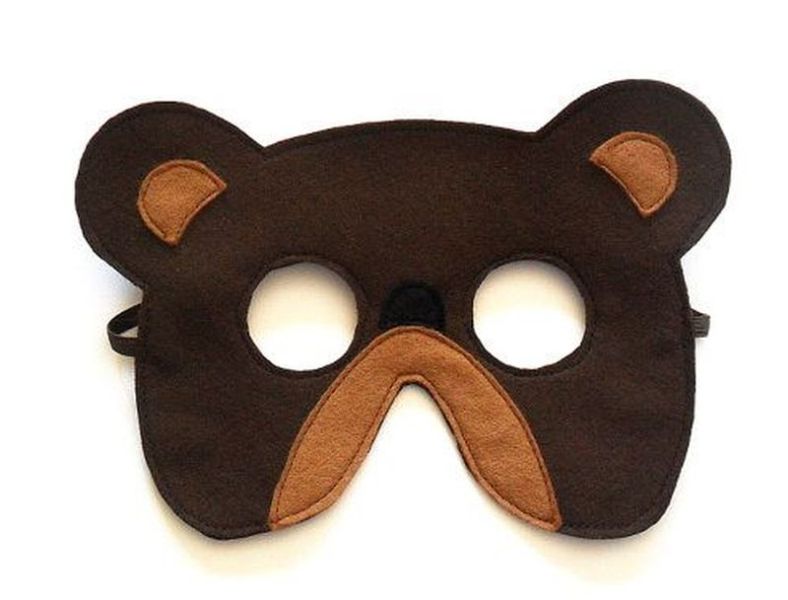 Your little kid would love to wear this eco-friendly brown bear mask for a birthday party or some get together at school. This mask can be easily made at home too with a pair of brown trousers and a brown woolly jumper.
4. Baby Gift Set with Wooden Rattles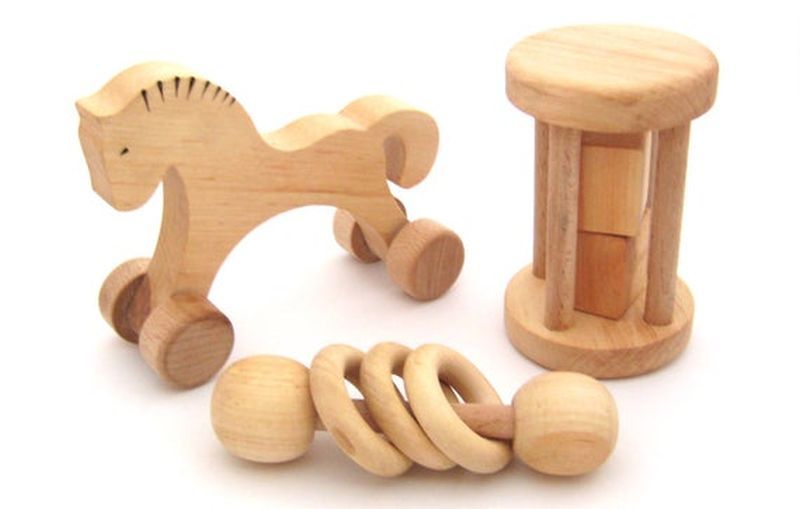 Wood is always preferred over plastic, as it is much safe for your child and obviously long lasting. The oak fish rattle and the classic baby rattle are both light weight and coated with several coats of a food grade clear coat ensuring that rattle is non toxic and safe for children.
Eco gifts for girls
1. Eco-Friendly Wooden Trike from Plan Toys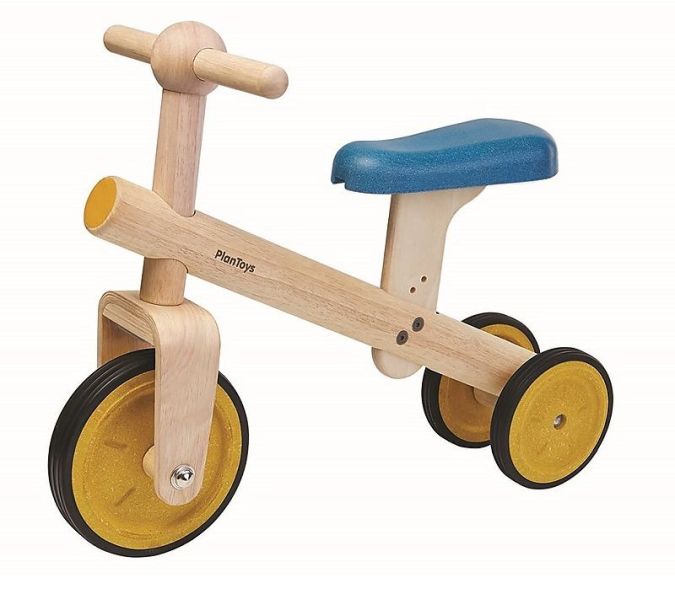 This wooden trike by Plan Toys, an eco conscious company, will let the young ones do their bit for the environment. Instead of chunk plastic, these trikes are made by using the wood from rubber wood trees that have been used entirely for the latex to make rubber and would have been cut down or burned to clear the land.
2. Eco friendly lunch boxes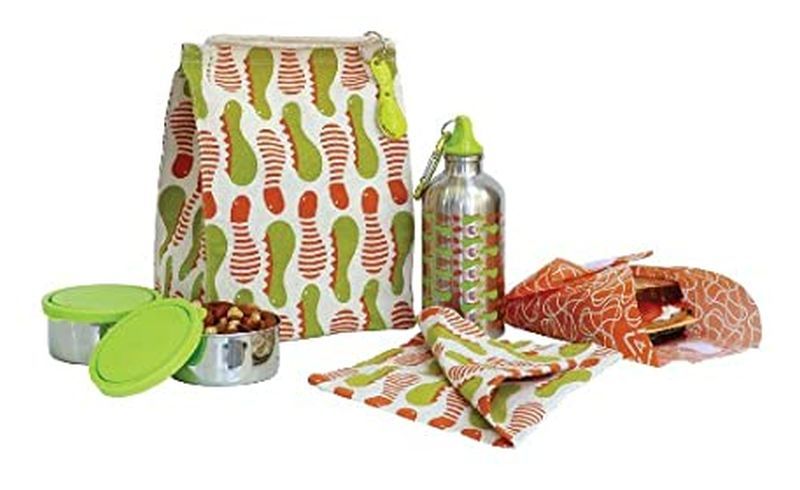 The eco friendly Kids Konserve lunch kit comprises of a stainless steel bottle and two stainless steel containers with plastic lids that prohibit any leakage. The kit also includes cloth napkin, aluminium, name tag and cotton lunch sack that can be recycled. The materials used to make the entire kit contents are non leaching, BPA and phthalate free ensuring non toxicity.
3. Lake Champlain Chocolates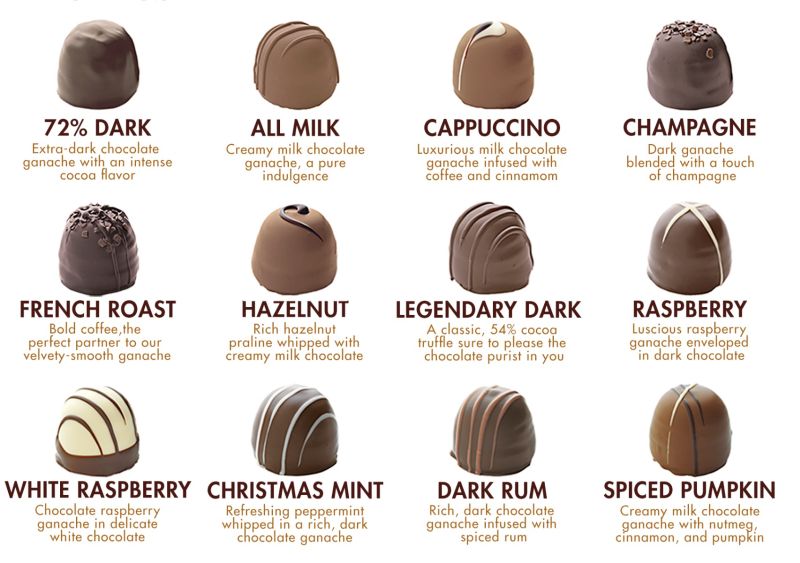 Gift your little lady the eco friendly Lake Champlain Chocolates that are made with organic and natural blends that guarantees the best of taste and health for your child. The pack contains 13 chocolate bars including, Dark Chocolate, Fruit and Nut Signature Bars, Sao Thome African Blend Tanzania Organic Chocolate Bars , Dark Dark Spicy Aztec Five Star Bars, etc.
4. Elephant Poo Paper Journal and Note box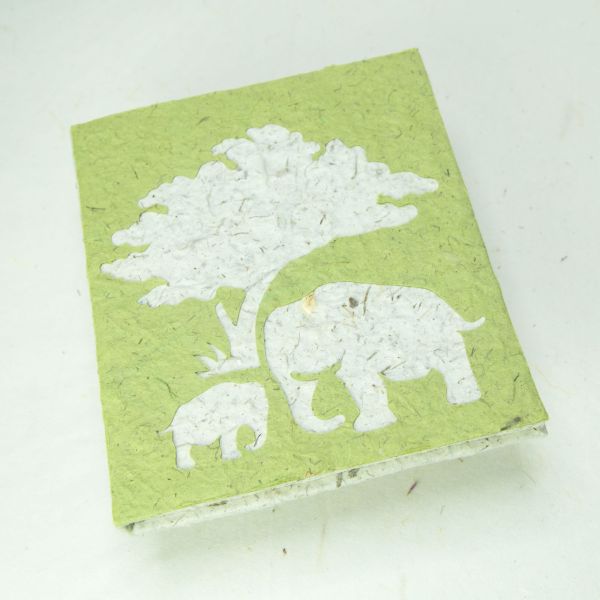 This Elephant Poo Paper Journal and Note box is made with hands in Thailand and elephant poop is the material that is used to make the eco friendly paper used for these objects. Elephant's dung includes the left over fibrous materials that are consumed by the huge animal, which on processing turns to a good quality paper. The 70 slippages of the note box and 20 page journal are 100 percent recyclable and do not smell at all. 
Final Words
To organize an eco-friendly birthday party, all the above-mentioned green friendly birthday tips are helpful. So, next time you celebrate your birthday do not forget to go green. You cannot enjoy alone and harm the environment recklessly. If you are stuck with no idea, then hire a party planner and ask the expert to organize a green birthday party for you and your guests.Gadget industry is known for providing eco-friendly gadgets at a remarkably inexpensive price.
You don't have to check your wallet before going green anymore. Gift some of these easily available options to your colleagues or loved ones. You can consider it a message of go green being initiated by you and spread across to as many around you.These hi-tech gadgets, which are ecofriendly as well, are perfect for your geeky friend, and if you give any one of these as a birthday gift, your gift will be much appreciated, for sure!