A non-profit organization, Soil For Life, did a research on the Peri urban environments of Western Cope townships. The study focused mainly on the informal settlement of ImezamuYetu in Hout Bay. The region undertaken for research is house to many informal settlements and shacks. Access to sufficient clean water and sanitation issues topped the list of the observations made by the team. Later, the product – the Earth Tub was developed based on these observations.
Design and Material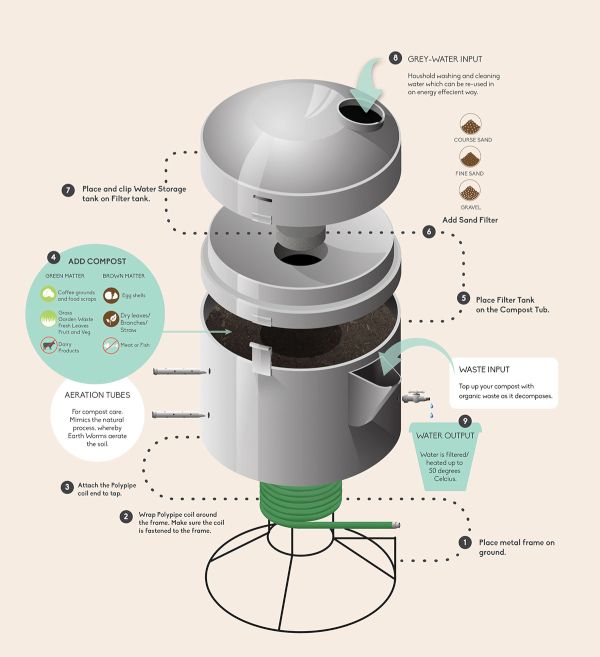 The design is a mixture of a common water-tank, with input and output connections. The main frame is made from rotational molded UV resistant ABS, the main tub is hard wearing-recyclable, lightweight and insulates well. On the other hand, 60 meters of 25mm polyethylene pipe forms the centre coil.
The pipe is cost effective hard wearing with good insulation. The main frame provides outlet to water through a generic injection molded polypropylene tap is used that lets out the warm water. The material is cheap and effective.  The pipe rests on a welded frame of 100 mm middle steel round bar and is coated with anti-rust covering.
How does it work?
The organization created a closed loop biomimetic system. The product can also be called a compost water geyser and water filter. It accepts your garden and kitchen waste and separates the solid and the liquid. The liquid is purified using a sand and charcoal filter. It utilizes the heat generated through decomposition of solid organic matter to heat the water.  That means, it's completely off-grid and provides a mean to heat water for domestic purpose without the need of electricity.
Similarly, the domestic waste water can also be re-used using the Earth Tub.  This hot water can be used for cooking, cleaning, washing etc.  The solid waste is turned into compost that can fertilize small gardens. Practically, the Earth Tub allows a household to minimize waste production. Even otherwise, more waste means more heated water and more compost.
Eco-friendly, Low Maintenance Solution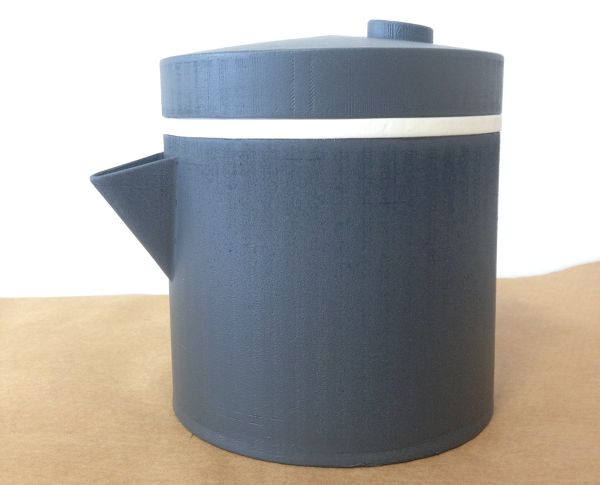 The materials used for the construction of the entire system are durable and affordable. Even material derived from discarded stuff can also used to create the tub. It can save electricity to heat water; it can recycle domestic waste water and create compost out of waste that goes back to the gardens of same families.
The families in the community for which the system was developed also undertake small farming practices to make a living. Considering the socio-economic need and lack of education, the organization developed a product – the Earth Tub.
Source : Behance.Net