USA-based Jae Stelzer – student at the College for Creative Studies in Detroit, Michigan, has created a streetlight that purifies air pollution bringing real greenery to the concrete jungle. Designed with the aim to encourage people to come out and walk in urban sidewalks, the student has created a canopy-coveredstreetlight that also offers shelter to people.
Inspiration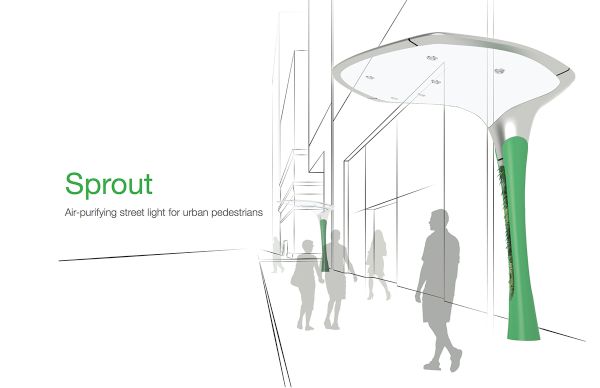 Jae got the inspiration after seeing the diverse effects of air pollution on our living, especially on people living in cities. Cities, which are now converted into concrete jungle with no greenery and fresh air to breath. According to WHO recommendations, thebiggest trouble in citiesis walkabilityand air pollution, vehicle traffic has reduced workability by 20-30 percent, while 91 percent city-dwellers breathe more polluted air.
In addition, prolonged exposure to air pollution leads to risk of heart disease and on the other hand walking improves health and keeper residents fit.
Design
Designed keeping environment in mind, the base of the streetlight is made from recycled polyethylene shell, which also has a vertical planter unit. While the canopy is made using cast aluminum frame, which apart holding LEDs also acts as rain collector.  Fabricated with the aim to soak harmful gasses and air pollution, it alsotransformsharmful gasses into nitrate ions.Thus,it can be used as fertilizer for vertical planter.
Benefits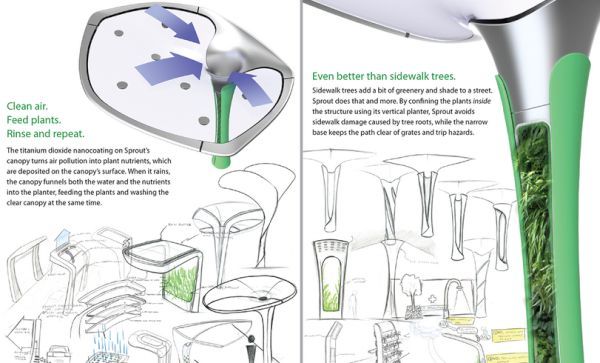 Positioned on the side of the buildings sidewalk, the lack of obstruction on the roadside give people more open space to walk freely. The streetlight fitted with LEDs gets it power from transparent solar cells that are fitted in the canopy to illuminate both sidewalks and street equally. Also offering shelter from sun,rain and snow, the excess heat generated by LEDs also help to melt down the snow.
Adds greenery to sidewalks
Designed with the aim to collect rainwater, the canopy surface turns air pollution into plant nutrients. The canopy funnels both water and nutrients into a planter, thus feeding the plants and keeping the canopy clean at the same time.While, the vertical planter also confirms that the plants give greenery and shade to the street. Adding freshness and pleasing appeal, the vertical planter also avoids sidewalk damage, which is generally caused by tree roots.
The sprout air purifying streetlight is still a conceptual project that if commercialized will surely help locals and city dweller breathe fresh air and go out for walks for healthier life.
Source : Behance.Net