Plastic is as dangerous as it is useful. The sad truth is that plastic waste tends to have drastic effects on the environment. It is a non-biodegradable material, meaning it will remain in landfills for many years to come. Even when it does break down eventually, it will emit toxic chemicals that not only harm the environment but its inhabitants as well. Luckily though, recent developments in the fields of sustainability and green living have carved out ways for one to reuse plastic in many ways. In addition to reusing and re-purposing plastic, one can break down plastic waste into oil (since plastic is made from oil). The process can be carried out in high pressure vessel reaction chambers which break down the plastic into oil which can then be used as gas for homes or fuel for automobiles, etc.
DIY Ways to Convert Plastic Waste into Oil
Here are some DIY ways to convert all that plastic waste in your home into usable oil. We have explained two projects here which can be easily set up in your home with minimum requirements. Note though that you may have to be careful as you will be dealing with some highly inflammable materials during the processes.
Method I: Plastic Conversion to Oil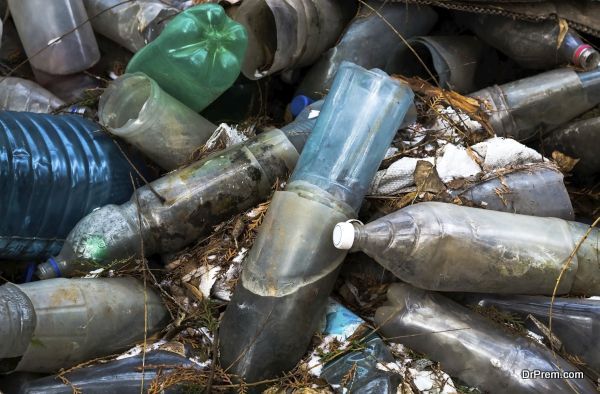 Things Needed:
Plastic Waste – As much as you can get
Pressure Vessel Reaction Chamber – you can get one in hardware stores
What you need to do:
Put the plastic waste into the pressure vessel reaction chamber. Switch on the machine.
You will need to heat the pressure vessel chamber until the plastic inside it melts under the heat. The ideal temperature for this will be about 250 degrees Celsius. The heat will cause steam to rise up inside the chamber, thus increasing the pressure inside it to about 600 psi.
Once the plastic is completely melted, release the pressure quickly. This will cause the water in the chamber to boil off, leaving behind solid minerals and basic hydrocarbons. The gas collected in the chamber will boil over the top into a container containing cool water. The cold water will condense the gas into oil which can then be used for fuel or gas.
Remove the solid minerals from the chamber and heat the hydrocarbons in it further to about 500 degrees Celsius. This will result in the hydrocarbons breaking down further as the different constituents in them reach their respective boiling points. At this point, some parts of the hydrocarbons will start evaporating, leaving behind the compounds which have the lowest boiling point.
These compounds will rise as gas and exit from the top of the chamber while the ones with higher boiling points will exit from the bottom of the chamber. Called fractional distillation, this process will help in filtering the oil obtained from these compounds. The oil can then be broken down further to be used as gas, diesel oil or kerosene.
Method II: Conversion of Plastic Bottles into Oil
In addition to using plastic waste, you can also turn old, used up plastic bottles in your home into oil. This oil can be used as fuel or can be combined with other fuels to be used in combustion engines. Ensure that you have a large area for this project and attempt to do it only in a controlled setting.
Things needed: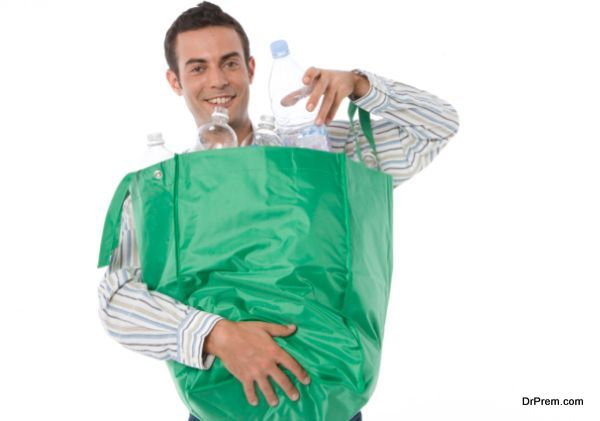 Non-PET plastic bottles
Closed Container
Hopper
Oxygen
Infrared Heat
What you need to do:
Shred the plastic bottles by passing them through the hopper.
Activate the infrared heating system using electricity.
Place the shredded plastic bottles into the closed container.
Apply the infrared heat to the container in order to melt the plastic.
Add oxygen gas to the mix.
The gases escaping from the chamber are diverted into a container containing cool water where they turn into usable oil.
Plastic waste can be easily repurposed as oil, thus preventing non-biodegradable waste from ending up in landfills and oceans worldwide. There are several ways one can convert plastic waste at home in a controlled setting into usable oil for use as gas or fuel.
Plastic isn't the only useful thing that seems useless at first sight. Many day-to-day objects suffer from consumer negligence. The best example for this is the cork of all our plastic or steel bottles. Here are 10 ways to recycle not only the plastic of your bottle, but also its cork.
10 DIY cork recycling ideas
Ever wondered you can morph simple cork you have pulled out of wine bottles countless times into amazing new stuffs with a little effort and creativity. If not and you seriously want to do so, here are 10 amazing new ideas to recycle the corks that have been lying around uselessly in various corners of your kitchen drawers.
Make stamps from the cork
Draw a motif nicely on the end part of the cork and then cut out as finely as possible around it with a measurement of about ¼" deep. Do it very carefully, slowly and steadily to make it the perfect stamp cork.
Thread spool corks
Collect some wooden spools and wrap them up with colorful threads; now, glue them to your wine corks and you have an upgraded version of your usual wine stopper. This is a very colorful way to use your old wine corks.
Wreath of cork
A cork wreath is not only a surprising and amazing idea, but having one in your house could also help you convey your penchant for recycling stuff with absolute creativeness. Make a wreath out of straw and using hot glue, attach the corks all over it without leaving any place for the visibility of the straw wreath. Start by attaching the corks in a flat layer and then start adding some slanted corks over the top of the wreath.
Magnetic cork planters
Take a cork, hollow it out, and then fix a magnet on its back. Then, plant the cork with attached magnet with some dirt and a tiny succulent. Once you did it, you have the most unique magnetic cork planter.
Cork ball
Take a Styrofoam ball and paint it nicely before covering it with corks by using super glue or hot glue gun and you have a beautiful perfect piece of art to add to your living room or any other part of your house.
Key chains of cork
Take a key chain ring, fit it with a small screw eye, and then try to screw it onto the cork and make yourself a homemade cork key chain. You can also cover the cork with symbols or note of your choice, which you can further use like any normal key chain.
Cork place card holders
Place card holders can be great wedding decals. All you need to do is take the edge of the cork and cut the silver off it, so that it can lie flat on the side and then make a fine slit on the top.
Trivet
It is one of the easiest things to make out of cork. For creating one, all you need to do is stick together wine corks using super glue and keep on doing it until you get your desired size.
Plant marker
Write a plant's name over a cork and drill a hole in it big enough for a bamboo skewer to go in and then stick it wherever necessary.
Cork candles
Looking for some amazing eco-friendly party ideas? Take some old stylish bottles, stick the top of the bottle with cork and you have an awesome dinner party décor.