With recycling, one can turn old things into new and unique shape and size. Recycling has many benefits and that is why many people like to follow it. While some people just throw away old things thinking it as junk, some people use it in a better way. Almost thousands of old bikes and cars are thrown away each day in the waste, which is bad.
Some people really like the way recycling turns old thing into something new. As we can many things out of old things, animal sculptures looks quite goo and amazing when made form old things. An old bike part provides good and huge material for making new animal sculptures out of it. Below are some animal sculptures that are made of old parts of bikes and looks simply awesome.
Real sized dog sculpture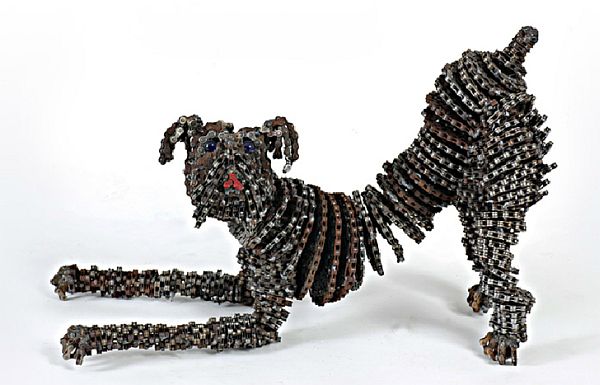 Nirit Levav is a name behind making the real sized dogs. The only material that is used in making these cute dogs is discarded bicycle materials. Different parts of bicycle such as seats, chains, and lights are used in creating these cute and artistic dog figures. They are big in size and look as cute as real ones. As Nirit owns many pets, she just looks at different activities of these dogs and that is what inspires her for making these dogs.
Warhorse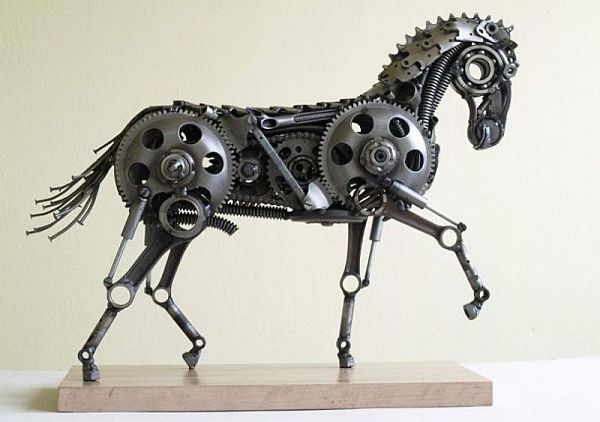 Designed by Tomas Vitanovsky, who is a motorbike mechanic and a motorbike racer. Being a bike lover, he knows everything about the bike, which helps him in making the sculptures. Tomas has old pats of motorbikes to create this amazing art. From engines to gears, chains, and speedometer, he has beautifully used different parts of old motorbikes to create a stunning scultpure. With the creation of this warhorse, Tomas has told everybody how beautifully people can recycle old things into a new and unique shape.
Recycled Dove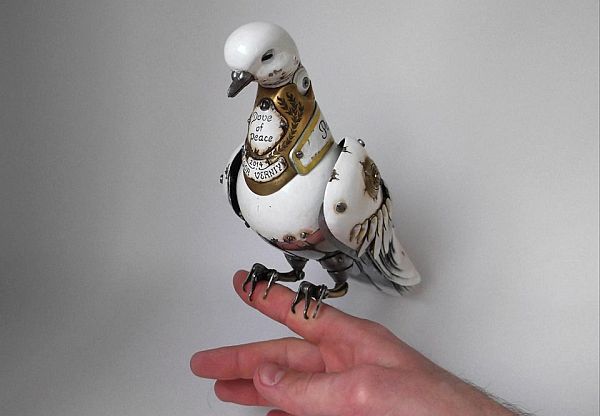 A man named Igor Verniy likes to assemble old parts of cars, bikes, and bicycles and turn them into a new shape. Igor believes in making the right use of old things rather than wasting them. A dove made by him out of all the old material looks quite interesting and unique. Igor has assembled different parts of cars and bikes to make this dove. Dove has white body with some golden decoration on the neck. White and golden color looks amazing and adds quality to this art. The dove wings are created with movable parts that allow the dove to open its wings. It looks more beautiful and real while it has opened its wings.
Turtle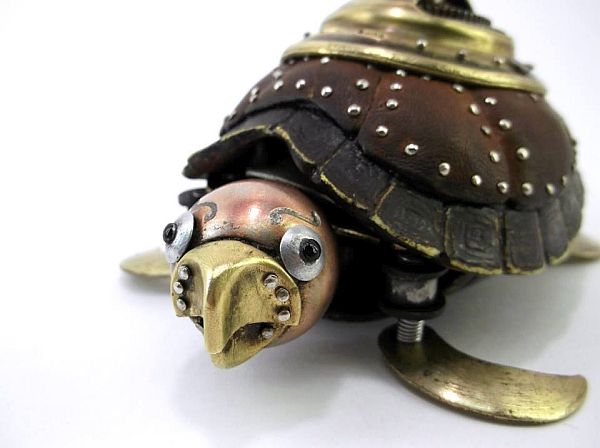 As a turtle hides beneath it shell sometimes, this recycled turtle also does the same. Igor has designed it and has assembled old materials to make this sculpture. Looking at the turtle it looks like it is a bit scared and ready to go into its shell. This turtle has key on the top of the back. On turning this key, the turtle will go back into the shell. Old moving parts of bikes, cars, and watches have been used in making the turtle that keeps it moving.

Looking at these animal sculptures, you will not believe that these are made of old bike parts. Using old parts of cars and bikes, these beautiful sculptures are created. People usually throw these old parts away considering it as a waste. If we know the use and benefit of recycling, we will not throw them again but utilize them in making something new.