If you're sick of using bulky dust bins (that look so gross in the room) or paper grocery bags as bins (which may leak, tear or even get toppled by your pet), you must be waiting for some kind of a miracle product that would solve your woes. Enter the RE-BIN, which provides an effective, eye appealing and modern alternative to residential and commercial waste disposal.
What is the RE.BIN?
Designed and created by environmental attorney, designer Whitney Ferrell; the RE.BIN is a recycling bin made from 100 percent recycled plastic and is designed to be lined with a standard paper grocerybag. The minimalist design and aesthetics of the RE.BIN make it ideal to be placed anywhere in the room since it'll serve as a great conversation starter.
The artistic RE.BIN is shaped like an ordinary grocery paper bag. Homeowners can line the RE.BIN with a paper bag; once the paper bag is full with trash, all contents together, person can just pick the bag on the way out the door to recycle.
Design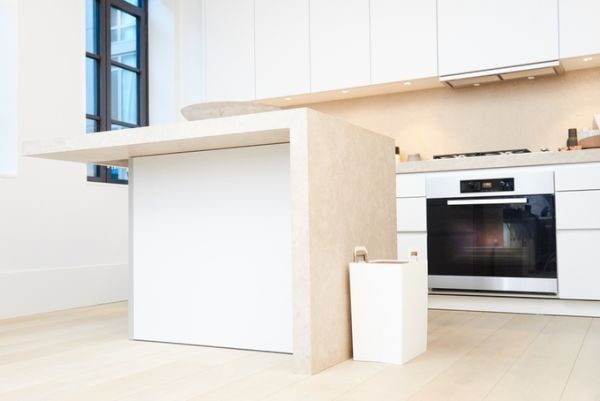 The RE.BIN measures 12.75-inch x 8.75-inch x17.5-inch and its design allows it to be displayed in the kitchen or the living area. Despite its minimalist design and appeal, the RE.BIN is small enough to be tucked away easily inside a standard kitchen cabinet.
Inspiration that led to the birth of the RE.BIN
The idea for recycle bin – the RE.BIN came to Ferrell after years of frustration recycling in her apartment. According to Farrell 'we have all had the ugly, bulky recycle bin that's just too big for most small apartments or have had plastic bags dangling from the cabinet handle and most familiarly, the brown grocery bags sitting on the kitchen floor.'
Most of us have been using paper bags as recycling bins, but we know how messy that looks.
With years of work with industrial designers and engineers and understanding perfect recycling solutions, Farrell was able to deliver the RE.BIN–an attractive solution that makes recycling simple for people.
RE.BIN is planned to be made in the US to reduce the carbon footprints. It will be made from the most sustainable material possible that is 100 percent recycled and can also be recycled. To make RE.BIN a reality Whitney Ferrell has launched a Kickstarter crowdfunding campaign for the attractive bin. Early bird price $61.
Source : Indiegogo.Com