The idea of building furniture from recycled materials is nothing new. In fact, upcycling is all the rage these days, and people are finding endless ways to repurpose waste materials at home, which even includes reusing old newspapers. With the idea to educate students and youngsters in Indonesia about recycling and reuse, Nupaper foundation has developed stools from recycled paper, and they call their stools Nupaper.
Nupaper as a company
Nupaper, an Indonesia-based company bent at saving the environment through material innovation is focused on recycling. In addition to this, the company also focuses on imparting environmental education to children in Indonesia. To give life to company's objectives, Nupaper stools were. The stools were unveiled at the recently concluded Singapore Design Week, where the theme for the design week was "sitting on a newspaper" – designing series of children furniture which is made from recycled newspapers.
How are the stools made?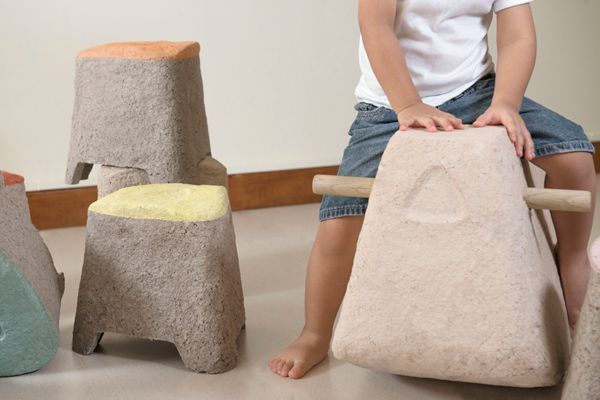 Nupaper is not an overnight miracle. The idea is born after months of research and experimentation. The result is however a miracle in itself. The Nupaper, newspaper stool designed for children, raises awareness for environmental protection in Indonesia and other developing nation where waste management is still not being taken seriously.
Nupaper is basically made by crushing old and waste newspapers, which are then stuck into a mould (shaped like a stool). With use of special technology and binding procedure, the Nupaper stool is delivered, which can bear weight of a child.
Though,Nupaper is basically designed for children's use it is also being used to create environmental awareness amid children and residents of Indonesia.
Benefits of the Nupaper stool
Indonesia produces about 175,000 tons of garbage per day, most of which piles up in landfills due to poor waste disposal methods in the country. Being an environmentally viable solution to waste paper problem, Nupaper stools made from recycled newspapers achieve a few goals. These primarily include:
It helps reuse waste paper
It helps promoter environmental education amid children
It helps children learn about recycling from a very young age
It helps generate employment (Generally speaking, recycle old newspapers and its reproduction into furniture is a labor intensive job)
And helps increase local residents' attention to need for ecological protection
Nupaper is versatile concept, which is worth promoting in other countries. This could be an inspiration for people in countries where waste paper is only as good as trash.
Source : Shejipi.Com