We can find a lot of tutorials on the internet about storage, mostly about closet and refrigerator storage. We can say that we can hardly find the introduction about plant storage. In fact, as a member of the family, green plants, like closets and refrigerators, need careful "storage". In the limited space, we can make full use of the furniture and reasonable placement of plants so that we can achieve the effect of beauty but not chaos. If you want to make your home plant storage perfect, it is a good idea to learn from home bloggers. Learn their indoor placement tips to make a room pretty! If you want to send flowers to China, welcome to sammy gift.
The universal placement rack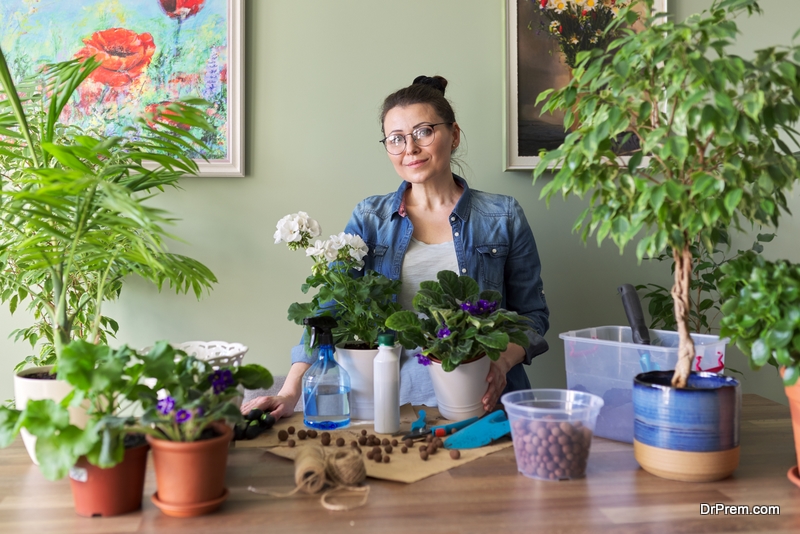 Smaller potted plants go well with the shelf! This is what Ins home blogger Nelson did with the photo he posted: a wooden shelf, record player, aromatherapy, potted plants and a cute cat – a wonderful combination that instantly gives people a warm feeling. The wall-mounted shelves are decorated with different plants. Some climb up and some hang down, which creates a subtle sense of balance. It is well worth trying. Try using a wine rack for larger potted plants, such as monstera deliciosa. This does not prevent the growth of monstera deliciosa and you don't have to worry about taking up space in the room. It's also a great idea for storage and display. In addition, we can place potted plants and fresh cut flowers on our worktops, dining tables, etc. This can bring us a good mood at any time.
The main points of storing potted plants through shelves are summarized as follows:
Different potted plants are placed according to the different space positions of upper, middle and lower.
The upper space has wall-mounted plant shelves, hanging orchids and other green plants hanging from the ceiling. The upper space is mainly placed with line type, light and elegant potted plants.
The central place refers to workbenches, dining tables, standing cabinets, bookshelves, etc. We can place slightly larger potted plants in these places. If we want to maintain the freshness of the room, it is a good idea to buy new potted plants or change the location of potted plants.
I'm sure we all know exactly how to use the space on the lower level. We usually put the giant potted plants that should not be moved directly on the ground. 
Notes on purchasing placement racks
We can choose the right placement rack at IKEA, but we need to pay attention to the following:
Choice of material: wooden shelves are not suitable with water-loving plants. Because when we water the plants easily get wet wood, which is not convenient to take care of.
The middle layer of the shelf should be high enough to leave enough space to put plants.
Select light colors, in addition to as a flower shelf can also change the function.
 In this way, the space is enhanced with a sense of hierarchy. When we walk into the home, we have a feeling of being surrounded by plants. Your own home can create the same effect as a home blogger's botanical garden!
Wonderful mirror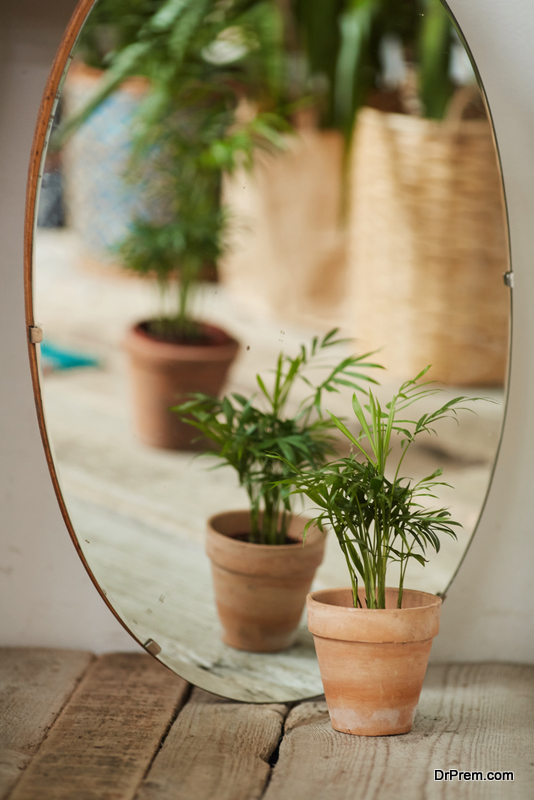 We all think about placing as many potted plants as possible to create an indoor forest. Unfortunately, our houses don't have much space for more plants. Don't be discouraged, maybe a mirror can help you solve this problem. Blogger Jane has managed to turn her home into a "rainforest" with a half-wall sized round floor mirror and a window-shaped mirror. It is a smart idea to place the two mirrors facing each other and place plants of different sizes around the mirror. The two mirrors reflect each other. It visually expands the space of the house and doubles the number of plants!
In addition, Jane likes red clay pots. She prefers red clay pots that are breathable, full in size and suitable for various plants. With rattan pots and baskets can create the feeling of vacation. It's incredible we lie at home just like a vacation.
Of course, the more plants you have in your house, the more effort you need. We need to water, prune, and clean the plants. But if you really like plants, it can be a joyful process. Just like taking care of pets and children, plants need love and patience to be watered.
Article Submitted By Community Writer