If you are building a new home, buying energy efficient windows is one of the important considerations. Approximately 30 percent of the heat and cooling gain as well loss depends upon the windows. Moreover, when you consider the amount of energy that you spend to counter this very gain/loss, it would contribute to a great sum. Just think about it, what contributes to your electricity bill more than your thermostats and HVAC. Well, buying eco-friendly AC and thermostat is part of the solution. However, it would be best when you don't even need them.
In many places where the temperature outside is just above/below the comfortable, just buying energy efficient windows would be enough. In fact, you can make your choice of the windows depending upon your requirements. This would help you save money and be eco-friendly at the same time.
8 Tips to choose energy efficient windows for your home
Even if the windows of your house are fine but you are paying high electricity bills, it is time to upgrade them. Updating the windows will save energy plus will give you extra comfort in harsh weather. You have to consider the following factors before making any decision.
1. Beware of low quality

Windows with a low price tag may appear cost effective at first glance, but in the long run, it's costly. Inferior quality windows require a large heating, ventilation and air conditioning (HVAC) system, which comes at a hefty price and utility bills are even higher. Neither the builder nor the house residents understand this fact. Everyone looks for comfort and by the time the homeowner understands the real problem, it is too late. They consider upgrading the heating/cooling system as a solution while the concerned area is low-quality windows with air leaks.
2. Window frame
We all know that wood is less prone to heat and cold transfer as compared to metal. That does not mean that the wooden window frame will always favor the climate and low electricity bills. Variety of frames are available with their own advantages and disadvantages. It is up to you to select the right one.
a) Vinyl:

Just because vinyl frames are cost-effective, it does not mean they are inferior. Budget-friendly vinyl frames offer unparalleled energy efficiency. They only need insulated glass and a tight construction to avoid air leakage. However, most of the residents do not want vinyl frames in their homes, maybe because they are available in limited colors.
b) Wood:
Talk about best insulation and wood comes in our mind. Wooden frames serve the purpose but need more maintenance compared to metal ones. Wood is prone to rotting and may not be the right choice for the rainy or humid climate. However, a quality built wooden frame can pass that test of time.
c) Aluminum:
Not a top performer in insulation, aluminum frames can be beneficial in rainy or humid regions, especially in hurricane-prone areas.
d) Wood-Clad:

Offering benefits from both the components, it has wood inside an aluminum or vinyl frame. Cost effective wood-clan frames are prone to water intrusion and hence rotting. So, if installed in a humid climate, it should include a water-resistant rubber membrane around cladding and a sill-pan. The sill-pan is a standalone flashing assembly to drain water around the window jambs and sills to prevent wood deterioration.
3. Window type
There are different types of windows and you have to choose the right one to get the energy efficiency and durability. Visit any manufacturer's website and you will find double hung, awning, casement, sliders and tilt/turn models. Once locked and opened, these models swing against their weather stripping. If we think about energy efficiency these models have an upper hand over sliders and tilt/turn types. If you really like the double hung or slider, it is fine, but add some windows that swing. The result: Insulation will be better and you will not compromise on design or quality.
4. Glass
Single panned glass works only in a mild climate. For regular climates, double panned windows work fine as they protect the house from UV rays in summer and stops heat escape during winter. Double panned windows have better energy efficiency as compared to single or triple panned models.
Triple panned glass or dense glasses with quality insinuative properties are the best for harsh climates. But they can reduce the light transmittance and hence visibility.
Single panned or double, you can choose the glasses based on two factors
a. Low E –
Glass panes with low emissivity reduces the amount of heat that can pass through it. We can say that this is the most important certification for glass.
b. Impact resistant –
It is durable and will hold up in all weathers. Even if someone hits it hard by mistake, it will crack but will not shatter.
5. Energy star ratings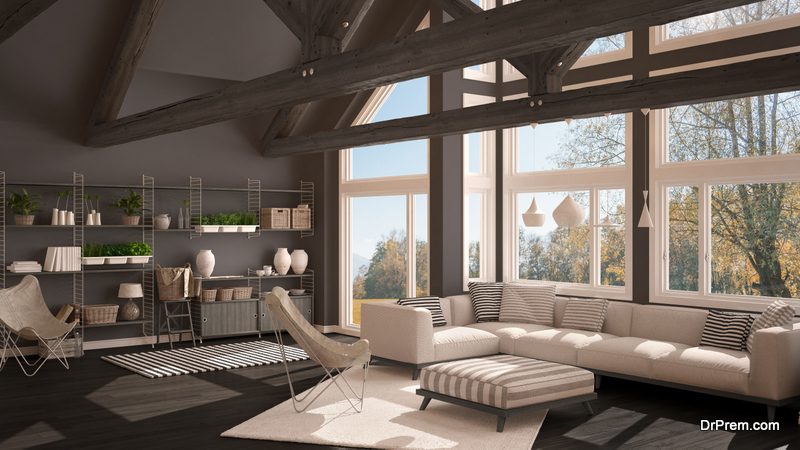 Windows manufacturers qualify for Energy Status on the basis of two main metrics:
a. U-Value:
Define the window unit's resistance to heat loss. It is one of the most important certification to look for.
b. Solar Heat Gain Coefficient (SHGC):
Measurement of heat entering the glass for both the metrics, numbers have to be the lowest. In this case, low is better. Every region has different energy recommendations. So, choose a supplier that gives importance to energy stars and conscious to provide the same.
 6. Proper sealing
The best option is to install waterproofing before you install the windows. If you were unable to do that, proper caulking and flashing is another viable option to prevent water leakage/logging.
Do not rely on sealants or expanding foams to fit the windows. These materials are not water resistant and lead to leakage problems down the road.
7. Warranty
Check the warranty duration before you make the purchase. Most of the complaints related to insulated windows are about fog between the panes. If you made the purchase from a reputed brand, they will be available to serve you whenever you face any problem or you look for a replacement.
8. Windows contractor
We will presume that you are done with the process of selecting energy efficient windows, its frame, type and manufacturer. Look for a contractor trained by the same manufacturer that you have chosen to purchase from. Another option is to call your Home Builder Association and get some contractor's in your area.
Bottom line
Even the best windows frames need to be installed in a proper manner to give optimum performance. It is recommended to be installed with the help of expert professionals as per the manufacturer's guidelines.
Installation depends upon the selected frame, house construction material (concrete, wood, etc) and the type of any weather resistant material. As discussed earlier, air sealing and flashing should also be accomplished correctly for durability. After everything completes, you can proudly say that you are living in a green home that will never consume extra power.