With the ever-increasing data generated by a wide range of Web activities, the need for effective data centers is also increasing. These data centers are physical locations where all the information is stored. As companies use multiple types of servers for storing and processing their daily data, all such servers are based in data centers.
Undoubtedly, such data centers have to support their servers using a lot of energy. While servers operate using a significant amount of energy, they also require cooling to avoid overheating. Thus, the consumption of large amounts of power adds to a large carbon footprint of data centers.
What is the sustainable solution?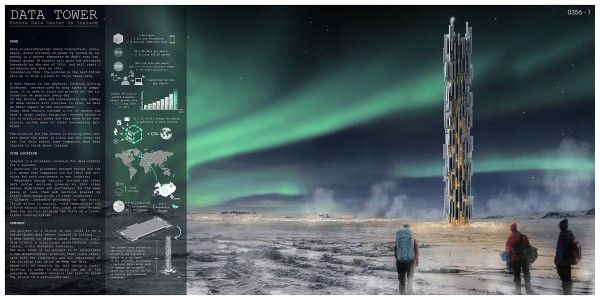 Considering the energy needs and consumption of data centers, it is important to find strategic locations where clean energy may be available at cost-effective rates. One such location can be Iceland, whereclean and renewable geothermal energy or hydropower are accessible with relative ease.
Its cold temperature and the availability of fresh breeze can be useful for cooling down the servers in a data center. Thus, it can reduce the cost of cooling systems. Further, the energy costs can be very low in a place like Iceland. If this place is chosen to build a data center, then firms can also run their services in both the U.S. and Europe.
The design concept and advantages of a green data center
Due to the advantage of Iceland as a strategic location for a data center, the Italian designers Valeria Mercuri and Marco Merletti have developed a design concept for such a center. This sustainable data center will be in the form of a tall cylindrical tower whose external façade will be something like a 3D motherboard. While the complex hardware components will be fastened to it, the internal place will stay vacant yet serve a dual purpose.
It will not only act like its cooling system's main air duct, but alsoserve as a place where pods may be moved during upgrades or maintenance.On the top of this skyscraper will be a huge cooling fan to give a chimney effect. It means that the fan can release warm air from inside and bring in fresh outside air. A portion of inside heat can also be used to warm up labs and inner greenhouses. Additionally, the expelled heat can warm up surrounding houses.Finally, this data center structure will keep on evolving, just as a motherboard does.
The design concept of a data center in Iceland is quite sustainable and environmentally friendly. This green tower will be able to conserve a lot of energy that goes into running the operations of a data center.
Source : Evolo.Us