If regular beach umbrellas make it a hassling experiencing when you visit a beach for relaxation, then forget the trouble now. If electronic gadgets run out of juice when you need them most on a beach, then forget this problem too. Turtle Tent offers the solution as a solar-powered tent that can be the right partner for your beach visit.
What Turtle Tent Offers
Turtle Tent gives you a cleaner and greener sun shade option. As it has solar panels to generate renewable energy, it can charge your gadgets at a beach location. Thus, you can easily stay connected to your surroundings. Even if you are running out of your phone's battery, you can boost it up with Turtle Tent and start taking your pictures, listening to music, or talking to friendsor colleagues.
Being lightweight, it can also be carried easily from one place to another. Along with portability, Turtle Tent also provides you a sturdy and strong sunshade when you go to a windy beach. Unlike other sunshades or umbrellas that fly away in strong winds, this solar tent stays fixed in its place.
While it may fall, it will never fly away. Thus, this collapsible tent is a great option when you want to relax and be comfortable on a beach. It is easy to set it up and make it collapse. While Turtle Tent is friendly to you and your gadgets, it is much friendlier to your environment.
Design and use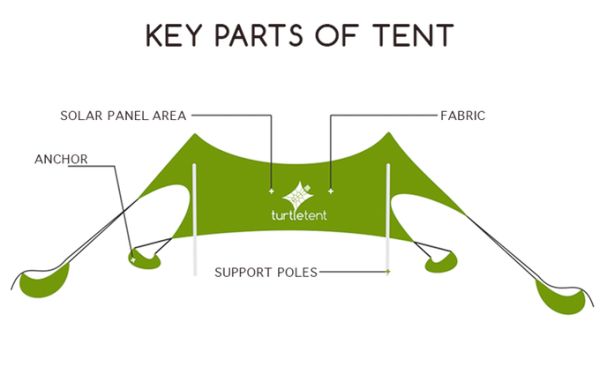 This eco-friendly, compact tent has a sober and minimalistic design. This adjustable sunshade makes use of a high-quality fabric that is water and UV resistant. Its fabric has elasticity, and its durable composition makes it stronger and long lasting. A 5.5-Watt solar panel is installed on the fabric itself.
The inside of the tent under this solar panel gives you a USB output where you can attach your device for charging purposes. It also has a pocket in which you can put your gadget.With the help of its support poles and four anchors, you can very easily install or set up this 5-lbs. tent on a beach. Thus, this neat and green tent option can make your beachside experience truly amazing.
Turtle Tent is a lightweight, portable, and durable sunshade that uses the energy of sun to power your electronic devices right on a beach. This green option is wonderful for you and your environment.
Source : Kickstarter.Com