Decks are one of the most frequently added features to a home's exterior. They not only enhance the curb appeal of the home, but also the enjoyment quotient of the space and landscaping. So, when building a deck, it makes sense to put some thought into what materials you'll use to create it. After all, an area that gets this much use should be both long lasting and sustainable. There are numerous sustainable deck materials available for use; each with their own benefits can help you decide which one is right for you.
Treated Lumber
Treated lumber is the most common decking material in use today. The lumber is treated to help prevent insect activity and preserve it so that the deck lasts longer before you would need to replace it. Like modified wood, treated lumber can be considered a sustainable material because wood is a natural product that can be regrown over time. Unlike modified wood, however, treated lumber does have some drawbacks. For example, they can't be used for modern pool decking like modified wood can, because they can't withstand the constant water absorption.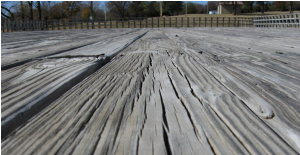 Old treated lumber contained arsenic, which was found to be leaching into water supplies. So the arsenic was replaced with other chemicals, which while safer, can have a negative impact on the metal used to build the deck – screws, nails, and brackets. If galvanized metals are not used, the metal will begin to rust and corrode on contact with the chemicals in the wood.
Treated lumber also requires frequent applications of stain or some other type of topical treatment to help protect it from the elements. These stains can contain high levels of VOCs, which can contaminate the air surrounding your home. Low and no VOC stains are available, which can help lower the environmental impact of using treated lumber.
Composite Decking
While less popular than wood decks, composite decking materials have been getting a bigger return on investment in recent years – up to 65% according to Remodeling Magazine's Cost Vs. Value report. Composite decking is made up of a blend of wood fibers – typically sawdust or wood chips – along with plastics. The plastics may be virgin, or new, or they may be recycled. When the plastic content in the composite decking is from recycled origin, the decking can be considered an environmentally friendly and sustainable material, especially because the wood used is often what's left over from the production of other materials, and is therefore getting a second use itself.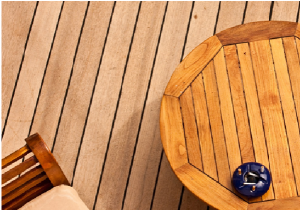 Composite decking has come a long way in recent years, with several different textures, colors, and styles available. It closely resembles real wood, but is considered a lower maintenance material because it doesn't require frequent sanding or staining. Composites do have some drawbacks, however. The plastic component of the boards often means that the decking can get very hot underfoot. Not all manufacturers use recycled content, so it's up to the consumer to make sure that what you are buying is sustainable. Some lower cost composites also have a shorter lifespan, which means that the boards face a second issue of how to dispose them of once they need to be replaced.
Plastic Decking
In addition to composite decking, which uses a blend of wood and plastics, PVC or polyvinyl chloride decking is also available. PVC decking is made of a blend of plastics, much like vinyl siding. It can be made from a high recycled content, which makes it a sustainable product. It also lasts longer than composite decking and treated lumber – up to 30 years – without requiring regular maintenance such as staining or pressure washing. Like composite decking, however, the quality of the plastic decking can vary; more expensive material tend to last longer and look better than the cheaper options.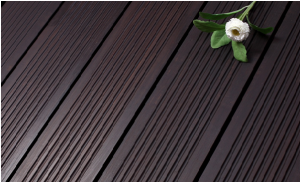 Modified Wood
Wood decks get a better return on investment than decks built from composites or other materials. Wood is also considered a more sustainable material than some others, due to the fact that softwoods can be regrown in a fairly short period of time.
To make your wood deck more sustainable and to create a low maintenance decking at the same time, consider modified woods. Modified woods, like Kebony, use a non-toxic bio liquid to transform the softwood into a product that's more durable and longer lasting than hardwoods. It also helps prevent the wood from rotting due to moisture or insect activity, so you can worry about it less. In fact, modified wood does not require yearly maintenance such as scraping and staining; instead, it weathers to a beautiful silver gray over time. So, it's better for the environment in the long-term, unlike other woods which require repeated applications of stains containing VOCs.
Make Your Deck Sustainable
Decks enhance your property and your lifestyle. Make sure that while they enhance these things, that they aren't taking away from the environment as well. Choose a truly sustainable decking material to enjoy your eco-friendly, low maintenance deck material for many years to come.
Article submitted by Community Writer.