After Shanghai tower, China is aiming to build the tallest and eco-friendly pair of towers. The buildings will be named "Phoenix Towers", which is estimated to be significantly taller than the current highest tower of the world "Burj Khalifa". The height of these towers is estimated to be 3,281 feet tall after its construction; it will be the highest pair of building in the world.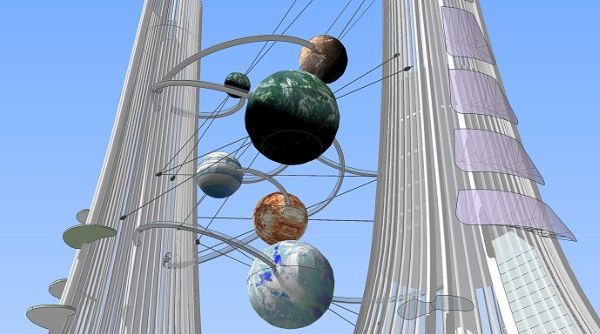 The buildings are being designed by London based Chetwood Architects. The project will include two buildings that will represent the male and female dualistic aspect of the culture of the country. According to its design, the male tower, named Feng, will have around 100 floors. These floors can be used for residential, office, and retail purposes. On the other hand, the male counterpart, Huang tower will contain world's tallest garden.
This tower is slightly smaller than the first tower. These towers will be constructed on an island in Wuhan city, and will draw most of their power from renewable sources. The construction will cover an area of 17- acre. The completion of towers is planned for the year 2018 with the cost of £1.2 billion.
The main motive of Chinese government is to solve environmental issues in the country. The towers are designed while keeping environmental conditions in mind. According to reports, the towers will be able to use water and air filtration system, solar, and hydrogen power. Moreover, it is able to utilize wind, produce crops, harvest rainwater, and house businesses. The best part of the construction is that it is purely eco-friendly and can solve ecological problems of the country.
Features of Phoenix Towers
Phoenix towers are designed to have green features like pollution-absorbing surfaces to filter the air as well as technology to ventilate and filter water.
Additionally, thermal chimneys, air gardens, and biomass boilers are also part of the design. The towers are designed to generate enough power in order to fulfill the needs of towers and neighbor areas.
The cutting-edge technology will be used to feed the tower with renewable power.
The towers are also expected to promote tourism in the city and country as well as it will be constructed on a beautiful island, covering an area of 47-hectare.
Summary
Phoenix Towers will be the tallest pair of buildings in the world. It will give an opportunity for Chinese people to get the experience of an amazing building. These towers will help the country in dealing with its pollution problems.