The best way of saving electricity is by not using it. As simple as it might seem, it is almost impossible to implement it. Everything ranging from our washing machines to cellphones utilizes electricity. We cannot escape it completely. However, we must always remember that there are a few types of products that also come in a non-electric version. These products not only save the environment, but they also save you from the headache of putting them near a power socket. What more do you want? Amongst all such products, non-electric water purifiers are probably the most prominent. 
Why choose non-electric water purifier?
You can't drink tap water without some kind of purification process. There are many electric water purifiers in the market, and you probably may be using one already. The non-electric water purifiers can provide much needed clean water when you're traveling, or in your office or anywhere which does not have access to electricity. As a non-electric water purifier is cheaper than the electric version, even people who have minimal financial resources can buy them. Check out these non-electric water purifiers, but first a little knowhow about these innovative water purifiers.
What you should know about non-electric water purifier
Many non-electric water purifiers use Ultra-filtration (UF) tech which does not remove dissolved impurities. These purifiers are suitable to purify water which has low TDS value. Furthermore, the UF purifiers have micro-membranes which are extremely thin, and do not allow any cysts or bacterium to pass. These purifiers are a step ahead of boiling water for drinking purposes.
The price, as well as maintenance of these filters, is much less, and thus is most affordable for many people. Usually, water has to be filled manually in the filters.
These UF water filters remove clay, sand, pesticides, plant waste and sand. Metals however cannot be removed. Before using, the first batch of water purified by a non-electric water purifier should always be drained out. Don't be put off by the distinctive taste of the purified water.
6 – Best non-electric water purifier of 2018
1.     HUL Pureit WPWL 100 Classic 23 liter water purifier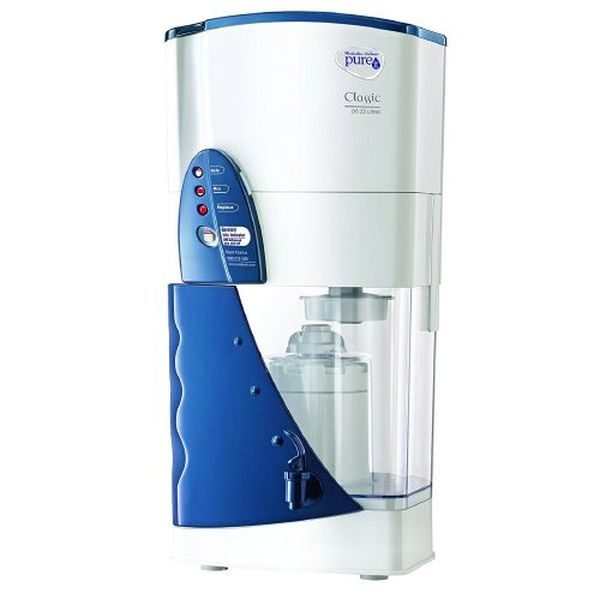 It is one of the most affordable water purifiers available. It has a multi-stage process of purification using the innovative 'Programmed Germ Kill Technology'. The activated carbon trap eliminates pesticides and microbes. This non-electric water purifier is the best of 2018 due to its ability to remove 10 million viruses from a liter of water, and also the reasonable price point.
The body and tap mainly consist of durable plastic. Its capacity for clean water is 9 liters with total capacity of 23 liters. The Germ Kill Kit lasts for approximately 1500 liters. Moreover, the Environmental Protection Agency has certified the purification process.
Using it, you can only purify soft water and municipality water.  It is not meant for hard or salty water.
2.     Whirlpool Destroyer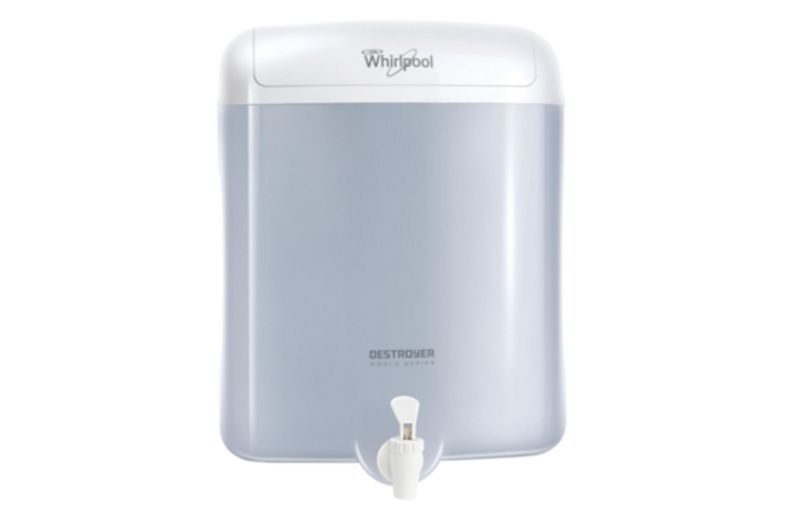 Whirlpool has a good hold on the Indian home appliances market. They have recently designed a water purifier for Indian homes. The capacity of the non-electric water purifier is 6 liters, with a life of 2200 liters. The EAT technology is ground-breaking, and some of the features are not available even in some leading electric reverse osmosis purifiers.
Being easy to operate and maintain, the purifier can be installed by the user. If the ppm of the tap water in your home is less than 500 ppm, then Whirlpool Destroyer is the best of 2018. Why – because it has a five stage filtration process.
The EAT or Electro Adsorption Technology has the capacity to retain all the natural minerals, remove physical impurities like silica, sand, dirt, dust etc. It eliminates suspended solids using a mechanical filter. Moreover, in the later stages the water also becomes free from viruses, bacteria, cysts, chlorine, and pesticides. With all these features, this is great non-electric water purifier you can buy in India!
3.     Kent Smart 7 liter UF purifier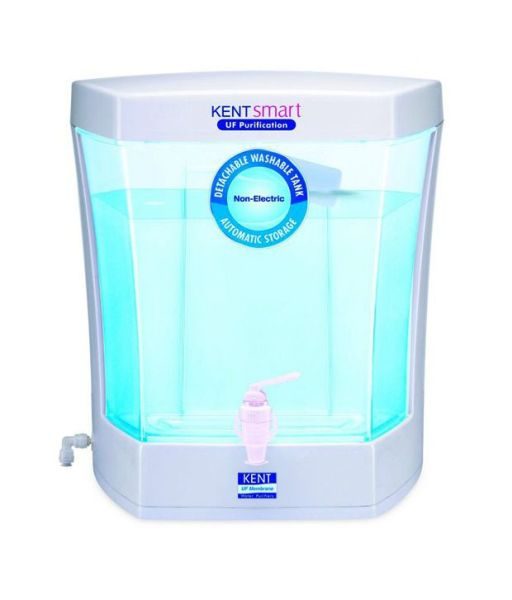 Based on UF technology, this non-electric water purifier gets rid of harmful microbes such as viruses, cysts and bacteria. It does not use bromine, iodine or chlorine in the process of purification. Therefore, the water is safe to drink. In this purifier, you cannot tamper with the UF membrane.
It has a 7 liter capacity with automatic on and off feature. The water container consists of food grade plastic, which is unbreakable, and easy to remove and clean. Its compact size makes it possible to keep it anywhere in the kitchen or dining room. The purified water is odor free and tasty.
The only drawback is that it cannot completely purify bacteria. Therefore, you cannot use it to clean untreated water. And also that it needs frequent cleaning.
4.     Tata Swach NonElectric Cristella Plus 18-Litre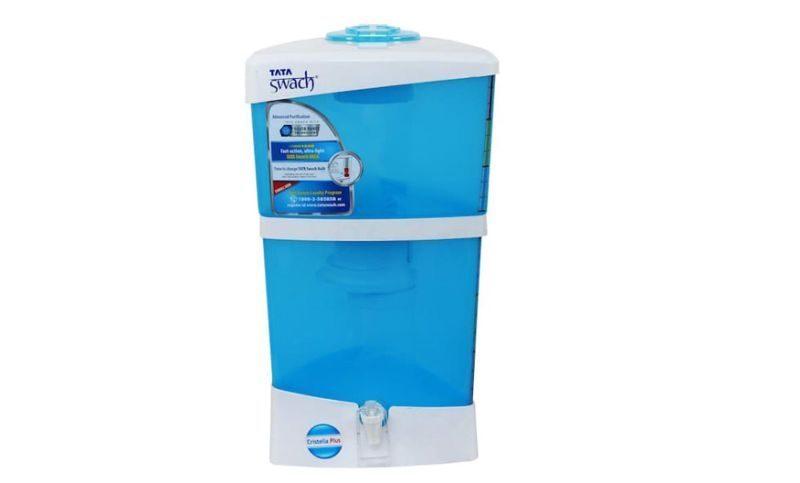 It is a gravity-based water purifier which could also be the cheapest around. It operates with Silver Nano Technology, which is able to remove 100 crores bacteria i.e. approx one crores from one liter of water. The plus points are an auto switch-off system, free of chemicals, a Tata Swach Bulb which filters approx 3000 liters. The body is scratch proof and food grade material (plastic).
You don't require running water and the bulb replacement cost is only 500 rupees. If you have a small family and have municipal water, then this non-electric water purifier is perfect for you.
5.     Kent Gold Star 22-Litre Water Purifier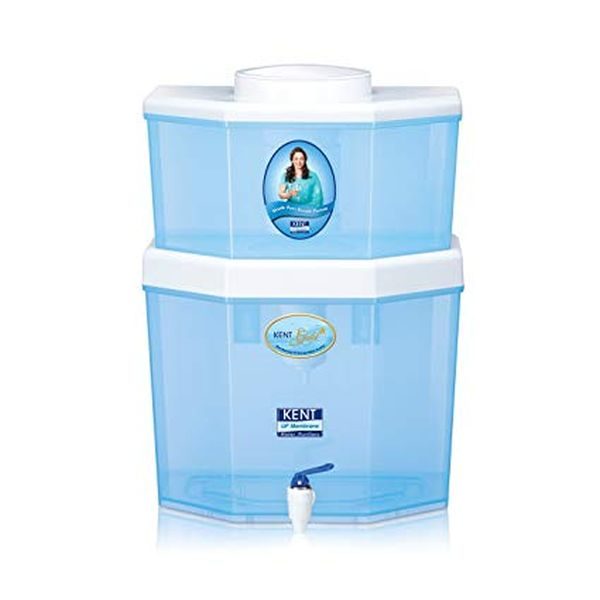 This is higher end version of the Kent Smart. Along with UF tech it purifies with gravity based purification process. The process is chemical free, and the UF membrane is just 0.1 microns and effectively prevents cysts and bacteria from passing through. Moreover, it can be wall-mounted and kept on your kitchen counter as well. It is CE Certified, and after purification you can enjoy water which is disinfected and odor-free.
The filter gets dirty often and has to be cleaned, which sometimes can be quite cumbersome. It needs quite an amount of maintenance.
6.     Pureit Advanced 23 Liter Water Purifier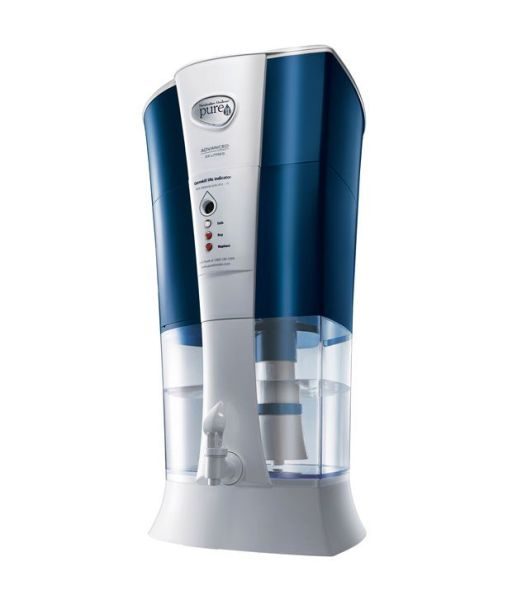 This water purifier's tech has been certified as safe by the United States' EPA, which makes it comparable to international standards. The multi-stage purification system with activated carbon trap eliminates pesticides and microbes. It's imported micro-charged membrane acts as a double purifier – it purifies the water which has been purified already. Furthermore, the body, made of ABS plastic is durable and lasts for a long time. The capacity is 9 liters (pure water) and 23 liters total.
Non-electric water purifiers are a good solution for clean drinking water. They are affordable and effective, which can help people of all strata of society to access clean and pure water which is the basic fundamental right of all people.