Are you an artist? Do you want to create something for the environment? Well, you need not come up with some eco-friendly innovation to promote sustainability. By utilizing waste in an eco-friendly manner, you can make artworks that would inspire millions of others towards sustainability. It isn't anything new. People like Nek-Chand are proving that with just your power of will and creativity, you can design treasure out of trash. Moreover, there are other artists too who, by focusing on sustainable art, are bringing the most pressing environmental issues to the fore.
9 – Pieces of sustainable art for inspiration and awesomeness
Sustainable art has gained a lot of prominence. The use of eco-friendly ideas and materials to create artwork that does not pose any harm to the environment sounds lucrative for many who are inspired by a green lifestyle. As such, here are 9 pieces of sustainable art from around the world that would inspire artists who want to travel down the same road.
1. Vertical Green Garden by Jeff Koons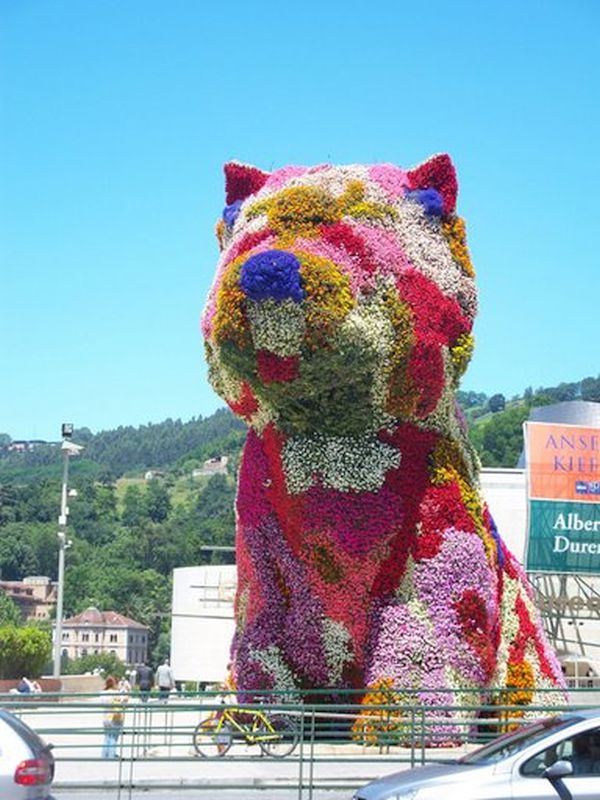 No would be as imaginative as artist Jeff Koons when it comes to designing a massive topiary sculpture, that too in the 90s' when the world was just awakening to a green lifestyle. The vertical garden stands at a towering height of 43 feet. It was commissioned at the Guggenheim Museum located in Bilbao. It was the perfect example for verdant sculpture that was so famous in the Victorian times.
2. Recycled Plywood Shavings Artwork by Henrique Oliveira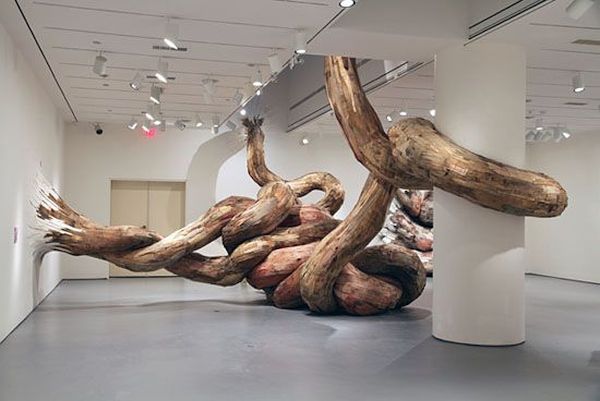 Normally, we discard the old shavings from weathered construction plywood. However, Henrique Oliveira saw their potential as an art form and took out his brushes to create unique three dimensional sculptures using peeled, old plywood.
The plywood has the construction sites across Sao Paulo as its source. When assembled and painted, these resemble gigantic pieces of twisted roots bursting through the room. Oliveira also creates smaller, but equally mesmerizing art pieces with these plywood shavings as well.
3. Cardboard Elephant by Nituniyo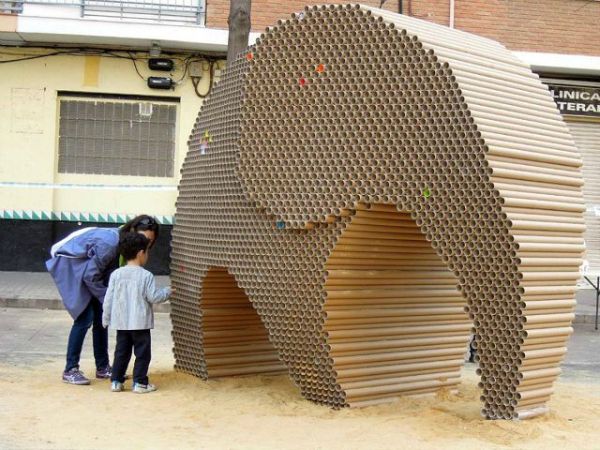 As part of the annual Fallas Festival celebrated in Valencia, design company Nituniyo created a life sized elephant entirely out of recycled cardboard paper tubes. Called Somnis des Pes aka Dreams of Weight, the cardboard contains over 6000 recycled paper tubes.
The tubes are hollow and house colorful rolls of paper that bystanders write their dreams on and then insert into these tubes. The elephant was finally burnt on the last day of the festival as part of the final celebratory act.
4. Sustainable Environment Beach Sculpture Protest by the U.N.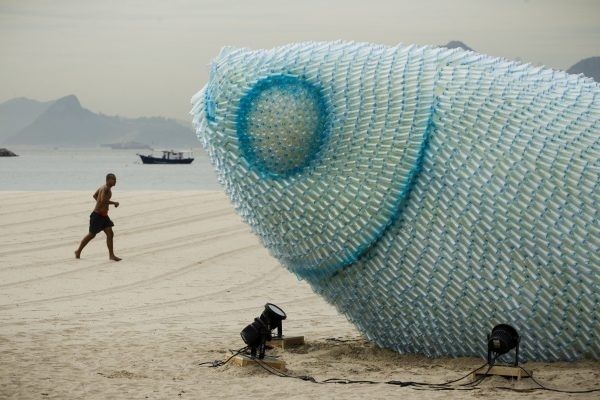 The dangers of plastic bottles is already a highly popular issue. However, their usage has only increased in the past few years. The U.N. Conference on Sustainable Development held at Rio came up with an innovative way to put this message across.
The organization commissioned the creation of gigantic fish sculptures on the beaches made entirely of discarded plastic water bottles. Truly breathtaking and inspirational at the same time, these fish sculptures are the perfect ode to environmental sustainability.
5. Floralis Generica by Eduardo Catalona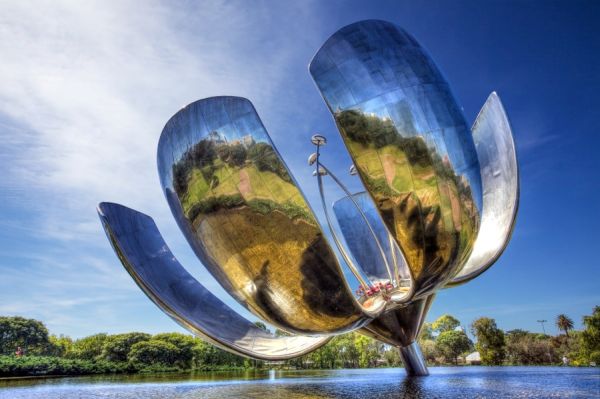 Located in Buenos Aires, the Floralis Generica is a gigantic metal flower. It consists mainly of stainless steel and aluminum. The sculpture is autonomous and it mimics the actions of a real flower. That is, it would open its petals in the morning and then close them at dusk. The flower itself is 65 feet high and emerges from a circular pond containing mirrored waters.
The flower wasn't working for over 6 years ago. However, now, after some repair, it is fully functional and is in full bloom again. The flower's mechanism would utilize a hydraulic mechanism running on photovoltaic energy.
6. Environmental Sculptures by Jaako Pernu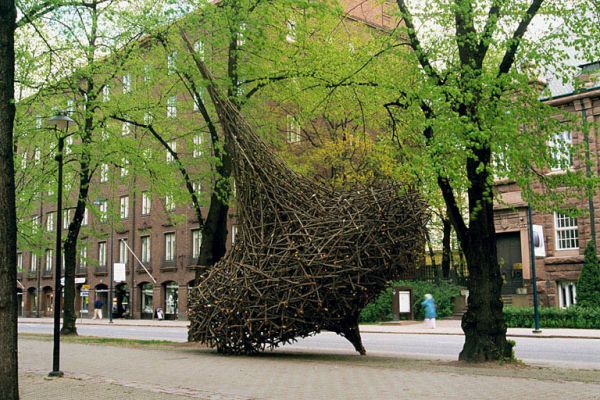 Finnish based sculptor Jaako Pernu is an environment artist who has dedicated over 20 years of his life to working with natural materials and creating site specific artworks in and around Canada and Europe.
Jaako takes his inspiration from rural Eastern Finland where he grew up as a kid. His father used to construct wooden boats and Jaako learnt the technique of working with wood this way. His environmental sculptures are distinct and are usually consist of tree trunks and branches. Taking exquisite forms, these sculptures are left to weather and decay naturally with time.
7. Miniature insect sculptures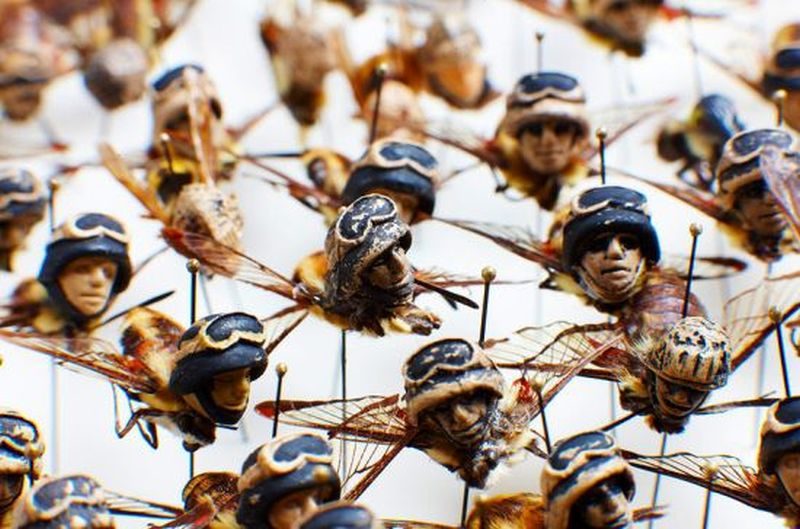 You might have seen insects crawling on walls. Don't they look lively and energetic while doing so? Then again, when they breathe their last and lose any movements thereof, they appear to be as lifeless as they actually are. Some artists, however, see the other side of it and seek to instill some life into the otherwise lifeless creatures. Amy Swartz is one such Toronto-based visual artist who has been invigorating thousands of such miniature mortals with her art for years quite successfully.
One of her series, named as Pests, includes numerous miniature insect sculptures using insect specimens and toy figurine parts. As the artist puts it, her art explores the idea of obsession which transcends beyond the limits of nature, life and death. Her art is commendable considering the fact that she provides a different meaning to death. Providing more symbolism to her art, Amy further says that her art seeks to address issues like overpopulation, extinction and human behavior.
8. Amazing Robot-shaped sculpture
When contemporary stuff fails to inspire our creativity, we often seek to derive that much-needed inspiration from things we consider as outdated, superfluous or waste. Creatives at Reclaim2Fame accordingly take pleasure in exploring, collecting and amassing discarded stuff lying around and morph it into convincingly impressive, animal-shaped robotic sculptures.
The Jalopy – Robotic Dog Assemblage, according to the manufacturers, is the silliest robot dog yet. Made from materials such as recycled aluminum soup pot, vintage bicycle headlights, horns and training wheels, the weird-looking robot is 20.5″ tall, 14″ wide and 22″ long. Next, the Robot Pony – Yearling sculpture utilizes a vintage French fry cutter, an advertising tin and vintage doll buggy wheels. The third sculpture, i.e. d'Artagnan or DART flaunts eyes made from aluminum binoculars.
Equally impressive is the robot dog called CALLI, which uses a vintage, Calumet advertising tin as its body, antique French opera glass parts as eyes and a vintage drink mixer as its head. The next entry, i.e. GINNY robotic dog sculpture provides an altogether different meaning to a vintage, craftsman toolbox. While antique binocular parts make its eyes, you could see it flaunting vintage, Virginia license plate ears. Finally yet importantly,
9. Dob sculpture from recycled bike parts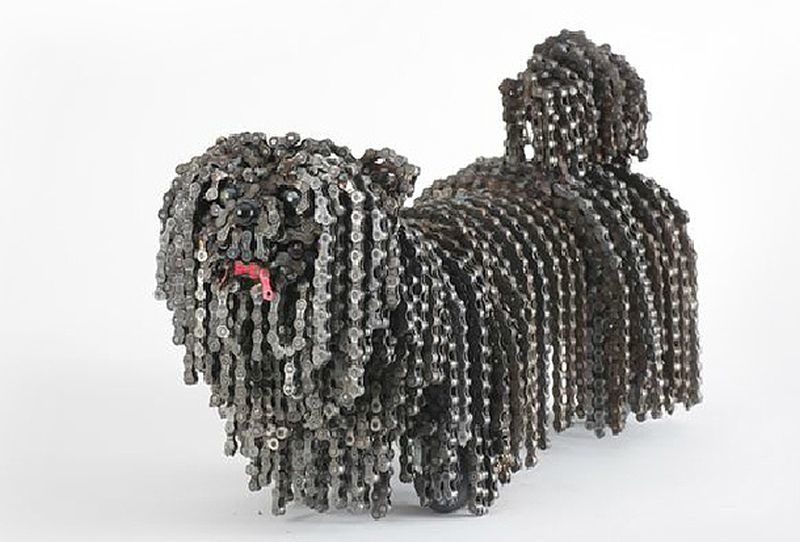 When monotony inspires one to go more creative than s/he actually is, it often finds a higher expression and accordingly results in inspirational artworks. When the Israel-based artist and fashion designer Nirit Levav ditched her academic specialty, i.e. designing wedding dresses, for metal recycling, she might be having similar ideas about her professional future. The junk collector has fairly succeeded in her plans. Nirit now creates realistic dog sculptures from recycled old bicycle chains, rather than designing bridal attires.
The avid junk collector adorns her life-size dog sculptures with disused metal components collected from bike shops and motor garages. Cast off gears, metal bits and a green intent to create something unique motivated Nirit to conceive and fashion dog sculptures of different sizes. Talking about her first inspiration, the artist reveals that her mind saw an amorphous shape in broken chain coils. Later, she came up with the Rottweiler, which was followed by an Afghani dog, full-size greyhounds, a bijan frise, a cocker spaniel, poodles and other mutts.
Summary
Artists have turned towards sustainable art. Using natural materials and power sources, these artists create truly stunning and inspirational works of art that can spellbind viewers.