Sustainable art has gained a lot of prominence. The use of eco-friendly ideas and materials to create artwork that does not pose any harm to the environment sounds lucrative for many who are inspired by a green lifestyle. As such, here are 6 pieces of sustainable art from around the world that would inspire artists who want to travel down the same road.
Vertical Green Garden by Jeff Koons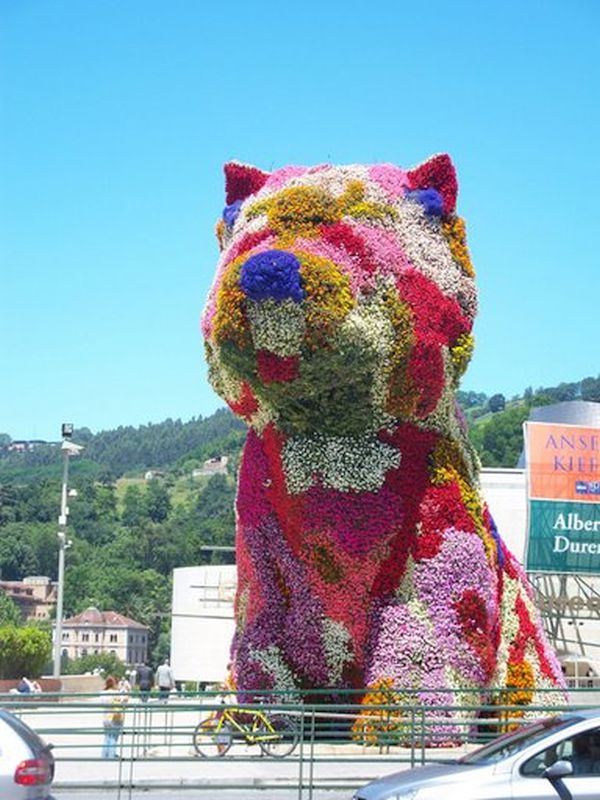 No would be as imaginative as artist Jeff Koons when it comes to designing a massive topiary sculpture, that too in the 90s' when the world was just awakening to a green lifestyle. The vertical garden stood at a towering height of 43 feet and was commissioned at the Guggenheim Museum located in Bilbao. It was the perfect example for verdant sculpture that was so famous in the Victorian times.
Recycled Plywood Shavings Artwork by Henrique Oliveira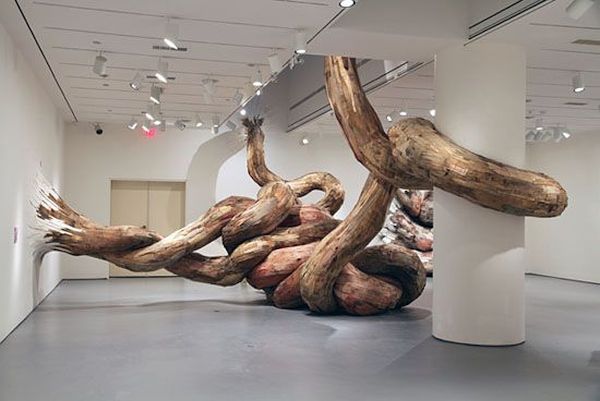 Normally, the old shavings from weathered construction plywood are discarded. However, Henrique Oliveira saw their potential as an art form and took out his brushes to create unique three dimensional sculptures using peeled, old plywood.
The plywood is collected from construction sites across Sao Paulo. When assembled and painted, these resemble gigantic pieces of twisted roots bursting through the room. Oliveira also creates smaller, but equally mesmerizing art pieces with these plywood shavings as well.
Cardboard Elephant by Nituniyo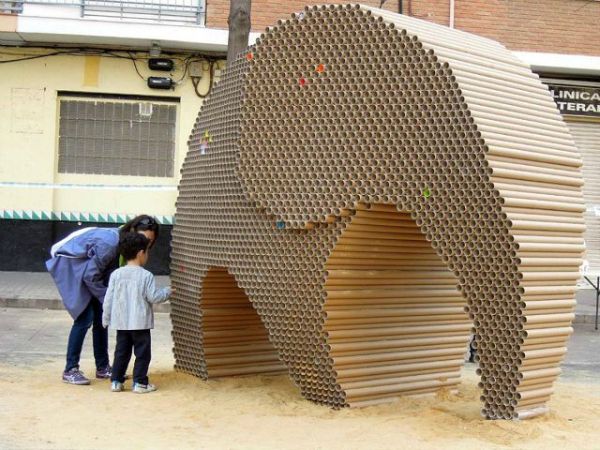 As part of the annual Fallas Festival celebrated in Valencia, design company Nituniyo created a life sized elephant entirely out of recycled cardboard paper tubes. Called Somnis des Pes aka Dreams of Weight, the cardboard contains over 6000 recycled paper tubes.
The tubes are hollow and house colorful rolls of paper that bystanders write their dreams on and then insert into these tubes. The elephant was finally burnt on the last day of the festival as part of the final celebratory act.
Sustainable Environment Beach Sculpture Protest by the U.N.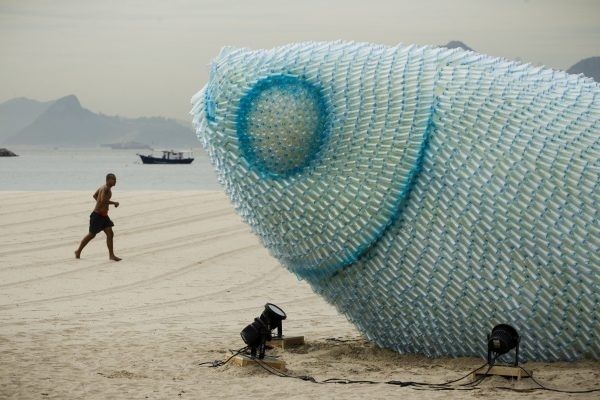 The dangers of plastic bottles have been explained manifold times. However, their usage has only increased in the past few years. The U.N. Conference on Sustainable Development held at Rio came up with an innovative way to put this message across.
The organization commissioned the creation of gigantic fish sculptures on the beaches made entirely of discarded plastic water bottles. Truly breathtaking and inspirational at the same time, these fish sculptures are the perfect ode to environmental sustainability.
Floralis Generica by Eduardo Catalona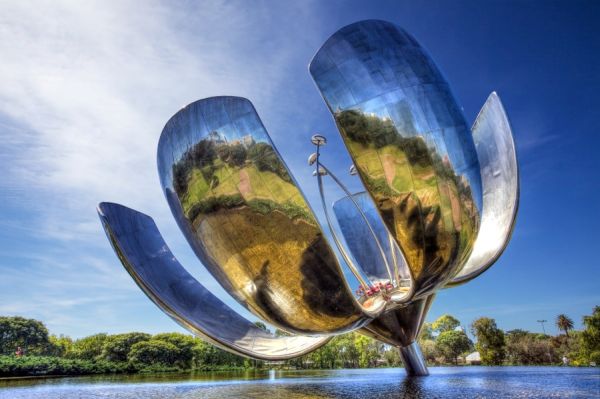 Located in Buenos Aires, the Floralis Generica is a gigantic metal flower made of stainless steel and aluminum. The sculpture was designed to be autonomous and mimic the actions of a real flower. That is, it would open its petals in the morning and then close them at dusk. The flower itself is 65 feet high and emerges from a circular pond containing mirrored waters.
Although the flower stopped working over 6 years ago, it has been repaired and is in full bloom again. The flower's mechanism would be powered by a hydraulic mechanism running on photovoltaic energy.
Environmental Sculptures by Jaako Pernu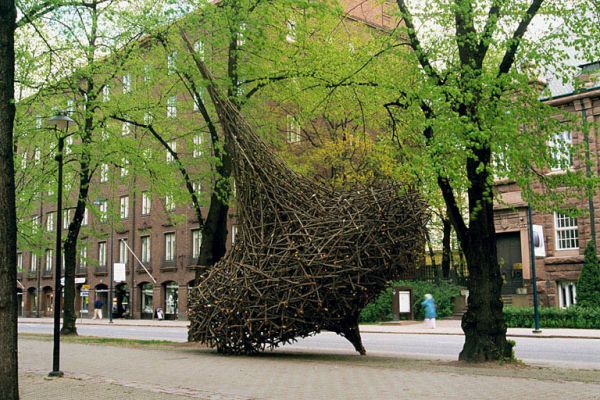 Finnish based sculptor Jaako Pernu is an environment artist who has dedicated over 20 years of his life to working with natural materials and creating site specific artworks in and around Canada and Europe.
Jaako takes his inspiration from rural Eastern Finland where he grew up as a kid. His father used to construct wooden boats and Jaako learnt the technique of working with wood this way. His environmental sculptures are distinct and are usually made out of tree trunks and branches. Taking exquisite forms, these sculptures are left to weather and decay naturally with time.
Artists have turned towards sustainable art. Using natural materials and power sources, these artists create truly stunning and inspirational works of art that can spellbind viewers.