Environmental crises call for environmentally friendly inventions. Be it electronic gadgets, smart infrastructure/architecture, or delicious food – everything has welcomed green concepts and changes with open arms. After all, going green is indeed the need of the hour. As Earth Day is just around the corner, let us celebrate it by looking at six environmental inventions 2018 that can change the face of our planet for good.
6 environmental inventions 2018:
1. A lamp that encompasses an entire ecosystem within: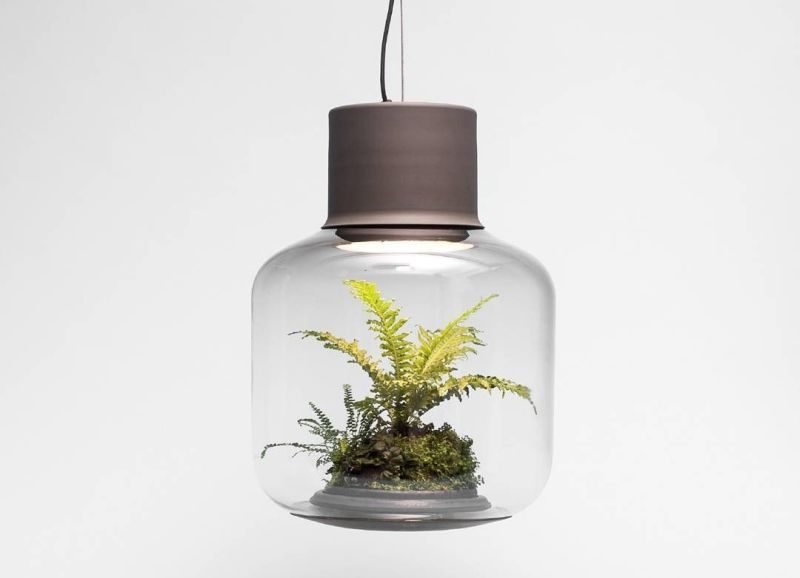 Not everyone has the benefit of working in open spaces. If you too are deprived of fresh air, forced to cram up in a windowless cabin at work, or are surrounded with toxic and polluted gases; it is time for a change. This lamp is just like a flowerpot. Except, it glows beautifully and it can sustain an entire plant within it (for years at a stretch)! Designed by Nui Design Studios, these plant lamps are easily one of the most simple inventions that help the environment.
2. A shower curtain that almost spikes you when you waste water: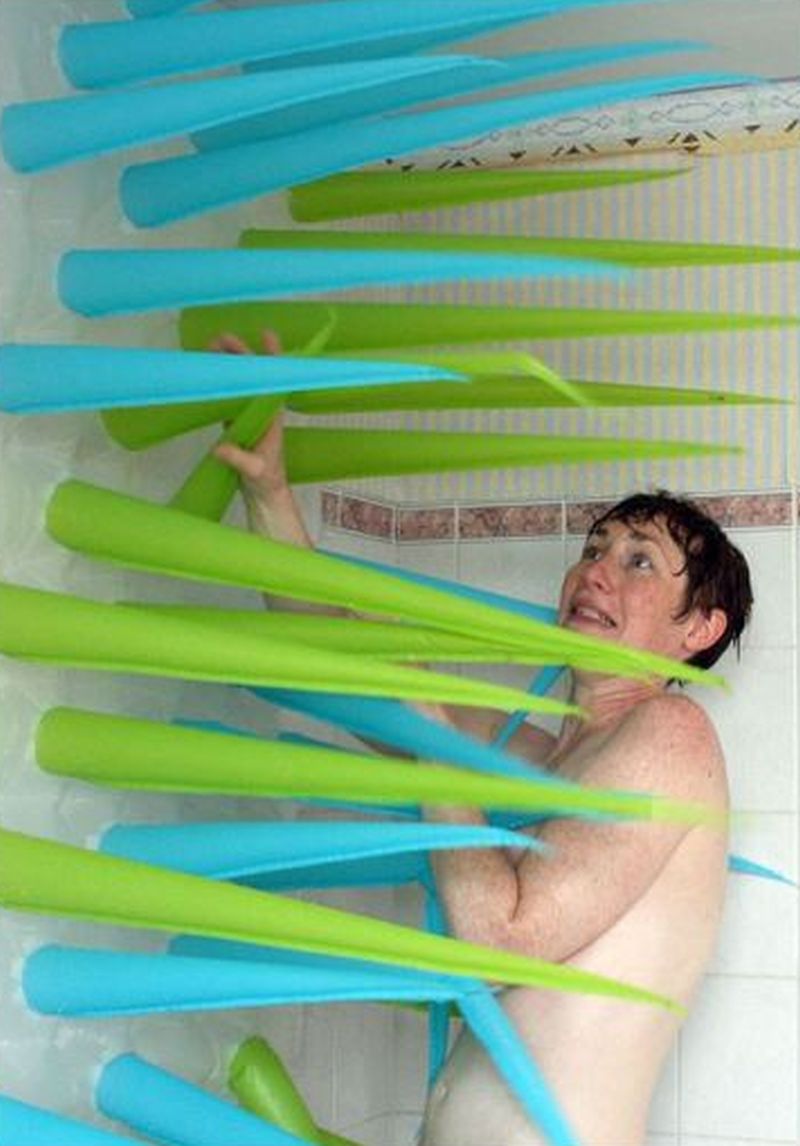 Water is not abundant. It thus becomes imperative to save as much water as possible. Now, some people just can't help but unintentionally waste water. Some, on the other hand, do it on intention. If you belong to either of the group and are in need of some behavioral change, a shower curtain is your answer. This shower curtain is designed to help you (or threaten you) to stop water wastage. After you waste water for four continuous minutes, the sensor in the tap will turn the soothing patterns of the curtain into sharp spikes through an air inflator. This shower curtain is certainly one of the best environmental inventions 2018.
3. A plastic that is anything else but a plastic: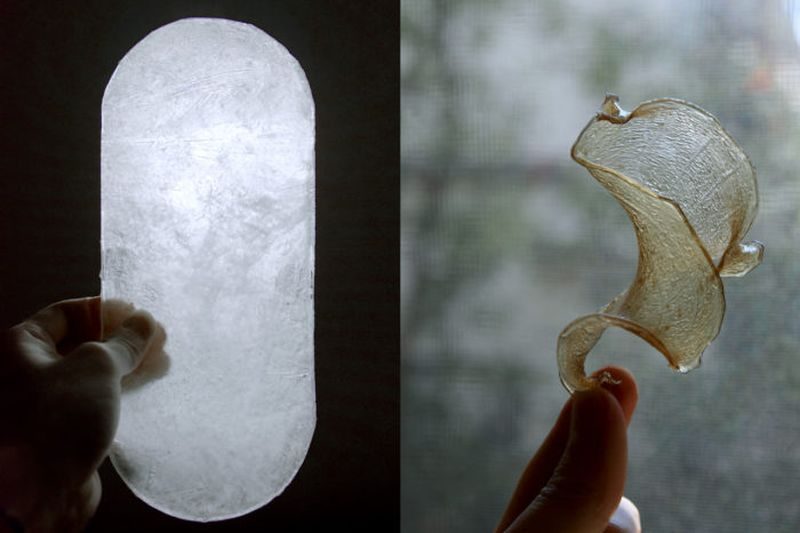 Image Source : buzzworthy.com
AMAM, a Japanese company studied the amount of plastic that we are producing and dumping around us; and they were terrified of the calculations! So, this company, which includes designers such as Noriaki Maetani, Kosuke Araki, and Akira Muraoka, decided to create a plastic that only looks like plastic. The trio used Agar, a substance you will only find in seaweed, tweaked it a little and made it work almost like the real plastic. The upsides of this different kind of plastic are that it doesn't demand a filthy creation process and it is entirely disposable. While this is one of the most significant inventions that help our planet, there is still a long way to go before this invention can enter the market.
4. A biodegradable material that decomposes as soon as it is empty: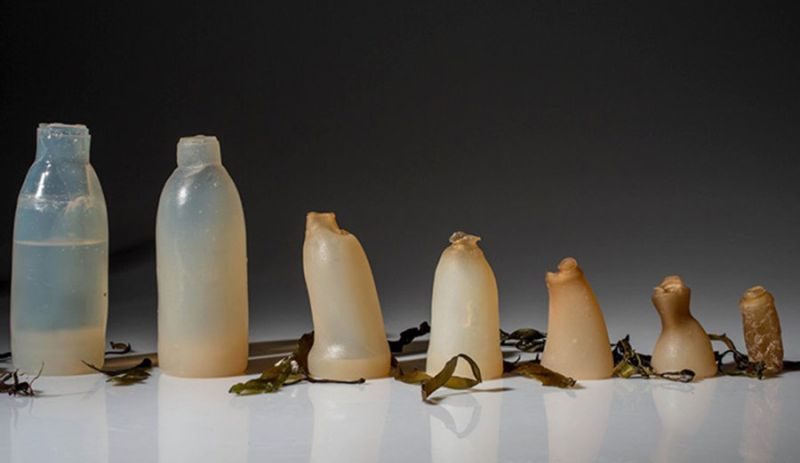 Image Source : theinertia.com
Ari Jonsson, a design student, participated in a design festive held in Reykjavik, Iceland. He invented a simple water bottle. But, this water bottle has the potential to change the way we utilize and dispose substances in our environment. One of the profound, yet simple inventions that help the environment, Jonsson's water bottle is made from a biodegradable material that retains its shape till the time it is full of liquid. But once it is empty, it starts to decompose! A simple water bottle, one of the remarkable environmental inventions 2018, surely deserves to be in the hands of all those who care about the environment.
5. A wind turbine that is portable – One of the best inventions that help our planet: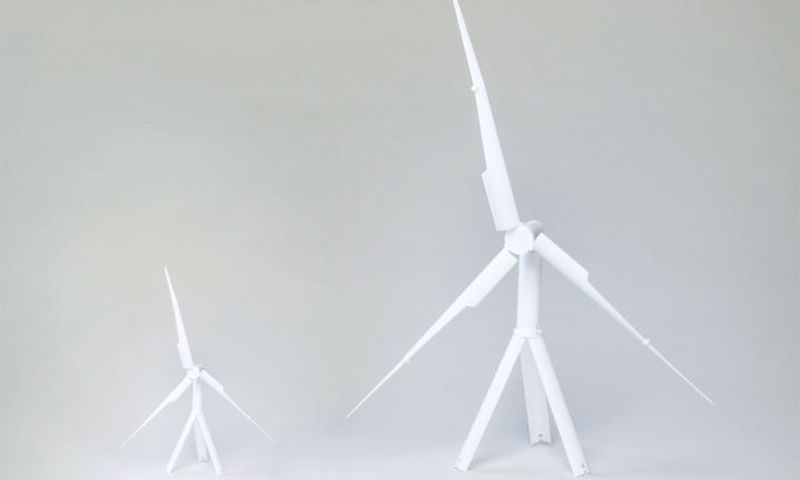 Image Source : popularmechanics.co.za
The world believes that wind turbines have to be giant, rotating wheels that produce electricity through air. Iceland thinks differently. Janulus, an innovation company in Iceland, invented a portable wind turbine that comes in four sizes. These handy turbines, called Trinity, can charge all your electronic devices – be it your smartphone or your electronic car. Just fold one of the smallest environmental inventions 2018 into small sizes and carry them with you wherever you go!
6. A lamp that works on salt and water – one of the most simple inventions that help the environment: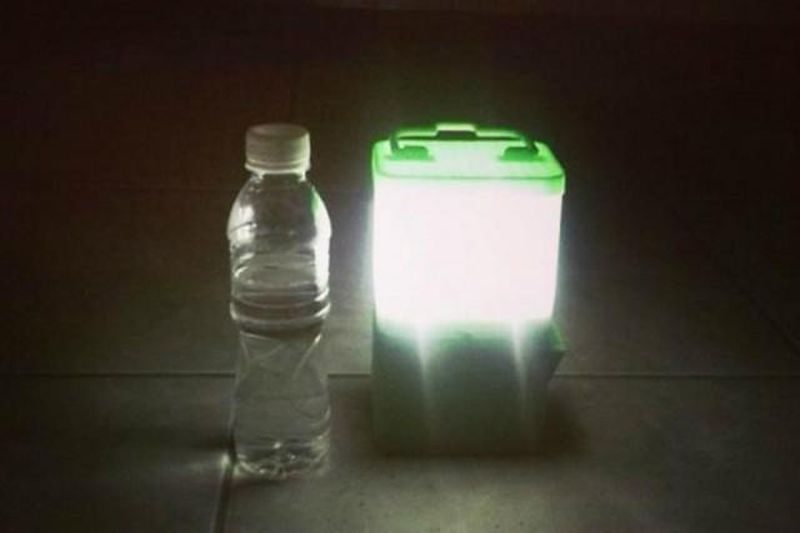 Image Source : images.gmanews.tv
This SALt lamp might fall under the category of simple inventions that help the environment. But, its effectiveness places it under the category of mind-blowing inventions that help our planet as well! Just combine a whole glass of water and two tablespoons of salt – your SALt lamp will burn bright with light the whole night. This lamp also works on seawater. Millions of households that face lack of electricity can easily benefit from such environmental inventions 2018.
These simple inventions that help the environment are trending in the list of environmental inventions 2018. The list is long, and the green factor is larger. These inventions that help our planet are cost-effective, trendy, and long-lasting. So, keep an eye out for the above-mentioned gadgets in 2018 if you wish to celebrate Earth Day every day!