Romania's Fagaras Mountains is one of the most accident prone regions from tourism point of view.  Building a mountain rescue point at thealtitude of approximately 2,100 meters was a challenge that was accepted by Romanian architectural firm Achaeus. Another accompanying challenge was to complete the structure within a restricted budget.  The mountainous location of the shelter made it tough to transport the structural elements safely to the location, but all the efforts have been fruitful.
Design and interiors
The shape of the Caltun Shelter was decided after going through some wind studies. The exterior of the shelter is clad in an aluminum cover sheet. The structure is 21 square-meters and can accommodate 19 people at a time. It also includes an 11.4-square-meter first aid room for three people.
These two spaces are attached to a small 2-square-meter kitchen. Inside the structure, naturally finished cross-laminated timber covers the interior and adds grace to the structure.
Material and transportation challenge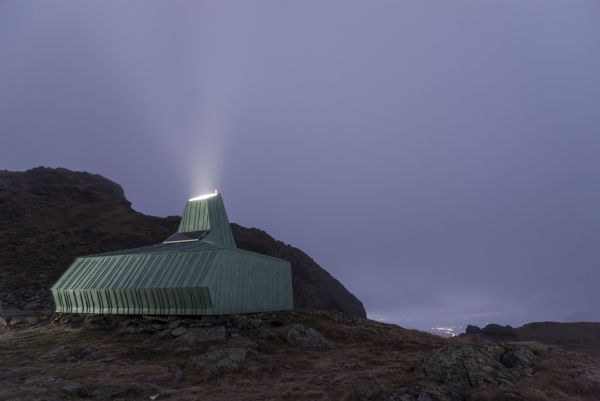 The mountain rescue point is made from 30 percent steel and 70 percent cross-laminated timber. The material was selected for its lightweight and higher resistance to snow and wind.  The timber clad interior keeps it warm.  The structure weighs about 6.4-tonne and is capable of bearing pressures of 2 tons per square-meter. The shelter is wind resistant upto 160 kilometer per hour.Given the lake protection against pollution and functional reasons and to escape the continuous wind current of Caltun valley, the location of the shelter was moved from previous 40-year-old structure.
Along with all the other sub-themes, it required a helicopter and a crew of 42 members to transport the structural elements. It was a painstaking task that included perfection in co-ordination with the pilot for mapping the execution technology and project implementation.
Solar-Powered
Electricity supply from grid is impossible when a structure is located at such mountainous and isolated region. The only solution is of off-grid renewable energy and there is nothing better than solar panels for this purpose. The panels are placed on the roof, at the base of the tower. There is no word about the generation capacity and number of installed solar panels. But considering it as rescue shelter being built with restrictive budget, it can be ignored.
Although, it was a tedious task to build a shelter at an altitude of over 2,100 meters, big enough to accommodate at least 20 people at a time, but the architect did it successfully. The relevance of the shelter is critical owing to the fact that it is located in the mountainous regions, which is harsh and has a history of high accident rates.
Source : Archdaily.Com