Models contain delicate components and materials that can be damaged by dust, mold, and particles in the air, or accidentally broken if the ship is knocked over. Display cases containing model ships can be found in museums, corporate offices, restaurants, nautical businesses, and private homes to protect valuable models. Premier Ship Models offers glass and acrylic model display cases.
Ship and boat models should be kept in model display cases to prevent damage to the model ship. The display case will keep dust, mold, fungus, bacteria, pollen, and other airborne particulates off of your ship model. This will keep it looking great and protect the value of your model ship collection. This is why museums and exhibitions use cases for their collections.
Protecting your investment is just one benefit of using a display case for your model. Aesthetics is another reason to purchase a case to show off your favorite models. A quality display case enhances the model like a frame on a painting. If you want to draw even more attention to a model, you can use LED lighting directed down onto the model.
Types of model display cases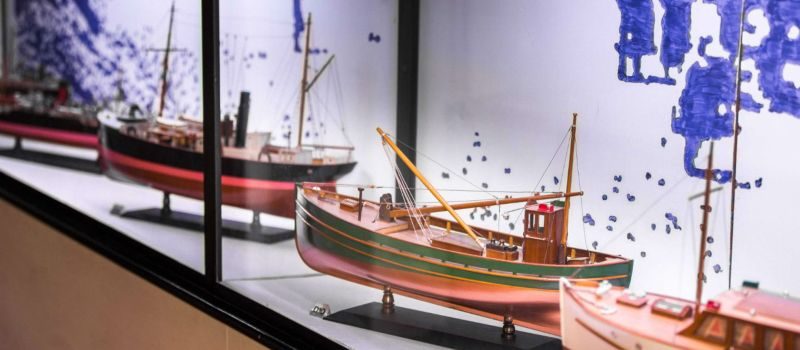 Image Source : nationaltrust.org.uk
When selecting a display case for your model, a glass display case & acrylic display case are the main options. There are advantages and disadvantages to each material. Glass offers better durability and is less prone to damage from heat and sunlight. Due to the risk of glass breaking, some people prefer tempered glass for safety. The only problem with tempered glass is there is a possibility for optical flaws and a very slight green colored tint in the glass.
Acrylic display cases are lightweight and breakage is not as concerning as it can be with glass. Acrylic is lightweight and offers optics that is similar to glass. You can keep your acrylic display case looking great and maximize the life of the case by cleaning the glass with a soft cloth to prevent scratches.
Once you have made a decision about using glass or acrylic to protect your model, you will need to decide between a made to order display case or a display case that you put together on your own. Flat packed display cases are made to order to the size that is right for your model. You put the case together using the instructions that come with the case.
Ready-made glass and acrylic display cases can be custom built to your specific dimensions. The design of the case can be customized to the size and preferences of the collector. Bases can be acrylic with different felt color options for the bottom of the case or you could have a dark mahogany or a mirrored bottom. A range of wood options are available for the base, such as light oak, mahogany, or black ash.
Whether you purchase a custom made display case or a flat packed display case, selecting the right size for your model is essential. The display case should be at least two inches larger than the dimensions of the model in all directions, including length, width, and height. If the model fits too tightly in the case, it will detract from the look of the model.
Article Submitted By Community Writer