Creative folks create many unique and new things by recycling redundant stuff, motorcycles are one of them that have gained popularity in recent years. Looking at these motorcycles, you will not believe that the innovators have actually used discarded stuff in making them. Below are some of such bikes that flaunt bountiful use of recycled material.
Old computer parts bike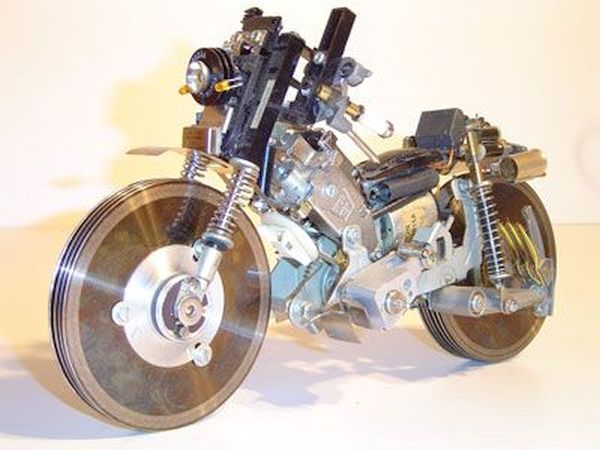 The creators of this bike prove that little creativity can do magic. Collecting old computers parts to make something like this is a great thing for sure. Most of the parts fitted in this bike are electronics parts sourced from old computers. Moreover, huge hard disk drives form the wheels. Overall, the bike looks quite stylish and robust, which makes it attractive. Moreover, it spreads the message of making the correct use of old computers and not just throwing them away.
Wooden bike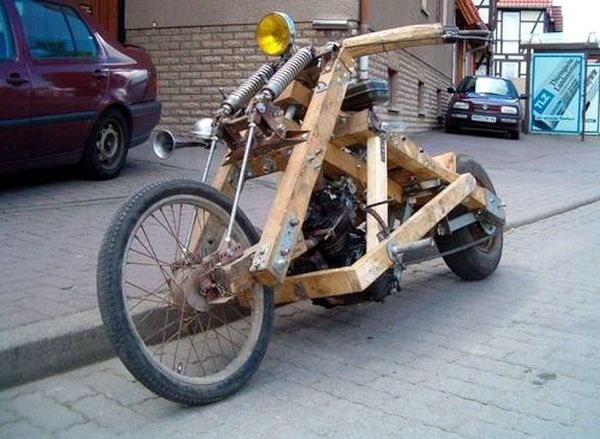 Looking at this bike, you will know the correct use of old and outdated things. With one bicycle tire in front and two of them on its back, this bike looks different when it hits the roads. Moreover, the mid section of the bike and the seats are built using wood. With working engine, the recyclers have made it possible to make some heads turn on the roaring sound coming out of this mean machine.
Monster motorcycle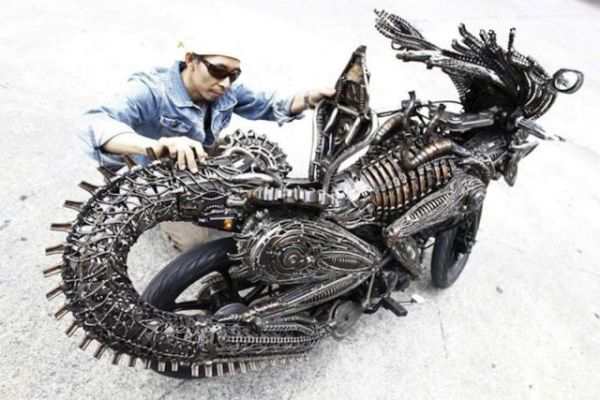 Alien bike is nothing less than a big monster, which is ready to rock the roads. Recycled material used in its making is spare parts of cars and old bikes. Monster bike looks stylish and unique. People cannot take their eyes off this monster bike when it is on the road. Moreover, the bike has comfortable seating and a robust design, which makes it interesting enough to tickle the fancies of the onlookers.
Mini bike made from watches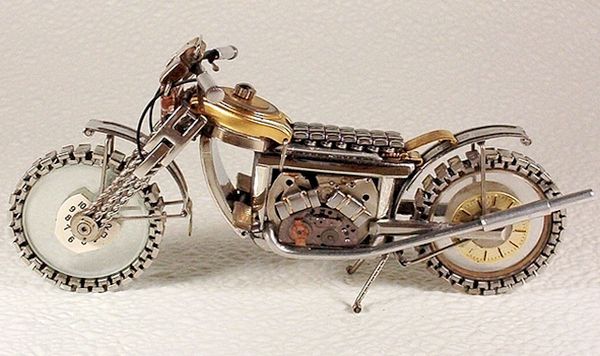 Mini bike is one of the amazing creations of a USA born artist. He just uses old watches to make these mini bikes. For making these bikes, he uses every part of a watch. While the wrist chain of the watch becomes the tires, the timepiece becomes windshield. For making these mini bikes, makers have used both golden and silver colored watches.
The EL Ninja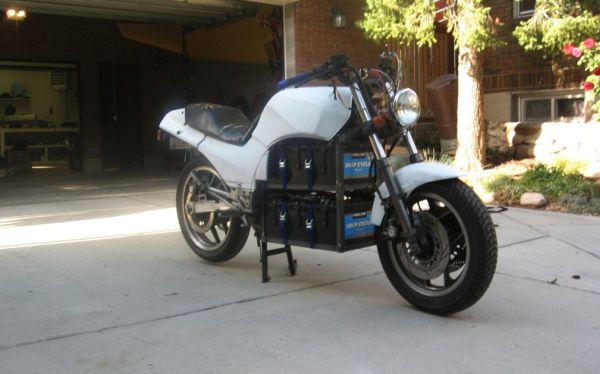 Once known for polluting the environment, the Ninja bike looks quite different when an eco-minded tries his hands on it. The El Ninja is attractive enough to attract many eyes on the road. The El Ninja is famous for its unique design, which has made it popular among bike lovers. Weighing around 530 pounds, it is able to provide 52 mph of speed to the rider. Counted among one of the best bikes made from recycled materials, many people love to own this bike. Moreover, it emits no pollutants, as it has zero emission system installed in it, which makes it a better option when compared to other bikes.

Recycling has many benefits, people must practice it more to save the environment and utilize things in a better manner. With recycling, we can create many wonderful and unique things, such as bikes, which will inspire others to follow this practice.