Algae are naturally occurring plants that grow in water. When algae grow extremely rapidly in a confined area or grow to the point where you do not need a microscope to see it, it is referred to as an algal bloom. Blooms can be found within most bodies of water throughout the Great Lakes, but they thrive in shallow, warm, non-moving bodies of water like ponds and smaller lakes.
Most algal blooms are harmless, but certain types of algae may pose a risk to humans, animals and water quality. Algae and algal blooms are generally not considered harmful unless they are capable of producing toxins and you come in direct contact with them.
A Harmful Algal Bloom, or HAB, is a bloom of blue-green algae that potentially contains toxins. HABs can cause fish kills, foul up nearby coastlines and produce conditions that are dangerous to aquatic life, as well as humans. You need to take this into account at any point in time, no matter why you visit a specific region. You can go fishing for largemouth bass or simply go for a swim. Before you do any activity, you want to be sure that you learn about the algae in the region. This will help you to be sure that you know what actions to take. For instance, when you fish, you may need to be careful how you store the fish to minimize the effect of algae.
Blooms can range in color from neon green to more blue-green. A bloom can look like a scum, foam or mat on top of the water or like paint that has been spilled in the water. They are also sometimes accompanied by an earthy, pungent or musty smell. However, not all algal blooms give off an odor or affect the appearance water and toxins can remain present in the water even when a bloom has dissipated.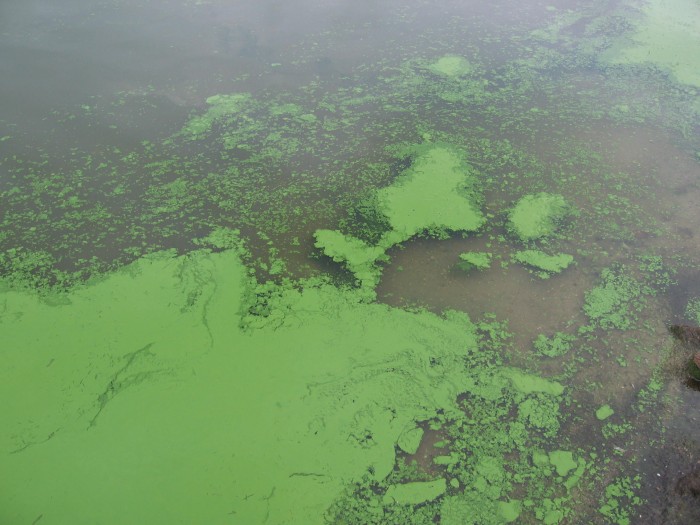 HABs in the Great Lakes region are made up of blue-green algae. While technically not an algae, blue-green algae are a cyanobacteria that contain chlorophyll similar to true algae. They produce rapidly, are typically found at or near the surface of the water and are known to produce toxins.
Blue-green algae that form HABs have been known to produce a wide array of neurotoxins, liver toxins, cell toxins and skin irritants. Consumption of large amounts of these toxins by animals or humans can result in muscle cramps, twitching, paralysis, cardiac or respiratory difficulty, nausea, vomiting and liver failure. Skin irritants, found in nearly all blue-green algae blooms, can produce symptoms including skin irritation, rashes and gastrointestinal distress.
The most dominant blue-green algae in the Great Lakes is Microcystis which can produce Microcystin, a liver toxin and skin irritant.
On the whole, you want to be sure that you always learn all that you can about the harmful algae in the Great Lakes region or wherever you may go. That will help you to safeguard your health.
Article Submitted By Community Writer