What better way to enjoy a peaceful trip down a picturesque lake than by lying on a bed and taking in the sceneries as you float past them? But hauling a bed onto the water may not be such a good idea. Or would it? Enter the Water Bed, an innovative nomadic floating shelter that will allow you to enjoy nature while camping on the water.
The quirky Water Bed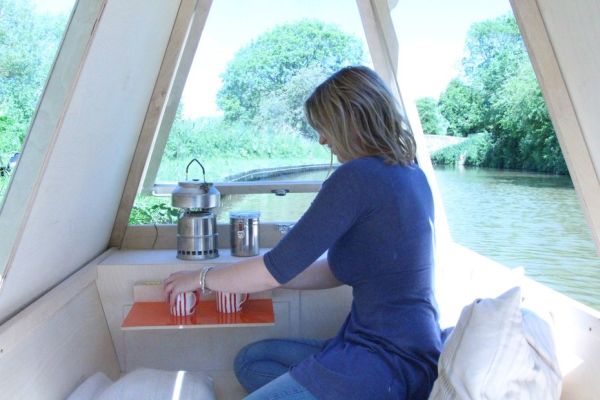 The Water Bed owes its unique design to London based designer Daniel Durnin. Durnin designed the water bed with the hope of encouraging more individuals to use urban waterways and enjoy the great outdoors in a relatively new way.
Offering an experience that mixes camping and tourism, the Water Bed features a single room made of wood that can float on water. The shelter is big enough for one person and comes with cushioned seating for utmost comfort. While a foldable side table offers the perfect base for meals and snacks while on the water, the settee transforms into a cozy bed at night.
Open Ended Design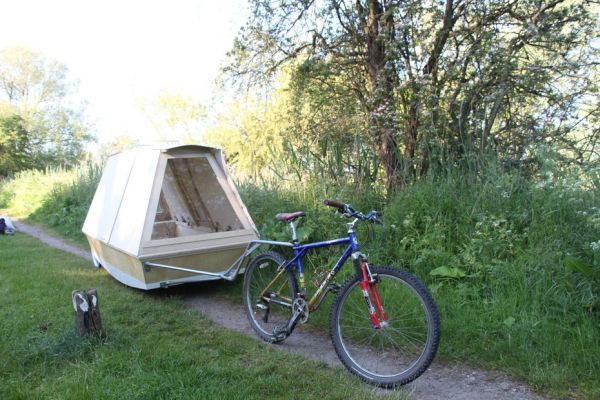 Durnin ensured to make the Water Bed look as simple and minimalistic as possible. He chose an open ended design that features plenty of windows to let users experience open air. The shelter comes with large sized windows on either side in order to provide stunning views in both directions. A large retractable canvas is present on the water side of the boat for all those rainy emergencies. Curtains are attached to the openings and windows, and can be closed in case the user wants more privacy.
Towable Floating Paradise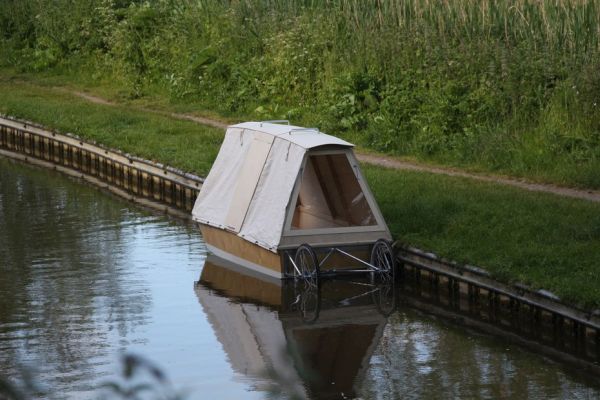 The Water Bed was originally designed to be used as a floating cam in inland canals and waterways. However, its designer claims that it can also be used in bigger environments like cities. He also reveals that the water bed can be act as a shelter on and as well, and can function as an instant retreat that beats the fuss of setting up tents.
Another salient feature of the Water Bed is that it is towable. That's right. The Water Bed can be towed behind a bicycle using a clip-on attachment. Although it doesn't weight that much and can be easily towed, it can be hard to tow the shelter uphill.
However, the mere thought of cycling along a path, coming across a beautiful lake, simply pushing the Water Bed into the water and enjoying a few hours of blissful peace is more than enough to make everyone want one of these nomadic floating shelters.
The Water Bed is a nomadic style shelter that resembles a tent on land, but can also float on water. It features an open ended design that allows for maximum light and air to enter it while allowing the user to enjoy the beautiful outdoors in a totally new way.
Source : GizMag.Com