With 2013 creeping up on us, now it's time to look back and pick the best green gadgets that tickled the eco-fancies of gadget lovers in 2012. Most of the gadgets enlisted below might be different in their core functionalities, still they share some of the points in common, which include minimal use of toxic materials, reliance on renewable power, focus on longevity and finally, subjection to e-cycling at the end of their lives. While EPEAT and Greenpeace's ratings provide enough verification of their environmentally friendly status, user experience, however, is the greatest determinant for sure, we believe.
Have a look at the greenest gadgets of the year 2012:
PowerTrekk fuel cell smartphone recharger
Keeping gadget-loving travelers in mind, PowerTrekk has come up with a water-powered smartphone recharger that promises to keep your smartphone running for several hours. The PowerTrekk system relies on SiGNa Chemistry's sodium silicide cartridges to make hydrogen which is later passed through a fuel cell to produce usable electricity. Each cartridge has the potential to charge up your iPhone about one and a half times. Priced rather heftily at $200 plus, the reliable recharger provides instant power anywhere even with urine if you can't find water.
Nest: iPhone-controlled thermostat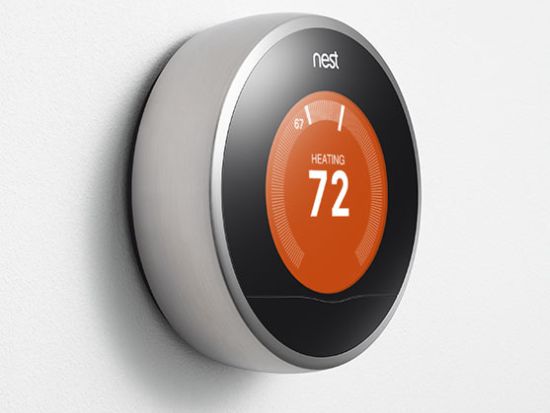 Nest has released its new Nest Learning Thermostat which, aside from helping homeowners turn temperature up or down by twisting the dial, allows them to watch household energy consumption. The thermostat features a round metal dial and a circular color LCD screen. Moreover, it senses human presence and changes the temperature automatically when needed. The Nest Learning Thermostat instructs users to employ right settings by flashing green, blue or red lights. Finally yet importantly, the system allows users to remotely control heating and cooling by connecting to home Wi-Fi network. Priced at $249, the thermostat can be installed in less than 20 minutes without any expert assistance.
eton FRX3 rechargeable portable solar AM/FM radio
The eton FRX3 rechargeable portable solar AM/FM radio is a multipurpose gadget that allows frequent travelers to listen to their favorite radio station and charge their smartphones on the go. The one-of-a-kind gadget relies on a hand crank and a small solar panel to harness renewable energy for a clean recharge. What you need to do is hand crank the gadget for a minute and it will produce 15 minutes of charge. The eton FRX3 solar AM/FM radio flaunts a glow-in-the-dark indicator strip. It utilizes NOAA weather-band stations for setting alarms and emergency alerts. Moreover, it has a powerful speaker, auxiliary input and a LED flashlight, which makes it worth buying for sure.
Designed to overcome our wasteful habit of boiling more water than we actually need, the Eco Kettle saves energy, carbon emissions and time by releasing only a preset quantity of water into the boiling compartment from its 1.5 liters reservoir. So, it promotes optimal use of water by boiling between one and eight cups of water at a time. Thus, it reduces the average boiling time by 90 seconds and uses 30 percent less energy than standard kettles. Further, it features three new temperature settings: 80 degrees, 90 degrees and 100 degrees. Priced at £32.99, the ECO Kettle helps you make your cuppa sans energy and water wastage.