Living in a big city is very different from living in a rural area. Both have advantages and disadvantages. City living exposes children to experiences of the arts and theatre, and other cultural activities such as museums and modern day living. Country living grounds our kids in nature as they wander through fields and woods. Each misses out on what the other has. But it does not mean that city children need to miss out on nature and playing outside.
Experiencing natural environments are important for children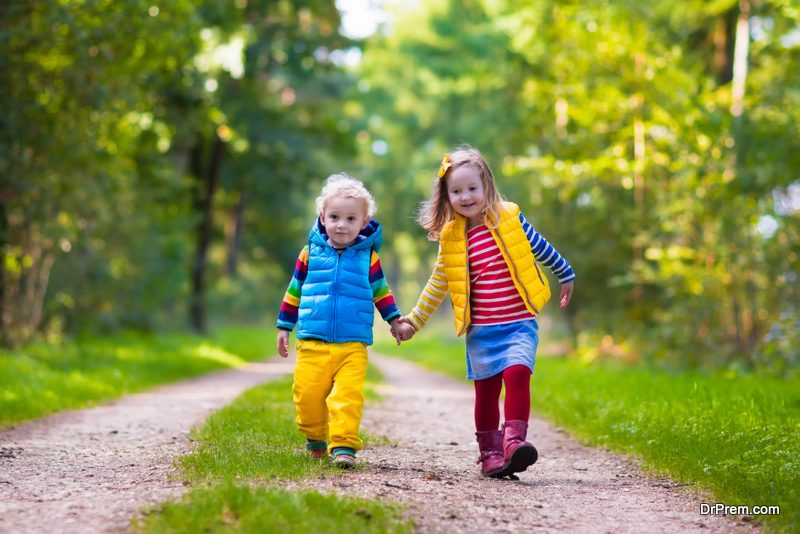 Being outside and playing in nature is a great activity for children. It increases physical activity that promotes skeletal health and motor skills as they play in leaves and make mud pies. It is also thought to decrease the amount of need for wearing glasses from developing better eyesight being outside and looking at things further away.
Studies have shown that it:
decreases stress levels and is a buffer away from any psychological stresses
can promote a longer attention span in children suffering from ADHD
promotes creative thinking
helps with solving problems
increases social skills
creates a positive and caring attitude to our environment
Natural playgrounds and getting closer to nature
Natural playgrounds are a great thing that has been cropping up in urban areas for a few years now. Kids love playing outside and interacting with nature and natural materials. These playgrounds help city kids get closer to nature with the activities they promote.
We all loved playing in a sand pit or wandering down to local stream to build a dam' that is exactly what these playgrounds are emulating. Gone are the flat expanse and now we having grassy hills to roll down, climbing walls and interactive gardens with plants to activate their senses of smell and touch.
Gone are the harsh plastic slippery dips and chairs. Timber logs, boulders, and other natural materials have replaced them. The settings are more realistic of nature with streams and boulders and plant mazes to escape from.
Access to play in these natural playgrounds is open to everyone and kids of all abilities and ages. Being able to use your imagination and pretend you are building a dam or climbing over logs and boulders with your friends. Imagination is stimulated as they invent games to play in the sand pit, streams and on grassy slopes.
Children are able to play in these natural playgrounds from toddlers to young teens as they choose different areas to access. They do not even realise that they are in an outside learning environment. It is all just good fun to them. Older kids help younger ones build things and the interaction all aids their development and social skills.
Natural versus traditional playgrounds
Most of us have experienced the traditional playground with slides, swings and monkey bars. While we had a lot of fun and played with our friends and our imagination, the playground still was a kind of limit. Modern natural playgrounds trigger imagination the better way. Kids' imagination does not just turn metal bars supporting the playground structure into mysterious forest. On the natural playground children can actually "feel the forest" by touching the warm wood and organically incorporated into the structure.
And it is even better if the big city child has an access to so called natural outdoor environments!  These environments can wary a lot, but as a rule, they include elements of living nature like trees, small artificial water streams and pools that are safe for children. There also might be present some playground musical instruments, like bells, drums, or wooden pipes of different sizes that can be used to compose primitive but pleasant melodies.
As a rule, modern playgrounds tend to become more and more friendly and accessible for children with physical disabilities; because fun is for everyone.
Healthy personalities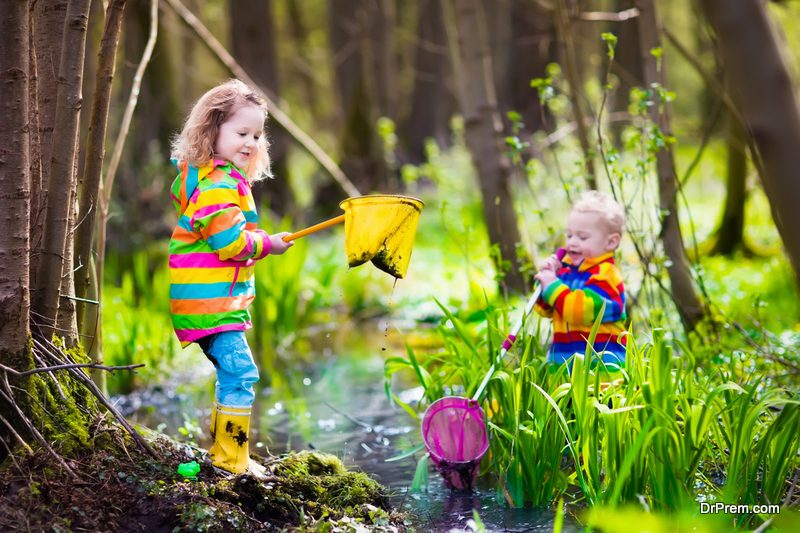 When children interact with an environment that differs from their regular media it gives them a key to understanding the childhood of their ancestors. The environment that gets them closer to the setting of classic fairy tales and children books, they get one of the most precious practices of their lifetime. They will get their initial experience with the nature, which will help them to develop healthy attitude and respect towards natural environment. Spending time on playground is also a cool way to learn to build basic social connections. The fact that the modern space is getting accessible to kids of varying physical abilities teaches everyone to accept people for who they are and not to judge a person by their appearance. Kids learn to interact with kids of all ages and play accordingly.
Playing outside and getting dirty is a fun part of being a kid and being able to do it in the middle of a big city in a natural playground has to be a bonus for them. The country idea of playing outside in the woods and fields and experiencing what nature has to offer is being given to kids in big cities.
Article Submitted By Community Writer