Motorcycles are one of the most used vehicles in the world. Millions of people ride them worldwide. Though it is an easy to maintain, affordable mode of transportation, it contributes to global emissions. Motorcycle companies have come up with many green innovations, such as EFI or Electronic Fuel Injection, Fuel Cell Bikes and others. The materials of motorcycles are being experimented with too. If you want to go green in your motorcycle options, here is some information on the sustainable motorcycles which are already available, and those which would soon be seen on the roads.
Sustainable motorcycles: Technologies and Concepts
Alternative fuel motorcycles and electric motorcycles are soon going to replace fossil fuel motorcycles. These bikes are efficient and manufacturers are going all out to make the designs ultra cool for the biking community to accept them. The designs and efficiency has to be better than the already prevalent gas engines.
Check out these latest bikes built on green tech: 
Intelligent Energy's ENV Fuel –Cell Motorcycle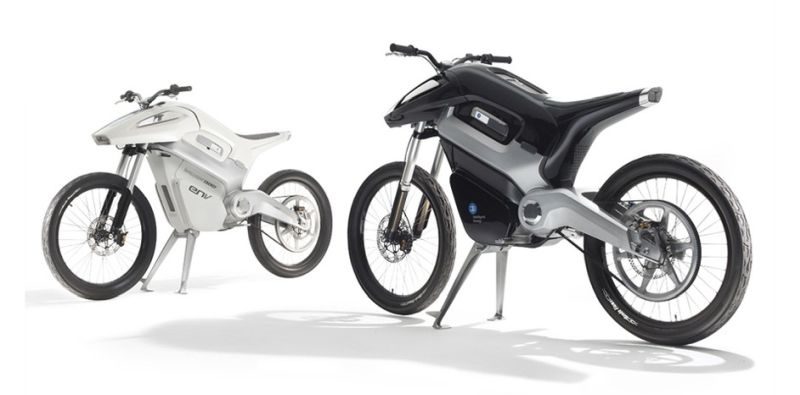 Image Source : images.wemoto.com
One of the technologies used in sustainable motorcycles is hydrogen powered fuel cells. The ENV bike from Intelligent Energy is zero-cylinder and runs on fuel cell which is removable. The cell is located in the same place where the fuel tank of conventional bikes is located. It runs effortlessly and makes hardly any sound. The zero-emission fuel cell uses proton exchange membrane which has 6 kW of peak power, resulting in a high torque. On one full hydrogen tank, the bike can do about 100 miles.
The ride is gentler too, as it has only one gear through which the power is evenly distributed, without the kickbacks of regular multiple gear bikes. The bike emits only water instead of environment harming CO₂. Of course, you can't drink the water, but at least you wouldn't be adding more carbon to the atmosphere.
Chinese motorcycles will use EFI
The Chinese government has made it mandatory for all motorcycles to have the IV Motorcycle Legislation, from July 1, 2019. This is possible only with the use of EFI or Electronic Fuel Injection.
This standard would be even more stringent than the Euro IV, which is currently the strictest emission standard in the world. The China IV would reduce the CO (Carbon Monoxide) emissions by 43%, THC (Total Hydro Carbons) by 50% and NOx (Nitrogen Oxide) by 40-53%, superseding the present China III emissions standard.
Some EFI's which would be seen in China:
L9177A from ST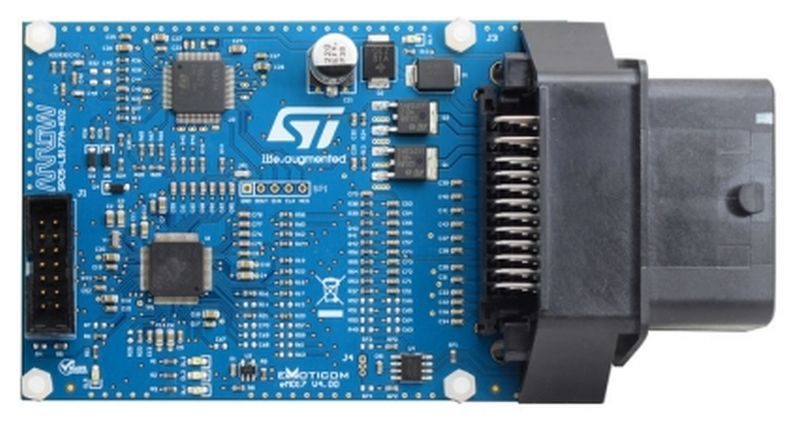 Image Source : st.com
L9177A has an integrated 5V 40 mA tracking regulator sensor supply, 5V main voltage regulator, 2.5mA 5V standby regulator. This system would be placed in a 10×10 mm TQFP which will provide complete power supply required to control the dual cylinder internal combustion engine of small cycles and scooters.
VentureOne EV
It's classified as a three-wheeler motorcycle, but actually looks more like a small car. Imagine of a Tron Light Cycle was real, then it would look like the VentureOne EV. The superbike has automatic balancing which stabilizes it and allows tilting into turns just as any other motorcycle. There are two all electric models with GPS as well as entertainment system. This bike-car interchangeable vehicle would be one of the common concepts in the future.
SPC 560P Line MCUs  from ST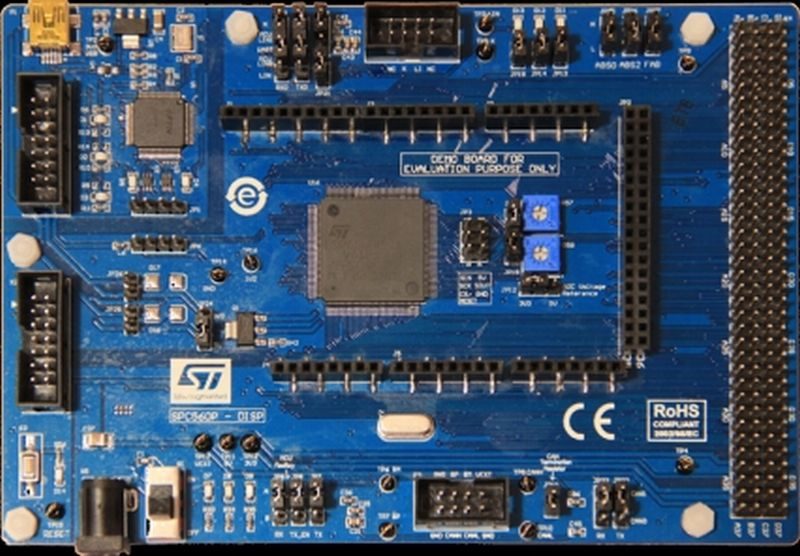 Image Source : st.com
This system would be used for smart engines as it has 32 bit MCUs for the automotive chassis, safety applications with 1M Flash, 80M RAM and a big range of peripherals, including 10 bit A/D, CAN and LIN buses and e-timer. These microcontrollers are able to cover a big range of scooter engine's EMS, safety oriented applications and motor control.
Suzuki CrossCage concept
The CrossCage is a prototype from Suzuki which would use the fuel cell block from Intelligent Energy, therefore running on hydrogen power. The fuel blocks from IE are small and light, having thin metal plates (bipolar) and also cheap to produce. The design is cool – V shaped blue neon flares on the rims and with the PEM fuel cell block and lithium ion batteries, the Suzuki Concept is bound to be well-received by the motorcycle enthusiasts looking for a greener ride.
Yamaha FC-Dii Fuel Cell Bike Prototype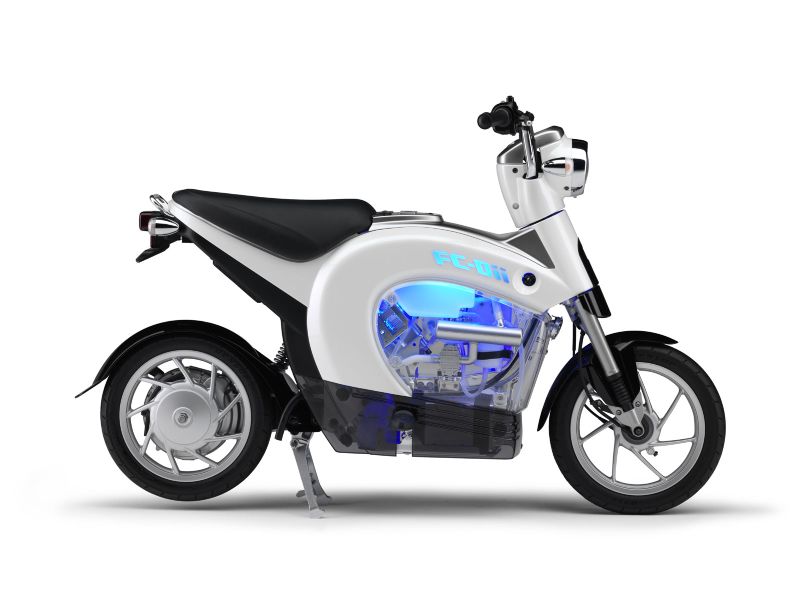 This bike promises to relieve you of the money you drain into your bike filling it with gas. Yamaha's Fuel Cell bike will run on methanol fuel and water with a new kind of cell stack which promises highest level of power density, in 1 kW class. It features a lithium ion battery which can be removed easily, and model 30% efficiency for the green power. The most attractive feature , appearance wise is the see-through insides which give a fantastic futuristic look. It is one of the sustainable motorcycles concepts which merge beauty and efficiency seamlessly.
Honda Cub Concept – Sam Jilbert
Honda Super Cub is one of the best selling bikes out there. It has now found a new version in the sustainable motorcycles category with a tweak in the design and tech of the future. Its drool worthy design has a hydrogen fuel cell, and it's actually not been officially endorsed by the company. Jilbert designed as part of his design project in university. It would have high torque but less range, like other EV bikes.
Evolet's The Hawk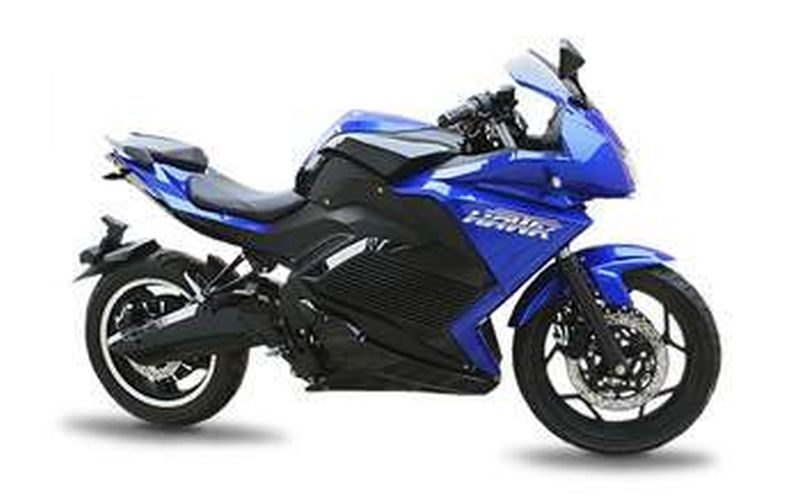 Image Source : auto.ndtvimg.com
The Hawk from Evolet is being produced in Haryana, India. The Hawk is a fully –faired electric bike, meaning that its external design from metal and plastic is streamlined aerodynamically. It has split seats and sharp tail section. The design is quite appealing with a focus on the sporty look. Projector headlamp, has sharp raked windscreen and fairing mounted mirrors. The digital instrument panel lends a futuristic look. The motorcycle's battery pack has vents around it to enable better air flow.
Yamaha's Gen-Ryu Hybrid Bike
Sustainable motorcycles such as this one, is lightweight and has high efficiency and high output, with a 600 cc electric motor. It has amazing features such as noise cancelling system wired into the bike to reduce the wind noise. It has voice navigation and hands-free cellphone and music player facilities. And, to help parking in tight spots, it will have rearview monitoring camera.
The bike is not only good for the environment, but it makes it easier to navigate curves smoothly in the dark, at night. The tires are wide enough for a comfy ride and can transport you both in urban areas and over dusty roads equally well.
Enertia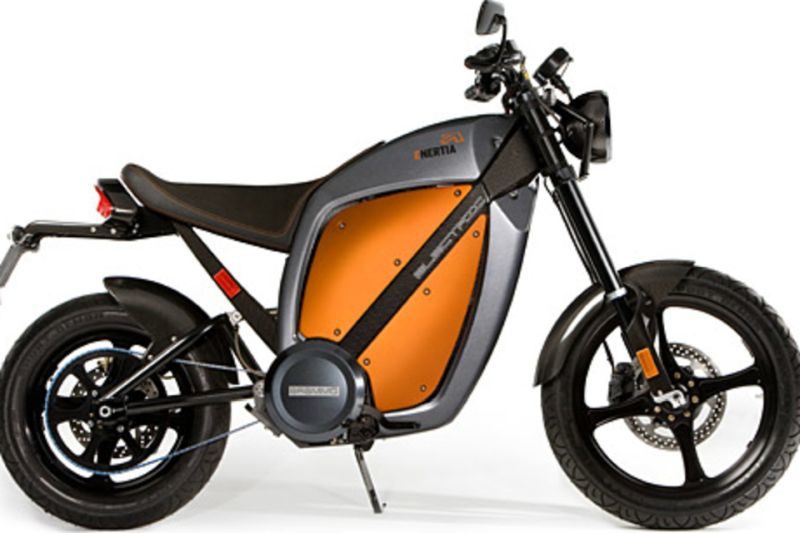 The Enertia is one of the sustainable motorcycles made with technologies, which are the latest on the scene. It has been built by Brammo, and has a close resemblance to the 1961 Triumph TR6 Trophy Bird (you might have seen it in the movie The Great Escape, where Steve McQueen raced it to escape the cruel Nazis!). Enertia is fitted with lithium-phosphate batteries which has power settings that are similar to the Kawasaki Ninja 250 bike. The bike is quite lightweight as the chassis is carbon-fiber so it can be easily maneuvered. The emissions are almost zero, making it a very green bike indeed.
Zero Motorcycles' zero emission bikes
Zero Motorcycles has tons of experience in producing sustainable motorcycles, which are much desired due to their sustainability and silence. They offer a few models to choose from, which are more than most companies can claim. Some of the bikes' patrons are police officers who vouch for the soundless movement, helping them to apprehend criminals who don't hear them coming! The price is affordable too, which might make it one of the best selling e-bikes in the future.
Yamaha Tesseract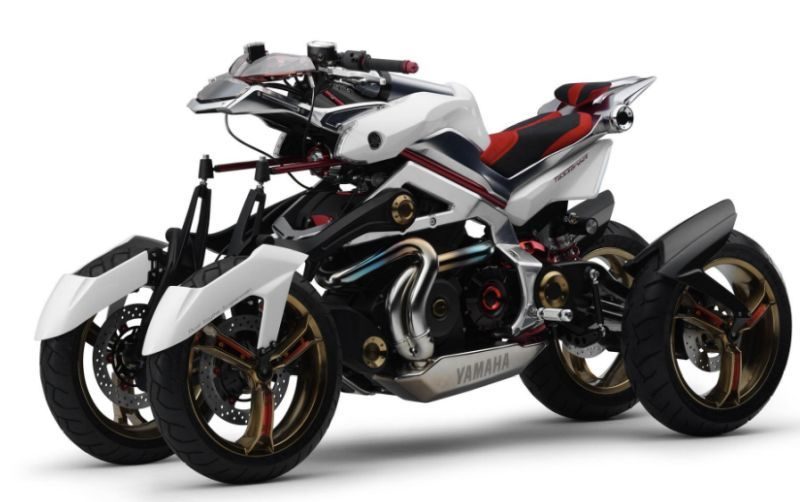 This incredible four wheel motorcycle is built with new concepts of sustainable motorcycles such as liquid cooled V-twin engine and electric motors. It features a dual scythe suspension enhancing turns and the wheels are able to adapt to uneven and rocky terrain independently. Sounds great doesn't it? Any biker would love to possess one of these machines. Savvy manufacturers are coming out with more such ubercool bikes to draw the young customer segment to the eco friendly zero emission bike segment.
Silence PT2 3-wheel electric
This is another bike-car concept. It is electric, has 125-250 miles range, and as it is small, it can reach the high speed of 124 mph. The size of this unique vehicle is 13 x6 ft, weighs 900 pounds and it about 400 pounds less than an F1's minimum weight.
The design of  one of the most interesting sustainable motorcycles, the PT2 is fun, sporty and child-like as it resembles a Go Kart. It has wide frame, stylish aerodynamics and the large wheels at the front, almost touching the ground makes this bike-car look exactly like a Racer X, a feature which many bike racers would adore.
Vectrix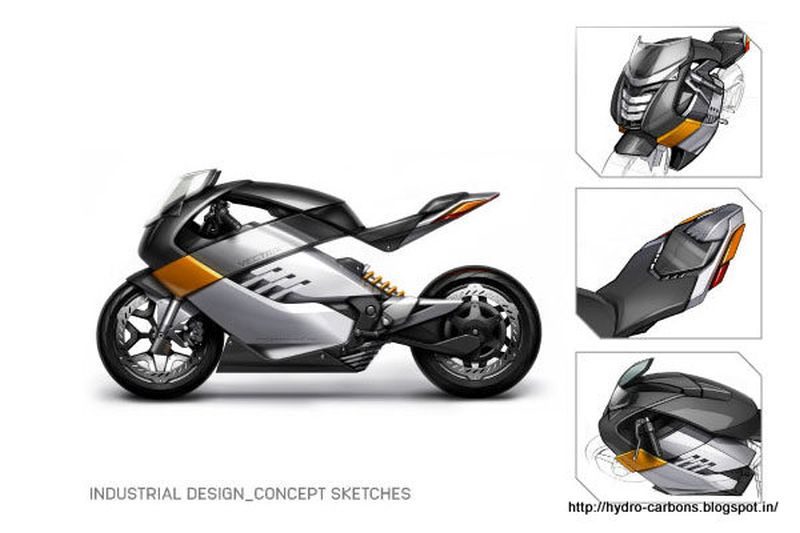 Image Source : greasengasoline.files.wordpress.com
The Vectrix's nickel-plated, battery operated engine is located in the back, for controlled acceleration. The front of the eco bike is angular shaped, adding to the aesthetics. The Vectrix is priced a little over average, but as it does not have any transmission or clutch, the cost of maintenance goes down. The bike takes three hours to charge full and has a range of 40-50 mile at speed 25 mph.
The Vectrix has a one of a kind regenerative braking system which cools and charges the engine simultaneously.
New sustainable materials being used in the body
It's not just the technology which is sustainable, but the materials used to build the bike are also getting greener, such as recycled plastic, bamboo and wood.
Bamboo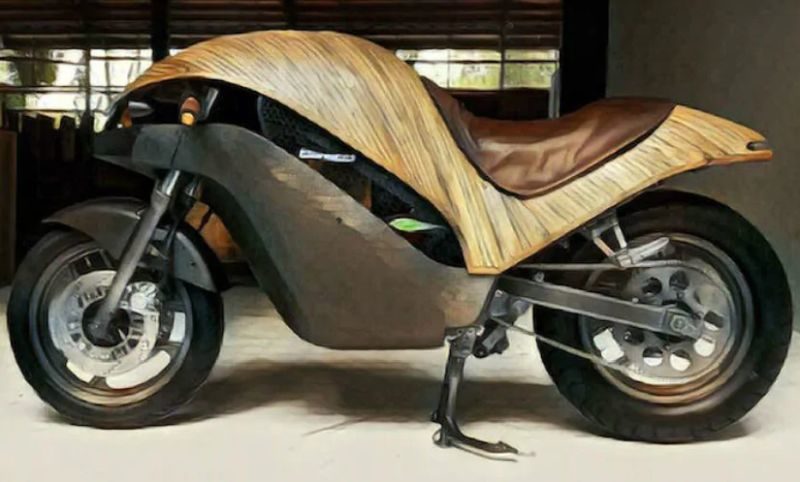 Image Source : i.ndtvimg.com
Steel is still the preferred material for the bike body, but companies like Banatti Motorcycles, Philippines, have gone a step ahead and come up with a novel body made of woven bamboo. These sustainable motorcycles  have been given a befitting name of Green Falcon. The body is bent and then moulded onto a wooden frame, coated with a waterproof epoxy. A small JBL sound system is inbuilt for riders to enjoy music while commuting. Only 111 of these motorcycles will be made, however.
Recycled plastic
The bikes made from recycled plastic would save 980 tons oil and reduce GHG emissions by approx 6,000 tons CO₂. Muzzicycles, a Brazilian company has developed a patented process to manufacture bicycle frames. This idea is only for cycles now, but maybe we will see recycled plastic motorcycles soon too.
Wood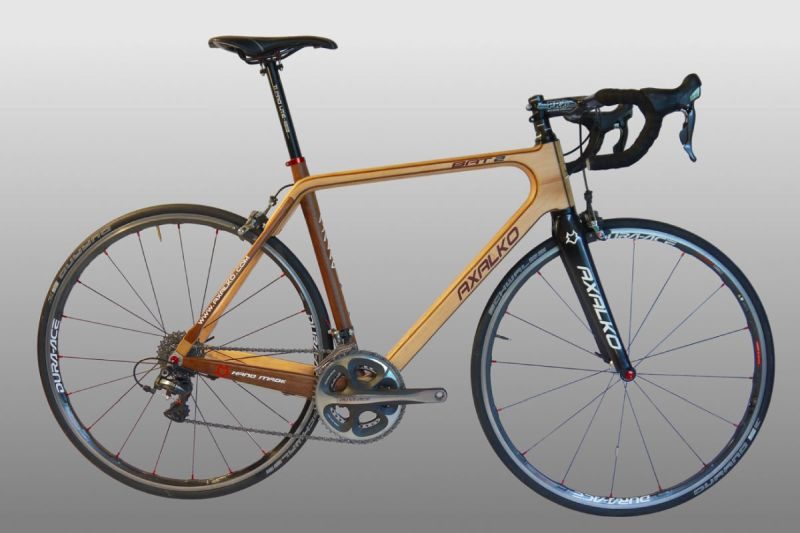 Image Source : labois.com
Axalko is the company behind wooden bicycles, including mountain bikes. The frames are very light and are made from 10 varieties of wood. Each cycle is handmade with the greatest care. Again, motorcycles are not made from wood as yet, but are definitely possible one day, with the lighter battery packs on e-bikes.
Advantages of sustainable motorcycles
Least emissions
The obvious advantage is that there are zero emissions or almost zero emissions. Instead of GHGs or Greenhouse Gases, water is emitted from hydrogen fuel cell bikes. Electric bikes have almost zero emissions, making them a sustainable choice.
Low maintenance and operating costs
Electric motorcycles are cheaper to maintain and operate than fossil fuel motorcycles. The trends predict that the costs will be lowered further with the progression of time. The initial cost of electric bikes is higher than normal bikes, but you can recover the cost with the minimum fuel cost over the years. But the trend is that, due to high demand for these bikes, and also as the government is in favor of electric bikes, there would be more electric motorcycles and the price would come down considerably.
In US, operating high-performance electric bikes cost less than 1/4th of the cost as compared to conventional motorcycles.
The maintenance cost is much less as there are very few parts in electric motorcycles which is one of the advantages of sustainable motorcycles. There are no spark plugs, oil filter and so on, thus reducing maintenance cost. Motorcyclists love splurging on gear, so the money saved on maintenance and operation can go towards buying quality accessories such as helmets, jackets and boots.
Climate change looms over us as an impending waiting-to-happen disaster. In fact, many parts of the world are already experiencing the effects of erratic weather, destroying crops and causing water scarcity. To tackle climate change, every aspect of our life needs a green update, including making the change from fossil fuel motorcycles to sustainable motorcycles which would mean drastic emission reduction all over the world.