Under extreme global pressure for cutting vehicular emission, automotive engineers and designers are leaving no stone unturnedininclusion of alternative energy sources to replace fossil fuels. Solar power, electric, pedal power, and hybrid vehicles are the main candidates on which manufactures and designers are working on. Sunnyclist isa zero-emission concept that utilizes three sources of energy.
History of the Sunnyclist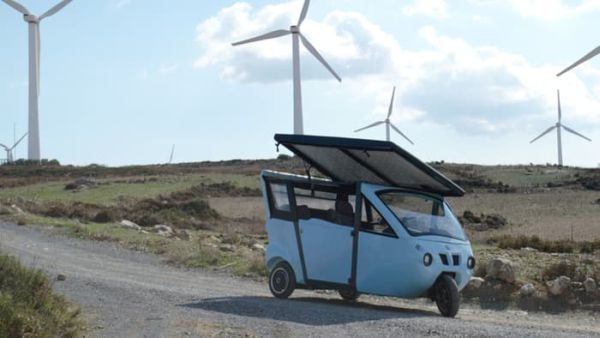 Greece-based group of engineers and entrepreneurs started working on it in 2011, prepared first prototype in 2012, and tested second prototype in 2013. During testing, the tricycle successfully covered 800 KM in five days and also climbed to an elevation of 1.1 km through both paved and dirt roads.
Design, Space, Capacity and Material
Sunnyclist's design is that of usual tricycles and it is built around a lightweight aluminum frame.  The measurements put it in the category of a small city car. A big roof features rotatable photovoltaic panel that can track the position of the sun to improve efficiency by 30 percent. The vehicle can ferry three passengers in its basic format, and features two 75-liter storage spaces at the front and rear. Additional bootspace can be created by removing the third seat to free up space for cargo up to 20 kg. To accommodate two additional passengers, an extra rear-facing seat can be added. Two brushless motors are accommodated within the rear wheel hubs.
Technical Specification and Power Sources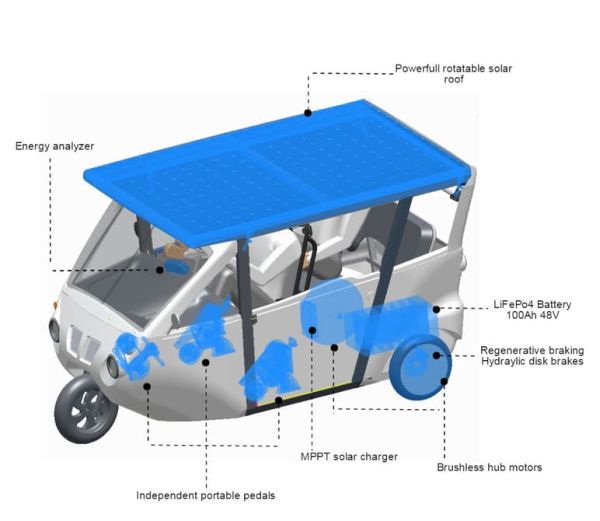 A lithium iron phosphate (LIFePO4) battery power two 6 kW brushless motors and offers a range of 70 km at an average speed of 35 km/h. Sunnyclist Solar panels installed on the roof work as second source of energy, which can generate enough power to cover 70 km on full charge, which requires at least a day's exposure to sun.
Third source of energy is a Pedal Power Pack (Shimanocrankset with SPD pedals) at the driver's feet and two more detachable pedal packs for passengers on the rear seats.  The pedal pack can add additional 50 km range to provide total 190 km.
Variants
Snnyclist is a class L5e vehicle and will be produced in following three variants:
The Standard: 40 Ah/48 V batteries with a maximum range of 25 km
The City: 540 W photovoltaic generators and a 60 Ah/48 V battery with an average range of 35 km
The Traveler:  680 kW solar panel, pedals for each passenger, energy analyzer, 100 Ah/48 V battery with a maximum range of 190 km
With combination of three power sources for autonomous zero-emission transportation, Sunnyclist has launched a crowdfunding campaign on Indiegogo and aims to start production in 2016.
Source : gizmag.com