Most casinos operate on a 24/7 basis and the energy they're consuming is no joke. According to 8 News Now, the "sky beam" light located on top of the Luxor Casino has 39 individual lamps that consumes 7,000 Watts each. That is 273,000 Watts of electricity consumption, which is enough to power more than a hundred homes in the US. And that's just for the casino lights alone.
First ever green casino
Creating casinos that are solar powered is very much possible. The author isn't saying that as wishful thinking because there's now a casino that uses environmental energy to sustain its daily operations. Rivers Casino became the first green casino with a Leadership in Energy and Environmental Design (LEED) certification. It has a sustainability plan for energy, lighting, water, and other means that would help it reduce wasting expensive resources.
70% of Rivers Casino's electrical energy is offset with green power, probably through its solar panels and Anaerobic Digestion – a method used in extracting fuel from food wastes. Now, a 70% operating power for the lights, air-conditioning system, and other facilities may be good enough but remember that slot machines are the most power-hungry equipments in a casino. This is why it's important to keep them on a separate energy system in order to operate them more efficiently. While slot machines that are solar powered aren't currently available, it's possible to operate them more efficiently through several means.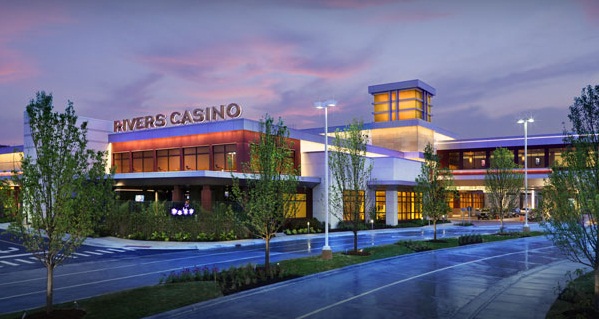 Nature-powered slot machines
One idea to operate slots more effectively is to have a dedicated solar converter for them. Making it is possible since energy from the panels pass through a dedicated breaker box and Rivers Casino surely have several ones. Another idea is for the slots to rely completely on using Anaerobic Digestion. It is estimated that a casino wastes around 3,000 tons of food annually. By using anaerobic digestion on that number, around 850,000 kWh can be produced, which is enough to power thousands of slot machines.
Actual slot machines VS mobile slots
The high costs of operating actual slot machines have caused more and more gaming companies to begin turning to the option of making online slot games, instead of physical machines. After all, not only are online slots cheaper to make but they also require less energy and manpower to maintain. Gaming Realms, one of the biggest online casino game developers and operator of castlejackpot.com, reported that its revenue increased by 24.5% from $1,131,050 in December 2013 to $1,408,308 in the first month of 2014 alone. These numbers would not have been possible had the company been making physical slots, as manufacturing one gaming cabinet alone costs thousands of dollars. In a few more years, if casinos don't rely on green energy, online gaming sites could overrun their operations. There has been an energy crisis since early 2000s and it will continue if the world doesn't start using renewable energy.
Ultimately, gaming enthusiasts can only hope for the creation of more solar-powered casinos in the future. Without utilizing nature's energy, these high-cost establishments will definitely be the first to stop functioning in case the energy crisis intensifies in the next few years.