Although the scientists are invariably giving us new technologies every passing year, but there are still so many things that firmly stay the same, like a humble cardboard that holds so many possibilities. Almost every product is shipped in some cardboard packaging and we all know what we do with those cardboards. But, why not get innovative and have a little crafting fun with them, before they go in the recycling bin? With a little crafting skill a waste cardboard can transformed into an attractive items.Here are some creativediycraft ideas for kids using recycled cardboard, so let the fun begin!
Picture Frames:If your kids are invited for a party and you are wondering what your kids will give as present; then don't you worry; making picture frame from cardboard is a fun solution. Your kid's need a thick cardboard, glue, photo, pencil, wool, paints and some collage materials like beads, buttons etc. to décor the frame. Cut the cardboard according the shape you would like the frame to be. Once your frame is ready, decorate it with some beads & sparkle and at last stick the photo to it. You can use any pictures like landscape scenes, abstract designs etc. You can make photo frames in foldable designs as well; they would be great for displaying pictures on the bedside table or mantel.
Dog House:Every child loves to play with dogs and if your child loves dog too, then making a dog house would be a perfect craft idea for them. They can build your little dog's house with a reused cardboard box. They will need a large cardboard with all closed ends, a measurement tape, scissor and a scale. Give it a shape of hut and decorate this cute puppy house with cardboard shingles. You can paint the doghouse with red paint and give it look like red bricks wall. Make sure this is not going to work for an outdoor puppy house; you can keep this cardboard doghouse inside your house only.
Guitar:Vacation is a best time for your kids to do some creative activities and if your kids love to play music, then help them to make the beautiful cardboard guitar that looks like the real guitar. This cardboard guitar really plays beautiful music so your little one can plunk their little heart out.  Prepare all your accessories like cardboard, glue, cutter, printed template, paints and some paintbrushes. Trace the guitar shape on your card board and cut it. Now glue the strips on guitar shaped cardboard and let it dry. Make your kids add their creativity with colours and paints, the magic will happen. Let the cardboard guitar dry and your kids are now ready to become future rock stars.
Jewellery Box:If you have little princess in your home then it's for sure, she also loves to collect jewellery like every girl does. You can buy her a jewellery box, but how about a beautiful jewellery box that you and your little girl can make at home? This is one of the most creative ideas and very easy to make. You'll need cardboard box, glue, scissor, patterned papers, beads and ribbons to decorate it. Gather the base of the box and stick the decorative paper to support corners and assemble the drawer & glue felt to the bottom of the box. Now decorate the cover with paper and glue the excess paper to the box. Finally, decorate it with patterned paper and fix a bead to drawer front to open the jewellery box.
Some inspirational things made from cardboard tubes
If you have a creative mind and lot of cardboard tubes at hand, then the combination can help you produce some amazing artworks at your home or workplace. However, if you lack ideas then the following list of some highly creative cardboard tube artworks can inspire you greatly: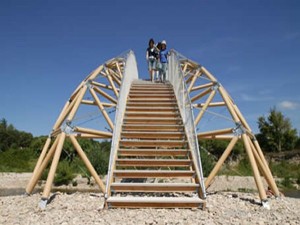 Designed by a Japanese architect, Shigeru Ban, this footbridge is made up of cardboard tubes and is built over a river in Southern France. Weighing almost 7.5 tonnes, this bridge is made up of total 281 cardboard tubes and is strong enough to hold at least 20 adult people together over it. By creating this truly creative and impressive combination of art and architecture, Ban has inspired many other people to make good use of the otherwise discarded cardboard tubes.
Did you ever misplace your pen, pencils or markers due to lack of enough penholders in your office or home? If so, then here is a very inexpensive and easy way to create enough room for holding your writing or drawing materials for your entire family. All you need to do is collect some discarded cardboard tubes, cut them nicely according to the normal length of pens and paste them to your walls with super glue and you have your own designer penholders, which doesn't even occupy any space in your desk.
Cardboard tubes chairs and tables
Furniture made from cardboard tubes has a unique look and are not expensive as they are entirely built from the discarded cardboard tubes. Highly suitable as outdoor furniture, the cardboard tubes chairs and tables also look very attractive and add a unique touch to the surrounding environment.
At the event of CH4 Student Design Competition in Australia, a group of students of architecture studying in University of New South Wales designed and created a temporary pavilion from recycled cardboard tubes. Constructed in the front area of Sydney Customs House, the students were provided with 2000 tubes by a carpet manufacturing company for the competition, which was organized for the Sydney Architecture Festival. However, the aim of the competition was to encourage people to recycle their household junks instead of dumping them and to inspire the students to design and create sustainable eco-friendly structures in the future.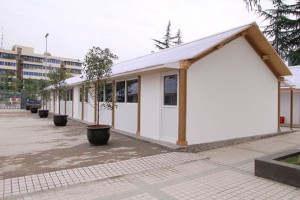 The recent earthquake in Wenchuan, located in Sichuan province of central China damaged many schools and houses as well. Therefore, the eminent Japanese architect Shigeru Ban along with a team of Japanese and Chinese students designed and constructed new school buildings entirely out of recycled cardboard tubes and plywood. The buildings are temporary but they are also resilient and obviously very inexpensive.
10 cool products you can make from an old cardboard box
What is the first impression that comes to your mind when you heard the word "recycle". Most probably you must be imagining something like this separating paper, glass, cans. If you think so then you need to give it a second thought. You can recycle things at home, if you have good imaginative skills. One of the ways of recycling things is to make fun craft projects for the children and the whole family.
So earlier if you used to throw the old cardboard boxes into the dustbin considering them as useless or sell them as junks then you need to change this habit as we are giving you ten best examples of what you can do to these old cardboard boxes to make some cool products. They are not only interesting but they can even make you an inspiration for others to play with these boxes using your imaginative virtues. It might happen that your definition of recycling might change forever. And also you can help the Mother Nature as every year countless trees and millions of gallons of water can be saved which are sacrificed in the process of making paper and cardboard.
1. Home sweet home
Take a scissors and cut the windows and doors on the box, you will get an instant house. You can make it look awesome by painting it or even you can stick nice glittering papers outside it. You can even use colorful bulbs inside it. At night, plug it into a socket and turn on the switch and when the lights are off then it will be just great thing to watch.
2. Fascinating alpha-numeric charts
Cut the alphabets A-Z and numbers 0-9 from the cardboard with the scissors, paint them with different shades and then stick them on a plain sheet you will get an eye-catching alpha-numeric chart. It will be a good thing to teach your children while playing with it.
3. Make your own home bank
Take a box and wrap it with glazed paper and glue it from all sides. Thus you will get a closed box from all sides. After this, make a small hole on it with a knife or something. Now you can use it as a piggy bank for your children and inspire them to get the benefits of saving.
4. Home made compost
The earthworms increase the fertility of the soil. These worms convert the food scrap and organic waste materials into nature's best soil and hence enhance the fertility of the soil. These earth worms love to eat cardboard cartons and newspapers. Thus instead of burning them, you should do the best use of them and also help environment.
5. Your own home bank
Take a box and cut its lid with the scissors thus you will get a box that is open from the top. To embellish it make use of glaze paper, colors or whatever you want then put some soil in it and then put some artificial flowers in it. You can put it in your drawing room to show the creativity of your children or even your own.
6. A toy bus
You can also make cute looking toy bus with an old cardboard box. Cut the windows, doors, front glass and the rear glass of the bus. Take four big crowns of bottles, join them with each other with a thin iron rod or whatever to make the front and rear wheels. Assemble and color all parts. You can even use small LEDs in the front and rear panel of the bus to give it a real look.
7. Glittering greeting cards
If you have some thin cardboard boxes, you can also make beautiful and cute greeting cards. All you need is scissors, colors, glazed paper and glittering pens. Now color them, cut them and write them the way you want. You can give them to your friends, neighbors and relatives on special occasions.
8. A good insulator
Take a cardboard box and cut it into very thin layers and pieces and put this stuff on the flooring of your pet house your pet will love it because it acts as a good insulator and thus provide your pet a cozy and warm place to live in.
9. Growing columns
You can make growing columns with the cardboard. Take a cardboard box and stuff it with stones and then sand making two different layers and then water. After the water sinks, fill it almost to the top with soil and now you can plant vegetable or salad crops in it. Water it time to time and make sure that it is should be placed in such a place where it can get abundant sunlight.
10. Other fascinating usages
With the help of some technical support, cardboard can be used as to make stuff like egg-incubators, solar box cookers and even for making furniture.
Enliven your party with recycled cardboard boxes to create a maze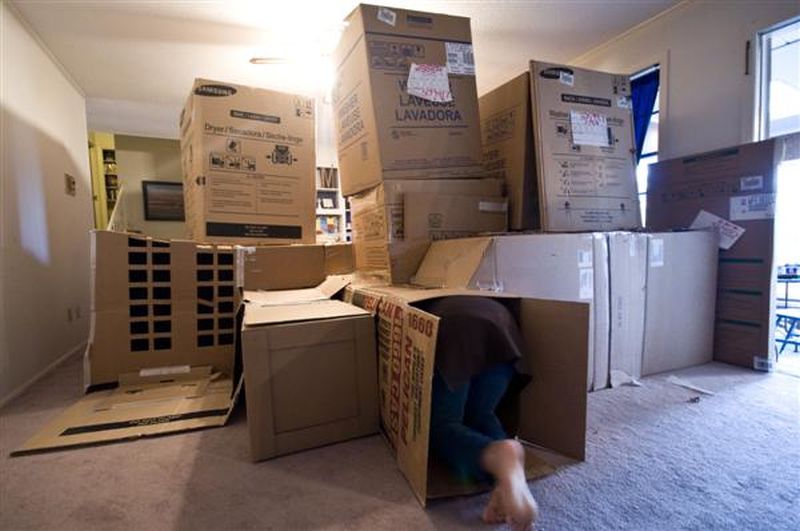 Cardboard Box maze is the recent 'In' thing to do and is not only cheap and easy to make, but also gives a new life to those cardboard boxes. These boxes are not only useful but are also very easy to store. These boxes can also be bought at a local store or just borrowed from neighbors. Cardboard Box Maze is sure to be a hit at a party suitable for any age.
While constructing a maze, it is important to have a proper layout so as to arrange the boxes accordingly as they are going to be of different shapes and sizes. This rough draft made by parents for their child's birthday party. It gives a slight idea how the boxes could be arranged. The best part about making this maze is that every single box can be reused in spite of their sizes. A small box which will make adults difficult to pass through can be used as an alternate way.
However, some people would even like to try their box with every size as it adds to the element of fun. To increase the surprise component, you can also add a table in between the boxes. This obstructs a straight road and makes the maze fun.
A final note on DIY craft ideas for kids using recycled cardboard
Empty cardboard boxes can be recycled in more than one ways. Thus, instead of just throwing them on the roads or dumping them into recycling bins, just use them in a practical yet amusing way. So what are you waiting for, unfold your wings of imagination and fly in the sky of creativity and create things which can bag you appreciation and admiration.