Steampunk refers to aesthetic technological designs that are inspired by the steam powered machinery usually found in industries in the 19th century. Steampunk art has been around for quite some time, but has been gaining more prominence only of late. Here are some excellent examples of steampunk art that were created using old, salvaged materials.
Moonshine lamp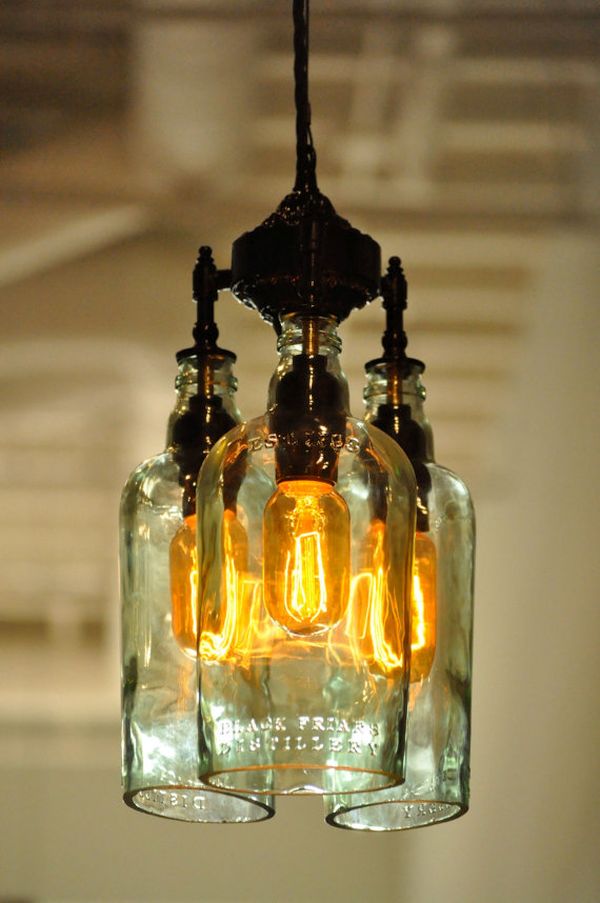 Check out this really fab desk lamp made entirely out of a recycled bottle. This DIY project can utilize any empty beverage bottle you have lying around the house. The lamp comes complete with a ½ inch water pipe which constitutes the feet, a hand turned pulley wheel, a cloth wrapped cord and a 30/40 watt bulb.
Victorian Organ Command Desk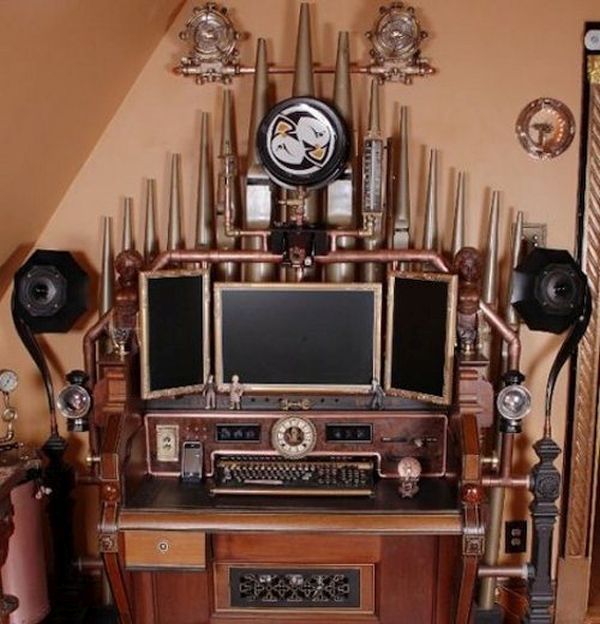 Bruce Rosenbaum's Victorian Organ Command Desk is a sight for sore eyes. It features a fully functional personal computer along with a screen, encased inside a Victorian pump organ. The baroque workstation was crafted from a demolished church organ. Rosenbaum removed the innards of the organ and replaced them with a 3GHz AMD Phenom II X4 945 processor, 3GB of RAM, 1TB HD and three monitors among others.
Time Travel Steampunk Computer Workstation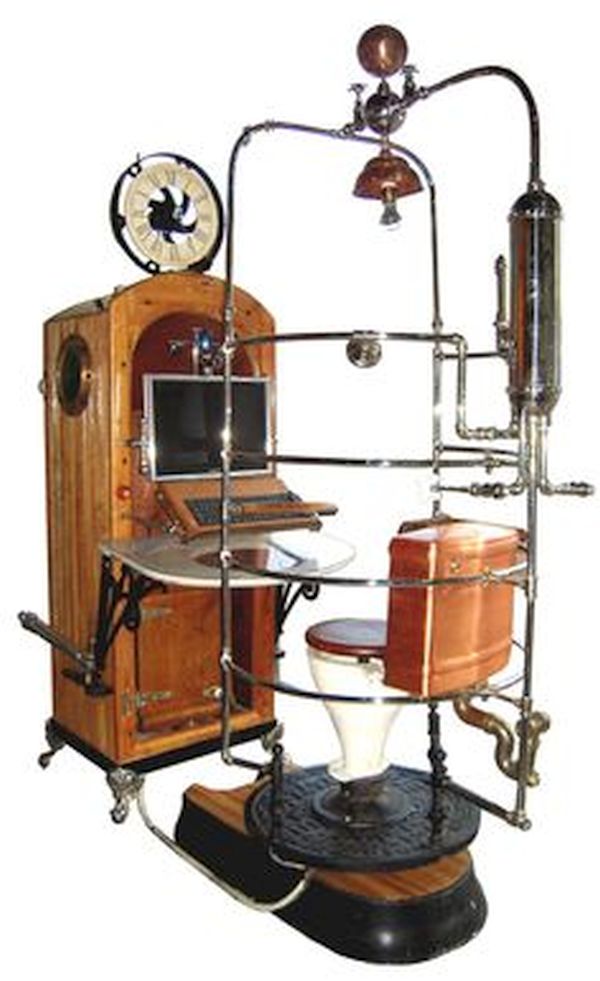 Here's another example of old, unused items can be transformed into something really unique. This fully functional computer workstation is made out of steel, iron, brass, wood, leather and glass. Its ensemble constitutes an old base frame dating back to over 150 years, a monitor, keyboard and a mouse. It also features a free standing mouse pad, lighting, plasma tubes, webcam and a Nixie clock among others.
Teslapunk Antique Toilet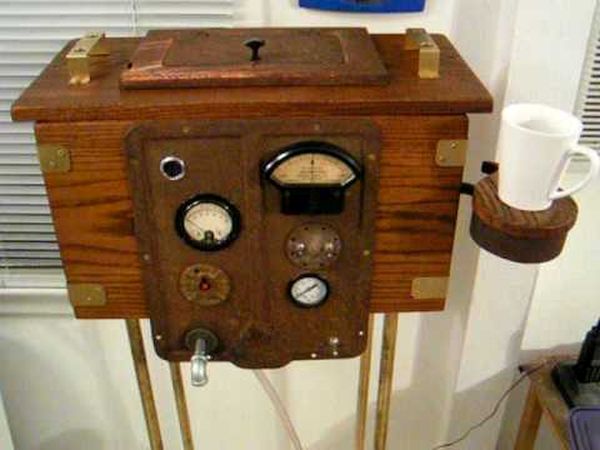 This is one toilet you definitely can't resist visiting every now and then. Considered a perfect blend of the past and future, this toilet comes with some pretty impressive features like flush control, control panel, lights, gauges and the best of all, a laser pointing mechanism to guide your way at night. The tank is hand made out of solid oak and contains a battery powered flush pump. The bowl is a standard 1949 model while the antique gauges add to the toilet's charm. Want to know something else? The toilet also features a cup holder on the right. Now what would that be for we wonder!
Recycled Mechanical Animals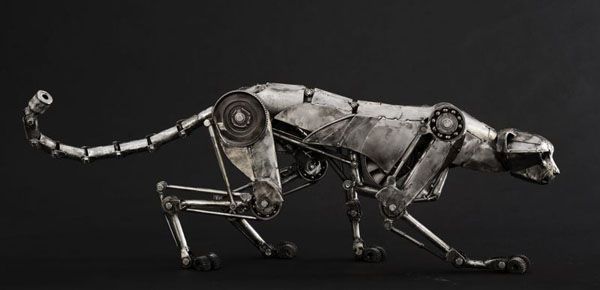 Building animals out of recycled scrap metal is a daunting task indeed. But American artist Andrew Chase rose to the challenge to become one of the most popular mechanical animal builders in the world today. Chase puts together his animals from used up car and plumbing parts. He also scavenges any other metal part he can find from other sources. Taking between 80 to 120 hours for completion, the beauty of these mechanical animals is a sight to behold. Better yet, Chase takes photographs of them in various positions and integrates them into animated GIFs which show these animals moving with incredible realism.
Captain Jack Sparrow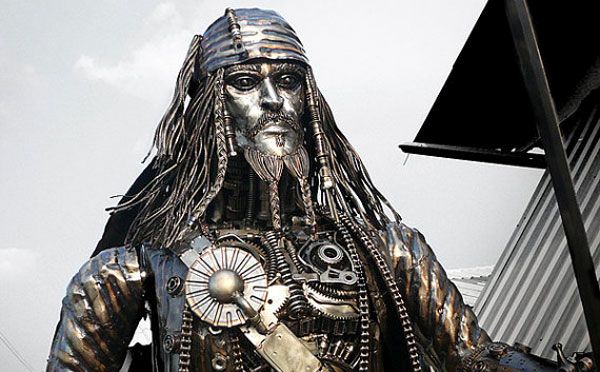 Designed by Kreatworks, this steampunk creation of the most popular character of the Pirates of the Caribbean movie franchise is truly an art work of a different level. Standing at a height of 48 inches and weighing at 450kg, this steampunk depiction of Captain Jack Sparrow is made entirely out of useless machine and auto parts in addition to recycled metal. The finished metal sculpture was also coated with lacquer to prevent rust.
Steampunk art has been gaining popularity in the past few years. Featuring mesmerizing works of art, these creations are made of used up mechanical and auto parts in addition to even recycled glass.