One of the greatest problems currently plaguing the world is the pandemic world food problem. Even though scientists have ratified that most countries have a surplus of food, people have been unable to avert a global food crisis. Did you know that almost one-third of all the food that we produce on earth goes to waste? Yes, bring it together with the images on the internet of people that we see dying of hunger. Some of the most heart-wrenching photographs on the internet and in magazines have been those of children suffering from the lack of food because people have been unable to stop world hunger. War and famine are two core issues that affect some third-world and some second-world countries.
Read More: Food Waste Recycling: Technology, Methods, and Solutions
Now, you may be wondering that with the rising food prices in your own country, how can there be an excess of food. Economic disparity is very closely linked to wood wastage. It is those who have too much that most likely waste food. Whereas the have nots aren't even able to get the smell of it. Moreover, this isn't the only reason there are many reasons that lie behind this problem.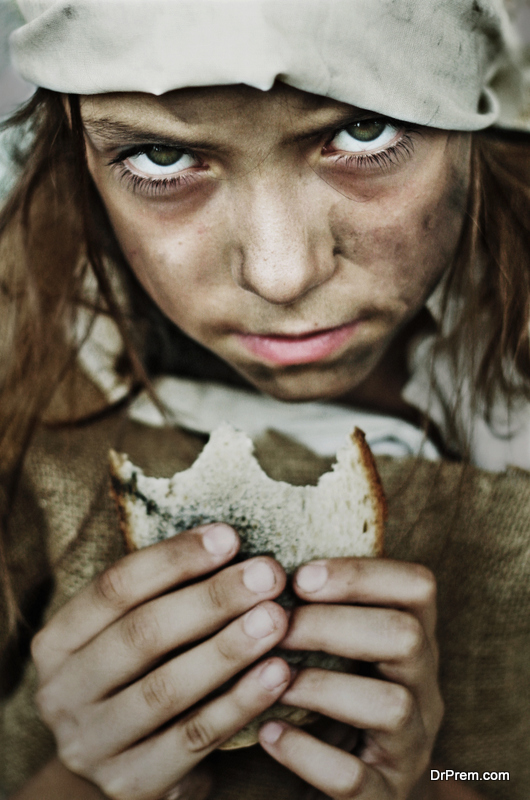 The reasons behind the world food problem
Well, the unstable pricing of oil, natural calamities and ever-rising demand for food are just some of the factors contributing to the global food crisis. Add the new leadership styles emerging and their new practices of trade along poor storage conditions to the mix and you get some of the reasons for this food problem.
This man-made disaster has many possible solutions. The urgency of the situation calls for many world leaders to act swiftly. Even though this is a problem that cannot be solved overnight, provisions can be laid out today that will help solve this food problem in time.
Five possible ways to stop the world hunger
1. Access to better education:

The best and easiest way to combat this global food crisis is to give people all over the globe an easy access to good quality education. This solution may just be one of the most prominent of the possible solutions to combat world food problem. Poverty is one the main reasons for this problem and it can be easily fixed with providing access to better education. Education leads to people having more access to income and opportunity which inadvertently means more food for people. And this will assist in expanding the economy as well. Some countries offer a food-for-education program as well. It means children have access to both free food and education.
2. Provide sustainable food:
Many international food and bio-technological firms across the globe are emphasizing on the use modern farming techniques. They are helping create more drug and pest resistant strains of seeds that will help increase the yield of the produce. They also fund multiple projects globally where people create self-sustaining societies where the produce their own food and reduce the dependence on others. This also means that they focus on making impoverished areas self-reliant so that they do not have to rely on foreign aid. This also helps the economy as it helps reduce a country's debt and helps stop world hunger.
3. Keeping a check on the world's population –

One of the main reasons for the current food problem is the world's high population and its inevitable increase. Keeping a lid on the population spurt will reduce the number of mouths to feed and in turn, reduce the need to food per capita. The world's population struggle also stems from the lack of education and low accessibility to contraceptives. A reduction in mouths to feed can also assist in better family planning and can affect the economic freedom of a nation which will help stop world hunger.
4. Bringing social:
This is a challenge and will not happen overnight. But most issues like war and geo-politics pose a fundamental problem to the progress of the world and do not help avert the global food crisis. This will happen when global powers like the European Union, Russia and the United States become flag bearers for this fight. They will need to stop their game of geo-politics and focus more on ending this scourge. This will certainly help to put a stop world hunger.
5. Reduce reliance on fossil fuels:

The rush to end the world's reliability on fossil fuels led to the search for alternative sources of energy. Besides solar and wind power, biofuel was zeroed down upon as a great alternative. While biofuel — producing fuel from crops like corn and soy oil — has caused a small fall in the global oil prices, it has also resulted in the hike of food products. The government of many nations has subsidized this industry citing them as a viable alternative for fossil fuels. But it's exploitation by many corporate conglomerates has led the United Nations to place a five year moratorium on its production. Actually this subsidizing has led many famers to divert their yield for fuel production rather than consumption as food.
6. Reduce meat consumption:
Another method to fight the global food crisis is by reducing the consumption of meat. Because of the food cycle in the world, every meat producing animal must be fed crops which in turn increases prices of products worldwide. This also increases the pressure on the requirement of oil for transportation and energy costs, which means more money is spent.
Final Words
A few other key areas how the world's food problem can be fought are disbursing better aid packages to war-torn nations and increasing the yield of the current legion of crops.
Another one of the many possible solutions is by you reducing the portion of what you eat. It may not seem like much but with every helping you do not eat, someone out in the world has more food on their plate.
In this globalised world, becoming a global citizen relies on a person's ability to empathize with the conditions of people living all over and helping stop world hunger. This problem cannot be merely solved by attending multiple silent auctions or glitzy fund-raisers. Each one of you has to do your bit to help save people. After all, like David Bowie said, we all can be heroes, just for a day.