In this digital era, photo editing has become a need of the day because photos are the best way to share memories or life events on social media among fans and followers. HereVanceAI is the world's top site powered by AI technologies that aim to boost photo editing. VanceAI aims to slow down the challenges in photo editing by offeringan extensive list of productivity, creativity, and editing tools. Creativity series holds5 different highly useful tools such as an old photo restoration tool, AI image colorizer, and VanceAI Photo Retoucher that you can use for creating new visuals out of the pictures that you already have.We will be going through the VanceAI creativity series review in this article. Besides, VanceAI also provides other tools such as AI image upscaling to help you obtain high-quality images without images' quality losss.
Part 1: About VanceAI
VanceAI is an online AI photo enhancement and editing tools provider site to create unique and eye-popping photos in one click. One of the special facts that makes VanceAI the world's top site is the advanced AI technologies and deep Learning capabilities to offer users some level of autonomy while photo editing. VanceAIcreativity series holds 5 different tools to bring your photos back to life. VanceAI has an extensive list ofcomprehensive tools including productivity and image editing along with creativity series. All the tools offered by VanceAI are available across macOS, Windows, Android, and iOS to make sure your images are enhanced to their best quality in just a matter of seconds. Everyone can find any of the VanceAI tools together to make photos lively as well as prettier in a pretty short amount of time. VanceAI is gainingpopularity day by day because it is providing a variety of AI solutions under one website with low-cost subscription plans to automatically process images. 
Features of VanceAI
Has an extensive list of amazing tools to make creative photos with one click
Retouch photos with one clickusing AI face enhancement technique
Turn a photo into a cartoon picture or anime character usingAI image cartoonizer
Helps to restore old photos using old photo restoration tool in simple clicks
Turn a photo to line art within seconds
Colorize black and white photos online by adding natural colors tomake your photo come back to life efficiently 
Pros & Cons
Pros
Comprehensive tools with low-cost subscription plans
All AI solutions under only one websiteto automatically process image
Keeps your data 100% secure
Powered bydeep learning and AI technologies
Allows batch processing to edit multiple photos at a time
Cons
Limited free use
Don't allowimage downloading for free users
Supports only limited file formats like JPG, PNG, and JPEG 
Part 2: VanceAI Creativity Series Review
The VanceAI creativity series holds 5 creative tools such as an old photo restoration tool, VansPortrait, VanceAI Image Colorizer, Vance Photo Retoucher, and ToongineerCartoonizerthat are available under only one website to bring your photos back to life. Like a photo editor, AI creativity tools are useful for users to turn a photo to line art, old photo restoration, colorize photos online, AI photo retouching, cartoonize photos, and much more in just a matter of seconds.
VanceAI Photo Restorer: Bring Old Photos Back to Life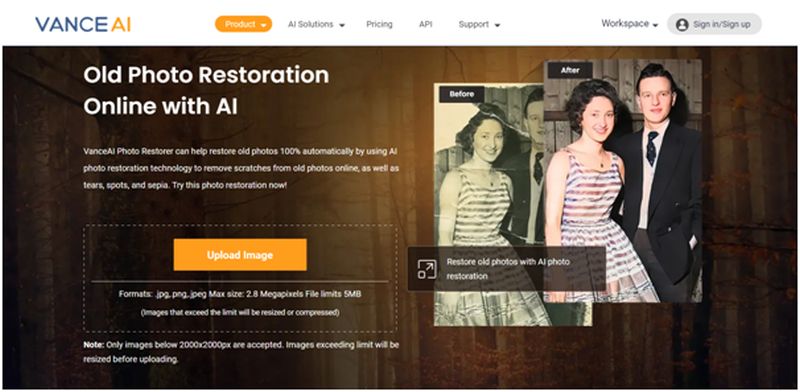 VanceAI Photo Restorer is a handy tool to restore old photosto life. It can enhance the old damaged photo without scratches and spots. This AI photo restoration removes fractures and tears onthe face automatically without advanced skills. It can also restore old photos to life in one click by adjusting color saturation and face enhancement. This photo restorer restores your image in only a few seconds by sharpening colors and improving quality online 100%.  You just need to upload your old photo and this old photo restoration brings your old photo intolife-like colors and changes it into a new look with amazing results
Toongineer Cartoonizer: Cartoon Yourself Online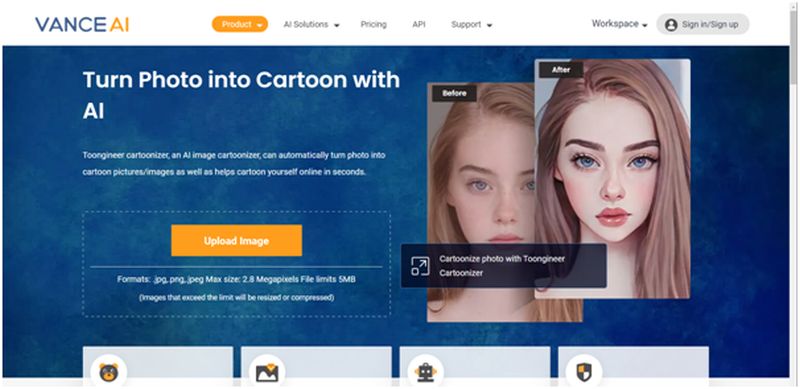 ToongineerCartoonizer is one of the best tools forthe VanceAI creativity series. It is based on deep learning and a powerful algorithm of AI. This is an image cartoonizer that can turn a picture into a cartoon online with one click. With this AI image cartoonizer, you can turn your selfie and photo into a cartoon and make fun with your family and friends. If you are an influencer on media, you need a carton photo like a professional artist to make fun with your fans. VanceAI cartoonizer can turn your image into a carton and give it a fresh new look for your followers which make you more approachable among them. It can also get awesome print-level carton pictures of pets, foods, and landscapes automatically in a single click with colors.
VansPortrait: Turn Photos to Line Art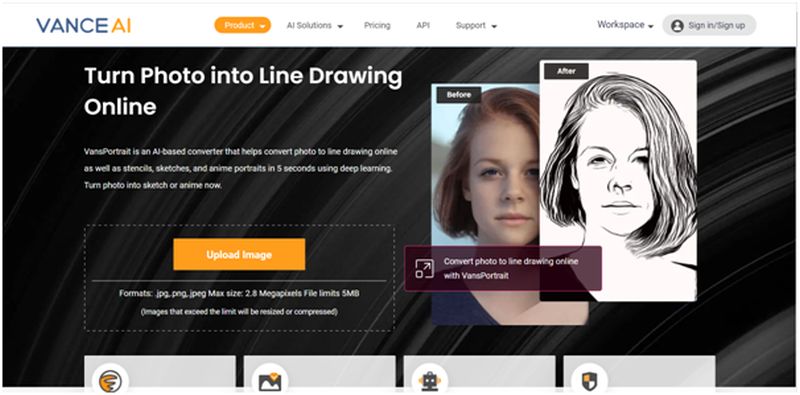 VansPortrait is an AI-based converter that allows you to convert to line drawing online. It has a one-click solution to convert any picture into anime, stencils, and sketches in just five seconds. You can turn your picture into a line drawing art like an artist without any art experience. VansPortrait not only convertsa photo into anime it can also turn your photos into pencil sketches by using AI technologies. This handy tool uses special a novel lightweight GAN and generatesan adversarial network to turn pictures into anima in a few seconds automatically. With this AI sketch maker, you can create an amazing sketch of yourselfright before your eyes in just a matter of seconds like a professional artist.
VanceAI Photo Colorizer: One Click to Colorize Photos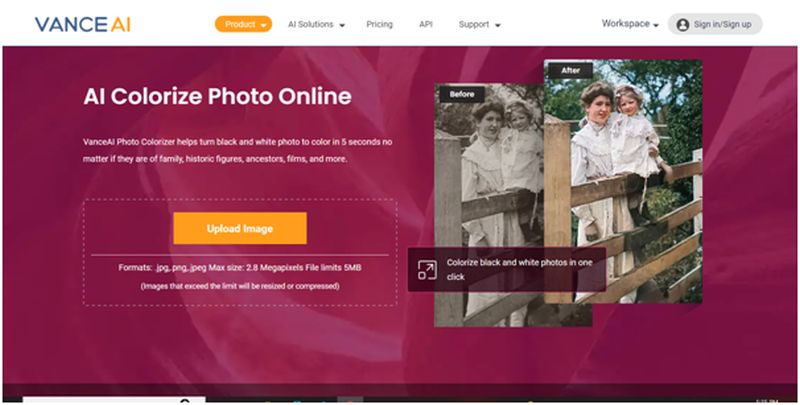 VanceAI Photo Colorizer is an amazing tool that helps you colorize black and white photos to get high quality. It can add colors to your photo white, red, yellowish, and grayscale photos in one click by Deep Convolutional Neural Network. This AI-powered tool colorize photo online and get rid of noises and blurs automatically. It can colorize millions of images and enables the possibility of adding natural colors without any pixel loss. This AI colorizer with its deep learning technologies can easily turn old black and white into lifelike colors in one click no matter if they are family, friends, landscapes, classic film screenshots, and more.
VanceAI Photo Retoucher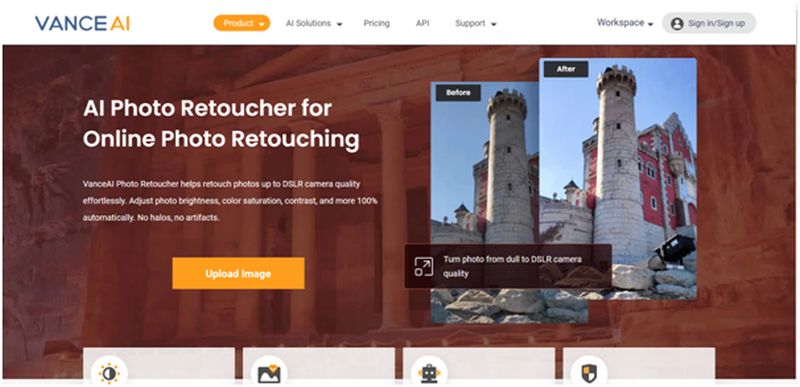 VanceAI Photo Retoucher is also a useful tool in the VanceAI creativity series that allows you to retouch photos up to DSLR camera quality in one click. It retouches photos online and adjusts dull pictures with high-quality 100%automatically. This Retoucher can correct color saturation and enhance real details effortlessly. If you want to get a new look to your photos VanceAIPhoto Retoucher is the best way to adjust brightness and contract in one click without any halos and artifacts. You can remove dark circles and wrinkles from your face and make your face smooth to look eye-popping. It is easy to useand offersyou some level of autonomy while photo retouching because of its AI nature.
Part 3: Guide to Use VanceAI Photo Colorizer
The process to useVanceAIPhoto Colorizeris simple and easy as well. Here is a simple guide on how to colorize photos online using VanceAI Photo Colorizer.
Method 1: Go to VanceAI Photo Colorizer Product Page
Step 1: Go to the VanceAI Photo Colorizer productpage and upload the image which you want to bring back to life by clicking on the "Upload Image" button.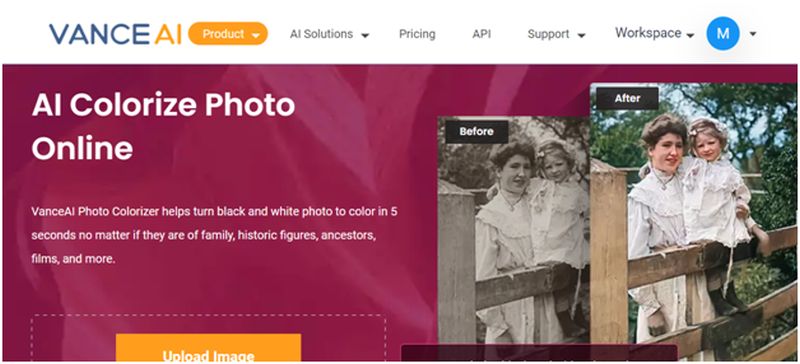 Step 2:Once the image is uploaded you will see VanceAI Photo Colorizer will start image processing automatically.Wait a while until image processing is completed.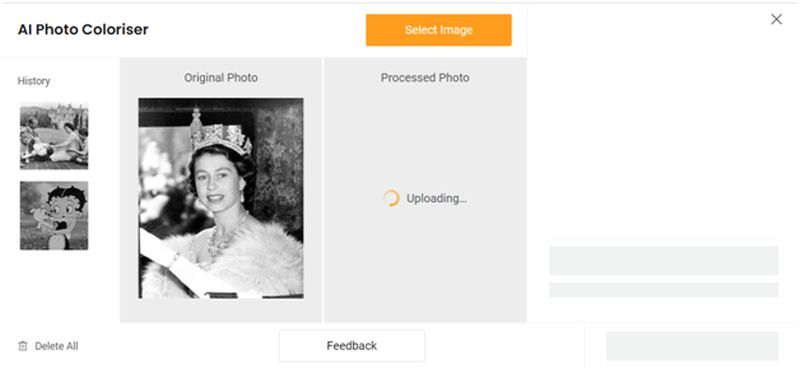 Step 3: Once the process is done, download your colored image by clicking on the "Download Image" button. That's how to use VanceAIPhoto Colorizer to auto-colorize photos step-by-step.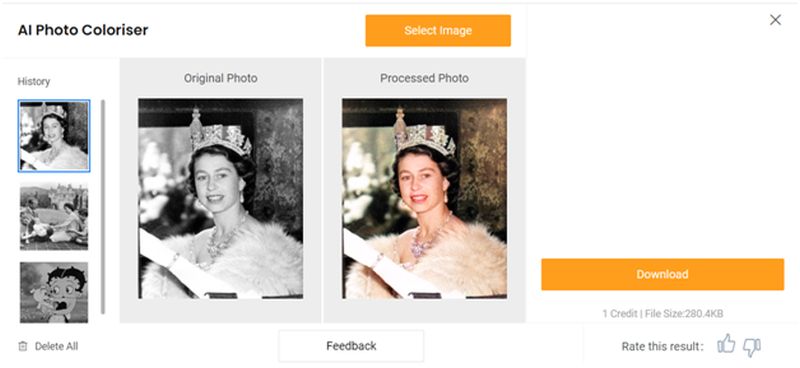 Method 2: Visit VanceAI Colorizer Workspace to process the image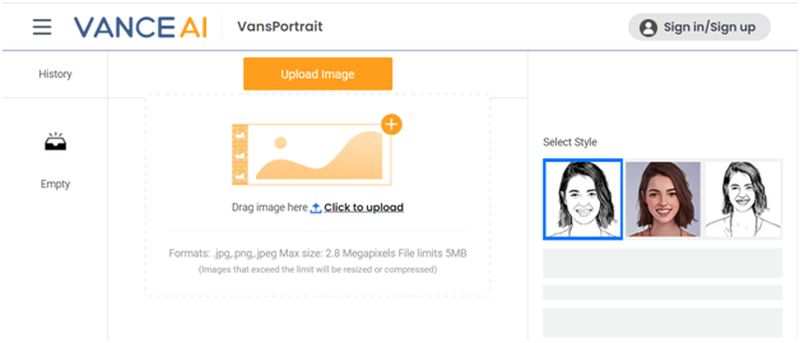 The second way to create amazing photos isVansPortrait. Visit the VanceAI Colorizer Workspace to turn a photo intoa line drawing instantly. Upload your image and select the anime style to create a cool sketch of your photos. Click the"Start to Process" button and download your images when the processing is done. VanceAI VansPortrait workspace is simple and easy to use as compared to its product page.
Conclusion
VanceAI is an AI photo enhancement and editing tools provider site to offersusers some level of autonomy while editing the portrait. VanceAIhas various useful and comprehensive tools that modify an image in different ways to bringit to come back to life. You can createvarious imaginative pictures withthe VanceAI creativity series to make yourself more approachable in this digital world.VanceAI has proud to offeran extensive list of creativity tools to cartoonize photos, colorize black and white photos, and retouch photos onlineto make your photos lively.Try the VanceAI creativity series now to create a lot of imaginative pictures and surely you will be happy with the outputs. 
Other Choices from VanceAI 
BGremover
BGremover from VanceAI is a fast and free background remover to remove backgrounds from images online with one click. BGremover can burn out image background automatically to create a lot of editing options image while keeping in focus your key objects within seconds. The AI system is embedded in VanceAI BGremover to replace a busy background with a transparent background automatically. 
VanceAI Photo Editor
VanceAI Photo Editor is another choice from VanceAI for everyone to enhance image quality online.VanceAI Photo Editor is filled up with a bunch of creative features to create amazing& ready-to-upload photos for multiple projects. It is a simple but powerful algorithm to smooth and simplify workflow while creating extraordinary photosin one click. VanceAI Photo Editor has AI-powered features in addition to normal features such as cropping and adding text and filters in photos that you can explore to create possibilities to make your photos come back to life.
Article Submitted By Community Writer