Living room cabinets are a great way to keep the clutter out of your living space. But, with so many ideas you can find today, it can be confusing to choose the perfect one that suits your needs and your taste. So, to help you begin your shopping, here are some stylish living room storage solutions that will spruce up your living room.
1. Console cabinet
If you are looking for a living room storage idea that can organize and conceal items you need in the area, you can get a console table with cabinets. Console tables are great if you have limited space as they come in narrow dimensions. It can also be a great solution to separate your living room from another part of your house and complete your sofa set's look.
2. Display cabinet
A display cabinet is not just for retail shops to present their items or museums to exhibit artifacts and ancient objects. It is also an excellent choice for your home if you want to showcase an exciting collection. You can use a display cabinet to add life and impact to your living room. Antiques, toy collections, figurines, books, vases, and photos are great items to add to your cabinet.
3. TV unit
Living room cabinets can also be in TV units, TV cabinets, and entertainment centers. These stylish and functional storage solutions are very versatile. You can choose a combination of living room shelves, open spaces, and cabinets to fit your TV, audio devices, game consoles, entertainment accessories, books, and decorations.
4. Dresser table
While dressers are primarily found in bedrooms, you can also use them in your living room. Choose a combination of drawers and cabinets to keep and organize toys, board games, books, electronics, and other accessories. You can also utilize the top of the dresser as your TV rack to save more space.
5. Side table
For your minimal living room storage needs, you can choose a side table with a cabinet underneath. The cabinet can be an excellent spot to store magazines, books, and other entertainment items you want to be kept and concealed when not in use.
6. Desk
Double up your living room as your home office or study area by setting up a desk. This can be a sensible solution if you have a small home. And because we know how messy office and study tables can be, you better find a desk with shelves and cabinets where you can organize your things. This way, your living room remains clutter-free and pleasing to the eyes.
7. Storage hutch
A hutch is a piece of furniture usually found in dining rooms and kitchens, but it can work perfectly well in a living room. A storage hutch combines shelves, cabinets, and a counter, where you can display collections. It is also a great place to neatly store living room essentials within reach.
8. Wall cabinet
To save up some floor space, you can hang a wall cabinet in your living room. You can suspend it over your TV rack, console table, or dresser. This way, you will have more space for storing living room essentials without eating up space. If you intend it for showcasing a collection, you can choose a hanging display cabinet.
9. Built-in storage unit
A built-in storage unit is a customized piece of furniture that you can fit around your firewall, door, or TV set. This is a terrific solution if you want specific dimensions and details for your cabinet that perfectly fit your living room space. You can combine shelves, open spaces, and cabinets in this unit to accommodate all your storage and decorating needs.
10. Storage seat
If you want a space-saving storage solution for your living room, you can choose a cushioned seat with a cabinet underneath. You can customize it to fit your area and ensure there is enough space to walk around. Great spots for built-in storage seats are by a window bay or on one of your walls. Other alternatives to fitted storage seats are storage benches, storage ottomans, and sofas with pull-out drawers.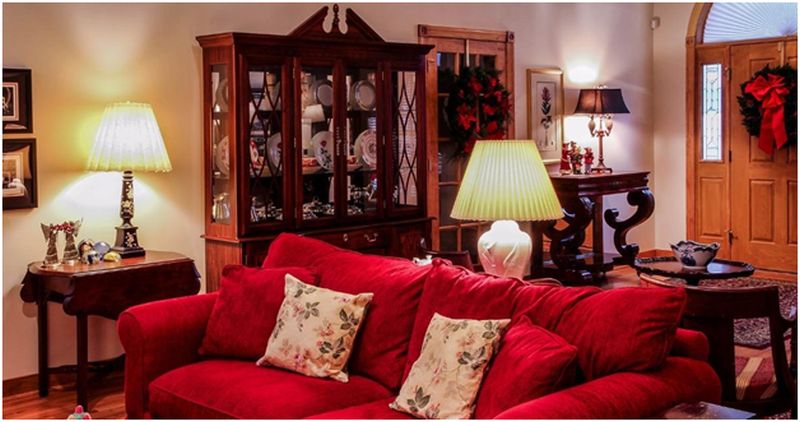 Finding furniture pieces that keep your living area clean, organized, and clutter-free without sacrificing style can always be challenging. We hope the ideas for living room cabinets above will help you choose the perfect solution for your home.
Article Submitted By Community Writer