A wedding invite is a special communication, when you let your family and friends know about the big event in your life. Receiving the invite is special for them, that they feel loved and remembered by you to be included in one of the most important days of your life. This is also the occasion when you can show your love for the environment by sending eco friendly invites. The guests would also be inspired and may even follow your lead and start using environment friendly materials for their own communication. Take a look at this guide for creating an eco-friendly wedding invitation for your wedding.
A complete guide to eco-friendly wedding invitations
Use recycled  paper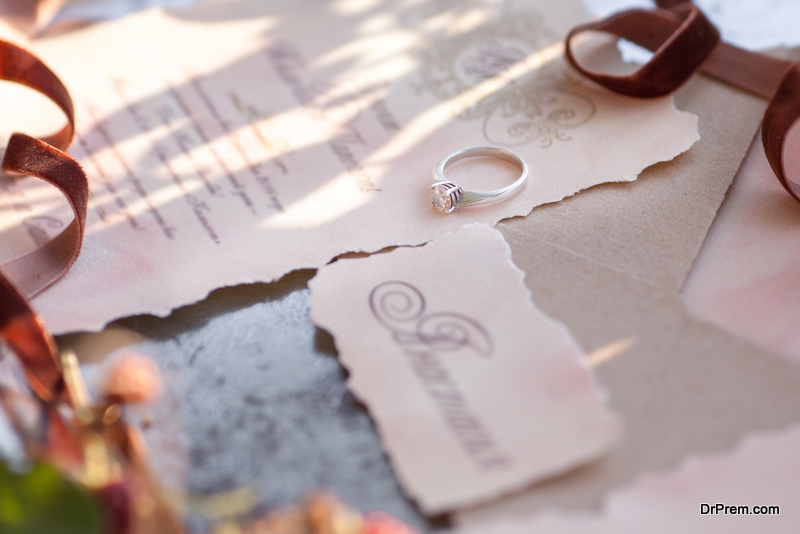 Paper wedding invitations made from virgin paper adds to cutting down of trees. We need to save trees to bring down global warming. Recycled paper wedding cards are one of the best ways to go the eco friendly way. There are beautiful recycled paper to choose from. In the book, 365 Ways to Save the Earth, it is mentioned that one ton of recycled paper saves around 17 trees and 7000 gallons of water, and prevents approx 60 pounds of emissions from going into the atmosphere.
Besides, you would be helping a lot of people who are trying to overcome hardships such as homelessness by making recycled paper. Find out as much as you can about their waste disposal methods before you buy recycled paper from any company.
Use sustainable paper
Even though recycled paper saves trees, the processes used right now might not be as great for the environment. It is of course, a much better choice than traditional paper, but the heavy metals from the inks which are removed end up in landfills, and some emissions are also part of the process. Still, we cannot but emphasize that recycled paper is better than virgin paper.
So what is the alternative? The alternative is to choose alternative paper which would be an eco-friendly wedding invitation. Paper from hemp and bamboo, which are sustainably grown is a good alternative.
Use reusable wedding cards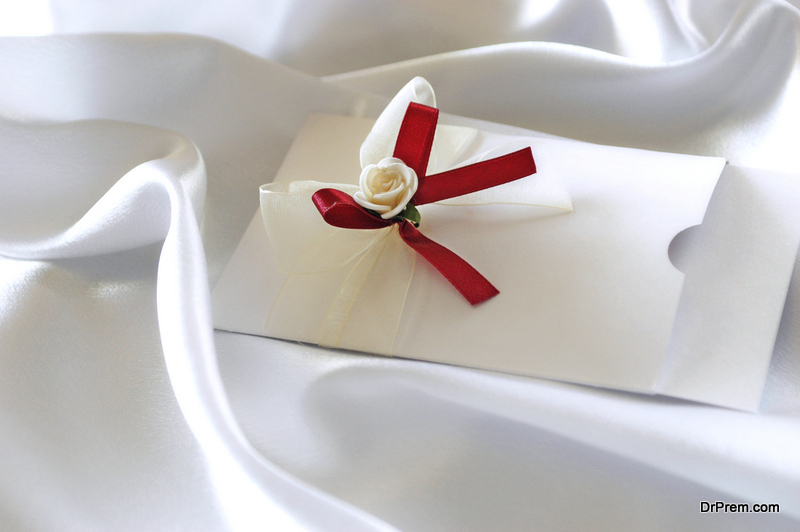 Wedding cards are pretty much unwanted after the ceremony is over, unless the guests are sentimentally attached to them. Still, after a certain period of time, they will dispose of it. Reusable wedding cards are best. For example, plantable wedding cards which have seeds inside. The guests can plant the card and enjoy watching beautiful flowers bloom!
Spend on calligraphed cards
If your budget permits, have as many items as you can be calligraphed, including the environmentally friendly invitation. Calligraphy looks gorgeous, and it is eco friendly too. You could calligraph the menus, table numbers and names. You would also be supporting a calligraphy artist if you outsource it. If you do it yourself, it would add a very personal touch to everything.
Research about the ink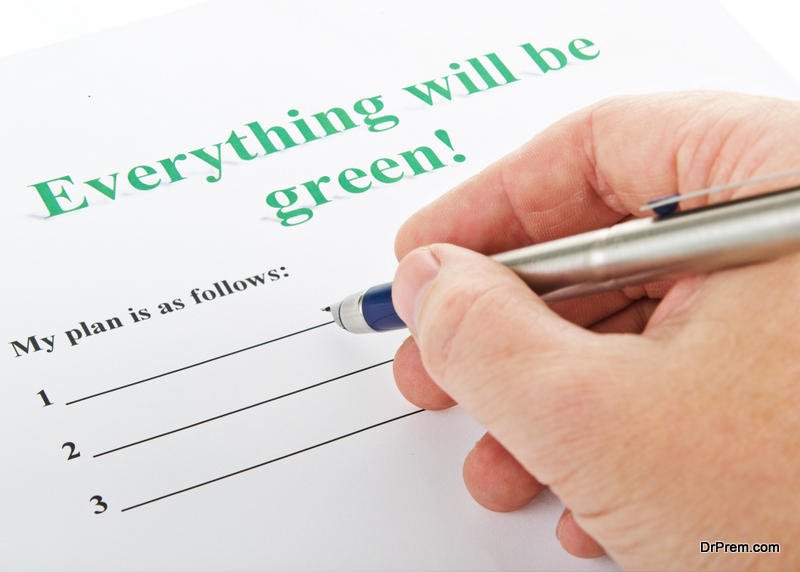 It's not just the paper which you should take a decision about, but also the ink. Even after choosing recycled paper, the conventional ink which is used to print on it will reduce your wedding card's positivity for the environment. The ink which is generally used contains heavy metals which are harmful to the environment.
To make your wedding card more eco friendly, you can look for a printer which uses vegetable or soy based inks. So when the card is disposed off or sent for recycling again, the ink on it will not have heavy metals which leach out and there would not be any harmful emissions during the process of recycling. Soy based inks release only about 2-4% of the volatile organic compounds or VOCs into the atmosphere which reduces the impact due to ink from your card.
Consolidate the inserts
Usually, you have to convey a huge amount of information to the guests. This increases the number of inserts with each card, even though you may be sending out recycled paper wedding cards. To avoid using so much paper, consolidate all the information into the wedding card itself.
Create your wedding website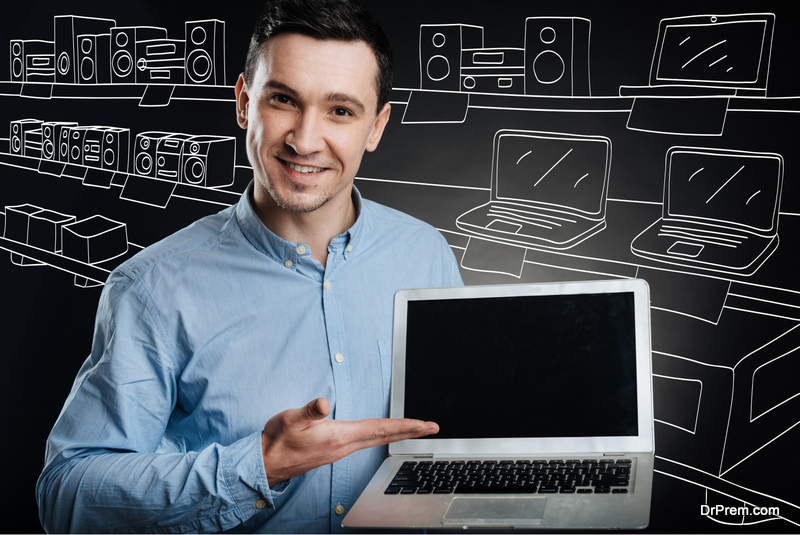 You may already be thinking of emailing your invites instead of using paper. Take this a notch ahead, and create an entire website dedicated to your wedding. There are many sites online which host wedding details for free, or you can simply create a blog. It will be easier for the guests to RSVP through the site, get to know the details of the bachelorette party or bachelor party, venue details, rehearsal dinner, post wedding lunch or brunch and more.
Everyone will stay involved in your wedding right from the start, making it a much more fun and easier for you to plan. The website and the mailer which is an environmentally friendly invitation will save you tons of money and also be good for the environment.
Have innovative place cards
Escort cards printed on paper (whichever kind) increases the carbon footprint of your wedding. Instead of paper, go for stylish innovative ways for escort and place cards. You could stamp or paint the guests names on stones and place them where they are meant to sit. Tie ribbons around a flower and write the names of the guests and table number on it. It's incredibly pretty and imaginative and will add to the beauty of the rehearsal dinner and the post wedding lunch, dinner or brunch.
Another way to avoid paper waste if you don't have the time to do something creative is to just print out a paper which lists all the guests' names and their table information. This can be placed at the entrance where the guests can see it clearly. Or else, give the printout/s to waiters who can guide the people to their tables.
Have few menu cards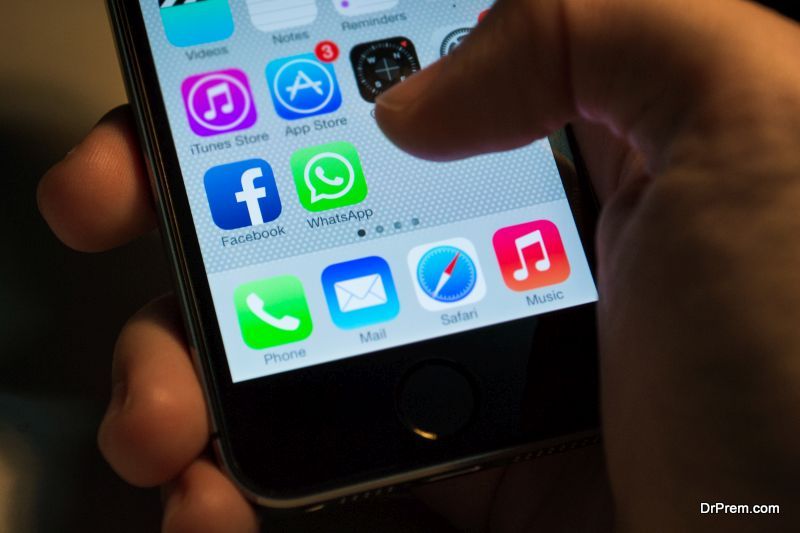 To reduce the paper use even more, avoid printing menu cards for each person. Just print out one or two menu cards at each table that the guests can share. Make use of social media apps such as WhatsApp to simply message the menu card to each guest. Everyone carries their smartphones along with them everywhere, so this would be a great idea. It would be much simpler for you also, saving you money which you can use for something else.
Send a lovely postcard
Postcards tend to become cherished keepsakes. Your guests might treasure yours for years. The other benefit of postcards is that they don't require envelopes, thus reducing the quantity of paper that you would need for invites.
Encourage your guests to carpool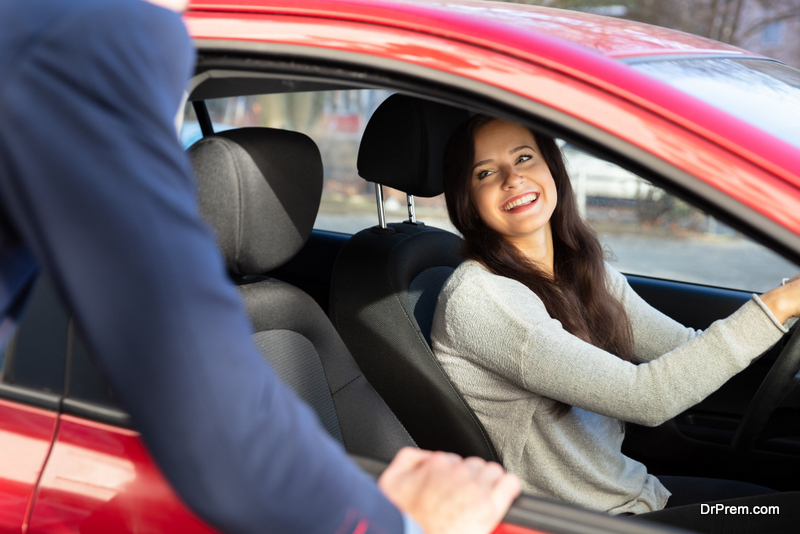 Many of your guests would be using their car to reach the wedding. They might be living near you or might be driving down from distant places. You could suggest to your family and friends that they could carpool. It would save fuel and help your guests to know each other better.
Send gifts as invites
An option for environmentally friendly invitation is to send gifts inscribed with your wedding date and details. It could be a simple coaster which has all the details. Or a ceramic mug which can have the photo of you both. There are tons of ideas on what to paint on a mug – just paint on a beautiful watercolor flower or roses and mention the date and time etc. It would be an impressive invitation and would be remembered by all those who receive it. It's an easy way to get people to remember the date!
Take the train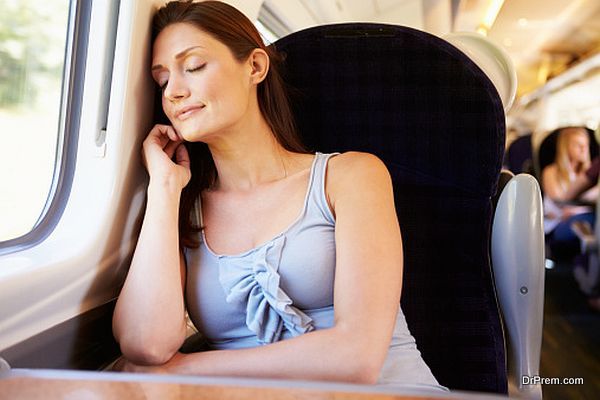 Encourage traveling by train to the wedding destination. Trains are by far the most eco friendly mode of transportation compared to buses and planes. Electric trains do not have emissions, unlike cars which run on gas or planes using jet fuel. Remind your guests about the relaxing train journeys where they can spend time being with themselves, or just enjoy the scenery.
Traveling by train would give them a chance to take a breather, leave the daily hustle and bustle behind, and come prepared to be involved in your wedding in a deeper way. How does this relate to your wedding invite? Well, you can mention a few eco friendly things such as carpooling and arriving by train on your invite, or send a separate email.
Environment friendly wedding gifts
You really cannot tell people what to gift for your wedding. It is a personal choice for all your guests. But you might mention a few things which guests might do as a wedding gift to you – they can make donations to organizations working for the environment on your behalf (you can list out the ones you support), plant trees or adopt a bird species. It could be anything which is beneficial for the planet.
You'd do well to mention in your eco-friendly wedding invitation that you would be celebrating your wedding in an eco friendly manner. Using recycled paper, reducing use of paper, requesting your guests to turn their thoughts to the environment are a great contribution to the environment. Global warming and climate change are no longer issues that can be ignored. Recognizing that and choosing to have an eco friendly wedding to practice your belief and spreading the message to others is a meaningful step in the right direction.
10 Tips to a Truly Eco-Friendly Wedding
Weddings are generally happy occasions; however, they often have unhappy consequences on the environment. Unfortunately, preserving the Earth's resources often isn't on the top of brides' to-do lists when planning their dream wedding. The transportation of guests, flowers, and decorations can increase emissions, and there's a lot of waste from caterers and decorators.But you can have your dream wedding and help the environment too. Here are some tips for a more eco-friendly wedding.
Read Blogs for Ideas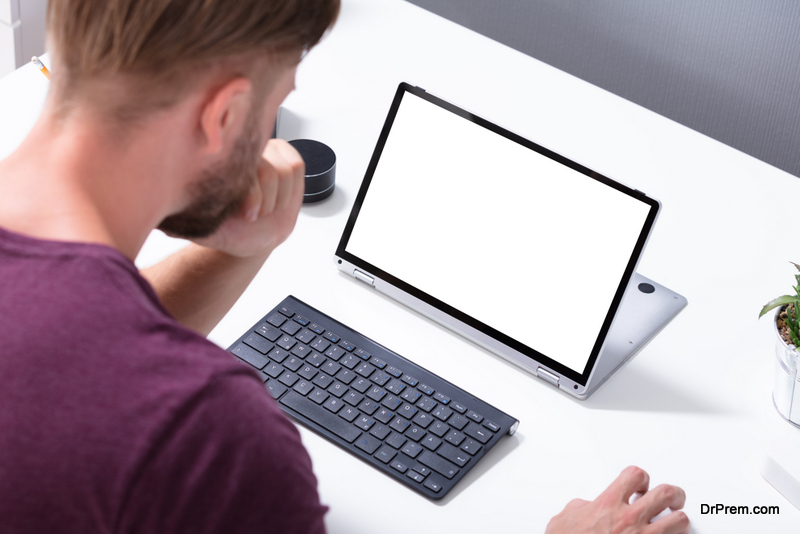 The first step to planning any wedding is gathering ideas. You should read blogs, scroll through social media, and pin ideas on Pinterest. When you're planning an eco-friendly wedding, look for a blog like Our Organic Wedding. It's loaded with trendy ideas for environmentally-conscious wedding planning.
Choose a Low-Impact Venue
One of the best ways to reduce your impact is to get married outdoors. It will be beautiful, and you won't have to worry about electricity. If the weather isn't ideal for an outdoor wedding, look for other low-impact options, like a refurbished barn or greenhouse.
A location that reduces travel for everyone is also important for a low-impact wedding. Transportation is one of the largest contributors to emissions, and reducing the distance for guests will significantly lower your wedding's carbon footprint.
Pick Organic Flowers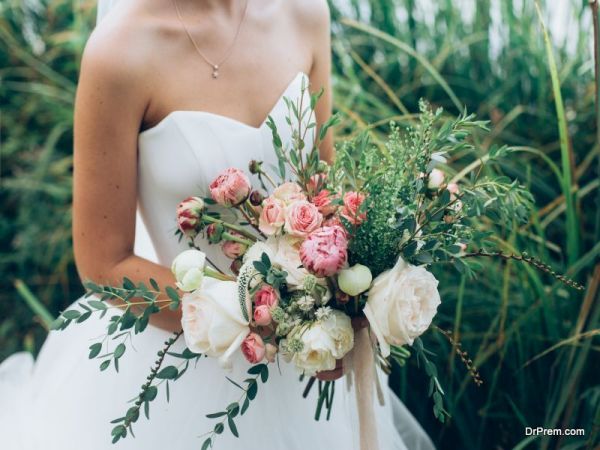 Wildflowers and other native plants make for a beautiful bouquet, and it takes a lot less energy and water to grow and sustain these plants. By shopping locally for your flowers, you'll save both money and waste.
Use Reusable Dishes and Silverware
Nix the disposable dishes, silverware, and napkins. It's much classier to use the real stuff anyways. It might mean more laundry and dishes later, but it's worth the reduced waste.
Send Goodies Home with Guests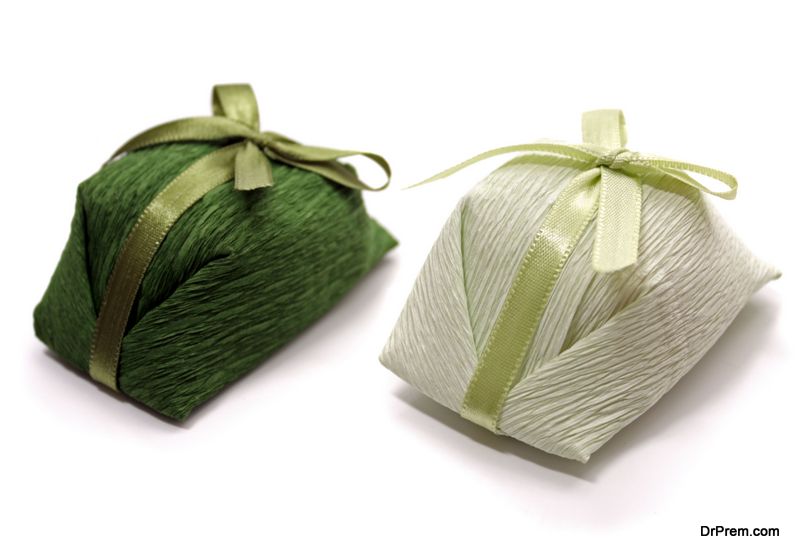 Research from the EPA shows that food is the number one contributor to our overflowing landfills. You'll probably have a lot of food and treats leftover following the wedding. Instead of throwing it out, consider sending home the leftovers with guests. Do the same with decorations, flowers, and other items that you would have thrown away otherwise.
You could also donate the leftovers to a homeless shelter or another organization. There's no need to throw them out when there are others in need.
Decorate with Thrift-Store Finds
There are many items in a thrift store that can easily be upcycled for a shabby chic wedding theme. For example, there are usually plenty of vases and mason jars at thrift stores, which could be painted and decorated for your center pieces. It's amazing what you can find if you visit enough secondhand stores, and you'll be reusing items instead of buying new ones.
Email Save the Date Cards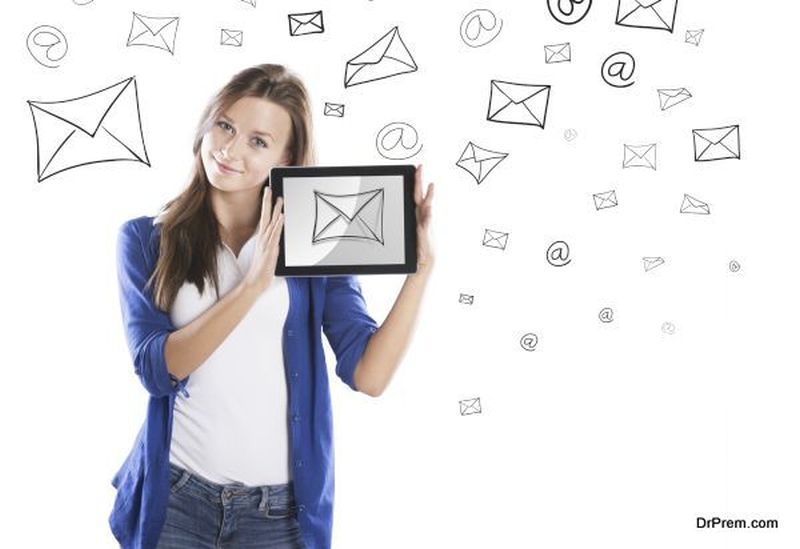 It's true that there's a certain element of class associated with sending paper "save the date" cards, but if you're planning a small affair with just friends and family, they'll understand if you ditch the paper and use email and social media to market the event instead.
Use Recycled Paper
Sending paper invitations is still the status quo, but there are plenty of recycled paper products and vegetable based inks that are perfect for your eco-conscious plans. This stationery can be even more visually appealing than regular paper, and it's perfect for your upcoming nuptials.
You could make your invitations even more unique with paper companies like Botanical Paper Works. They specialize in wedding invitations embedded with seeds. After the wedding is over, guests can plant the paper to grow flowers and plants. Now that's an invitation they'll remember!
Hire Organic Caterers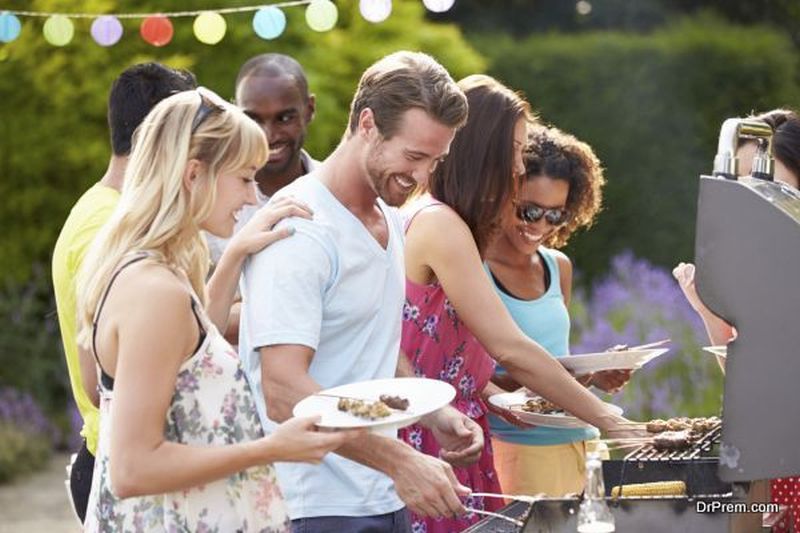 Serve organic foods from caterers who buy local and farm fresh products. Organic caterers avoid GMO's, pesticides, and other harmful chemicals. They also purchase from local organizations to reduce transportation emissions. Just remember that organic food often costs more, so keep this in mind when you're planning your budget.
Repurpose a Gown
Aside from purchasing a custom-made, eco-friendly gown, you could simply repurpose an old dress. Perhaps your mother still has her old gown, which could be reworked to match modern trends.
You might also check out thrift stores, vintage clothing shops, and consignment boutiques where you can buy or rent pre-worn gowns. It's a great way to include "something old," while minimizing your overall environmental impact.