When something is broken, we usually throw it away. These items can rather be recycled and put to use in a variety of styles. Recycling is good for our planet and us. It saves money and space in our landfills. Sort plastic bottles, cans, jars from garbage, and recycle them. However, not everything is thrown into the recycling bin. One such thing is plastic bottle caps. This article is divided into two sections, the first lets you know about the various things we can recycle and the second helps you with some creative ideas and ways to reuse plastic bottle caps.
Easily recyclable things that you are just throwing away
We all do not know exactly what items can be recycled and what not. Consider these items that are usually thrown away, but can very well be recycled and put to use, or if not, there is a better way of disposing these things than discarding them in trash.
Batteries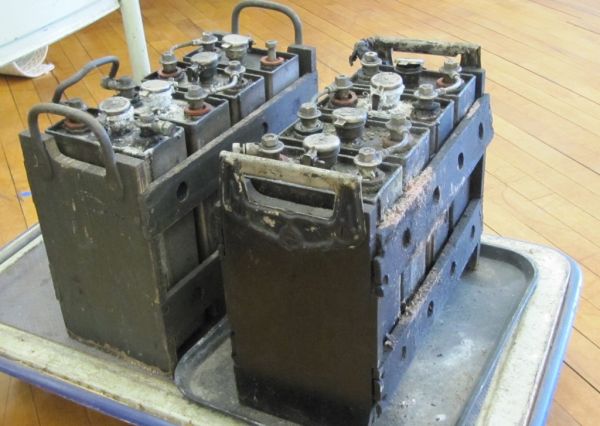 Do not let battery acid leak into the soil or ground water. Batteries can be reused. Take them to the stores for recharging. If they are not rechargeable, then drop them at nearest household hazardous waste facility. The batteries, when thrown away with garbage create unnecessary waste. So keep it away from garbage and recharge it as and when possible.
Computers and electronics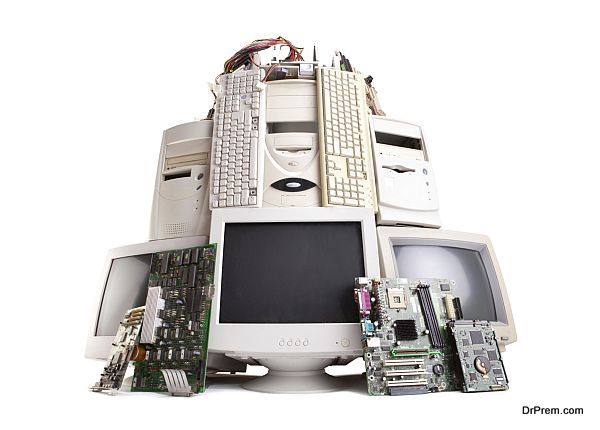 When you buy a new cell phone or a computer, it is important to recycle the old ones. Devices like televisions, camera, chargers, mp3 players, printers, and other electronics when thrown away, leak various harmful substances like mercury and lead that is harmful, and can have a marked negative effect on the environment. It is better to recycle old computers and electronics than to throw them away.
Ripped t-shirt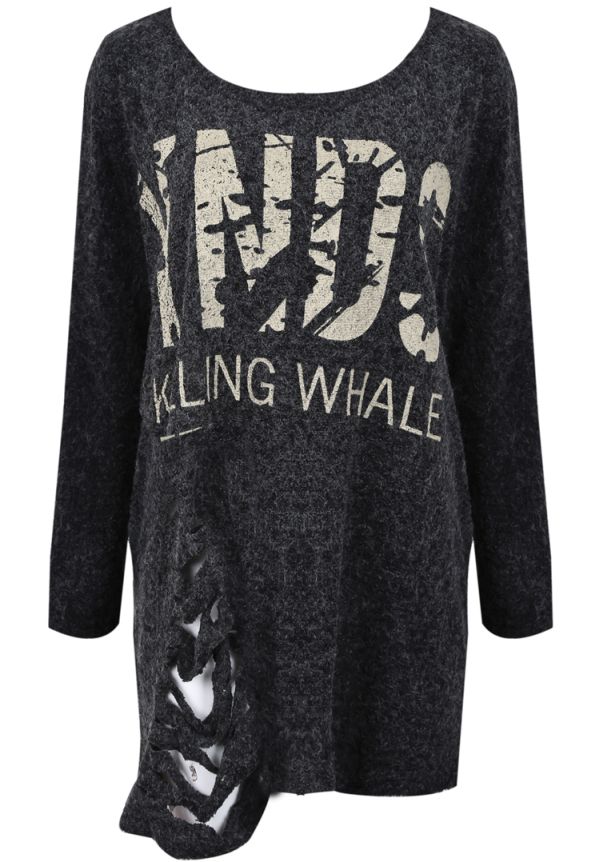 We all have many unused t-shirts at home. They never come out of our wardrobe, except when on a fine day when we decide to get cleaning and consign these to trash. These t-shirts can always be recycled. Avoid throwing them away; instead, give them to some needy person. There is other option to make it a zipper by stitching a zip into it. So a ripped t-shirt can be reused again.
Bottle caps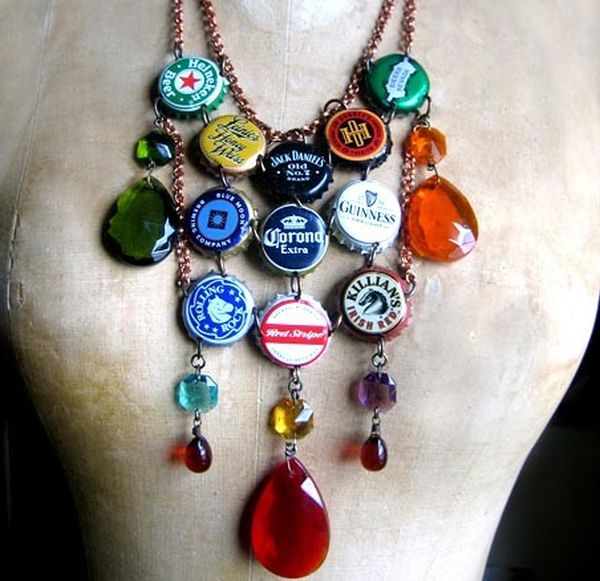 Always remove the caps of bottles. These caps can be recycled. It can also be used for decor purpose. Bottle cap tree, wind chime, tray and necklace can be made from bottle caps. So instead of throwing it away in trash, it is better to use it again.
Small bits of used soaps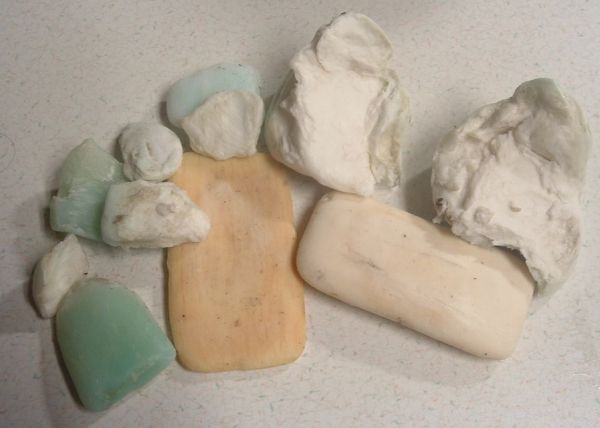 There are piles of leftover soaps in the home. Do not throw it away. Melt them together and combine them together. A new usable sized bar is ready to use; it saves a lot of money.
Creative ways to reuse plastic bottle caps
Plastic bottle caps are a waste that comes in variety of shapes, sizes, and colors. Some nations refuse to recycle plastic caps unlike plastic bottles. If your city also refuses to take plastic bottle caps for recycling, then try to do something interesting with those cute looking plastic caps. Following are some ideas for you to make interesting crafts and reuse plastic bottle caps:
Bottle cap photo frame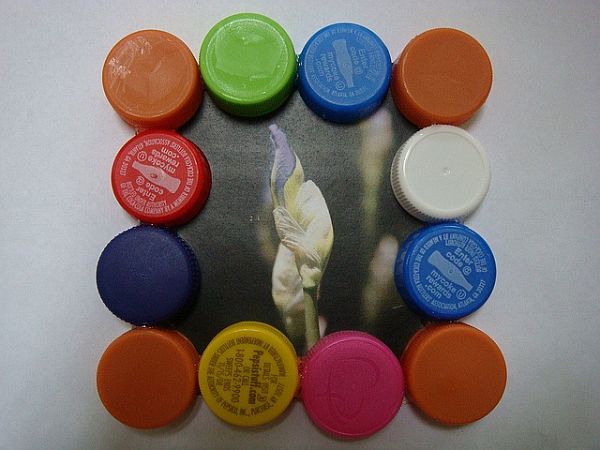 For this craft, you can reuse plastic caps of different colors or a single color if you like. Make a frame of any shape like rectangle, square, triangle, circle, or oval. It the caps are plain, you can also paint small designs on them to make them look even more interesting.
Bottle cap curtain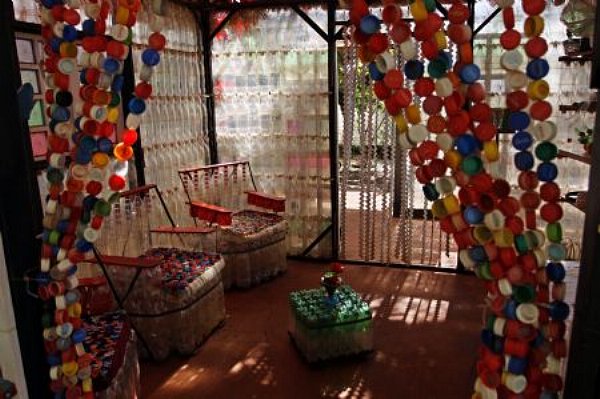 Different colored bottle caps can make a beautiful curtain. Depending on the size you want, you need to collect bottle caps bright colors look amazing. You are supposed to drill two holes on the cap and pass a string through that will hold the caps together. This craft does take time but the result it gives is stupendous. You can use the curtain to divide a room, or simply hang this masterpiece on a wall to add funkiness to the décor.
Bottle cap lampshade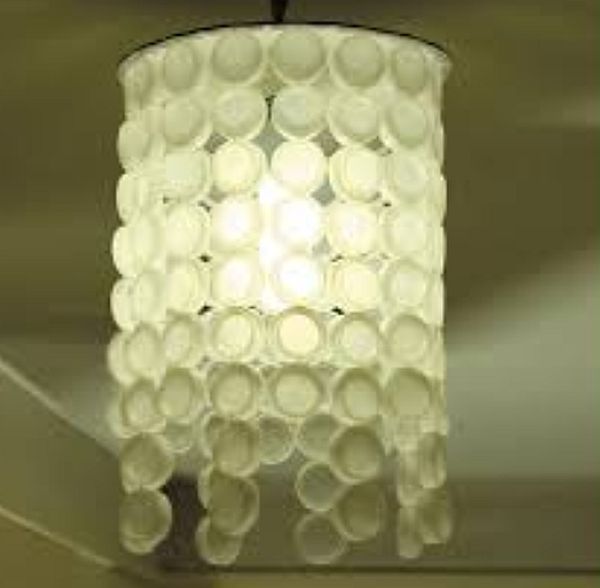 Plastic bottle caps make beautiful lampshades; you can use multi colored caps or white caps as well. Make two holes on the sides of the cap, and pass a string through them and put around eight or nine caps in a row (the number of caps depends upon the length you want). You can choose any design to make this lampshade. The only precaution to take is to make use of low energy light bulbs.
Decoration on the outer walls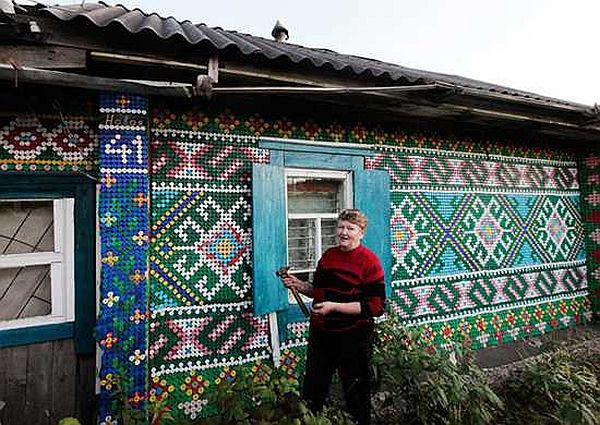 Plastic caps can make amazing wall decorations, like in your patio. Think of a good design, collect multi colored plastic caps, and adorn the walls with those designs. The walls in your patio and the garden area are perfect for bottle cap decoration.
Plastic bottle cap path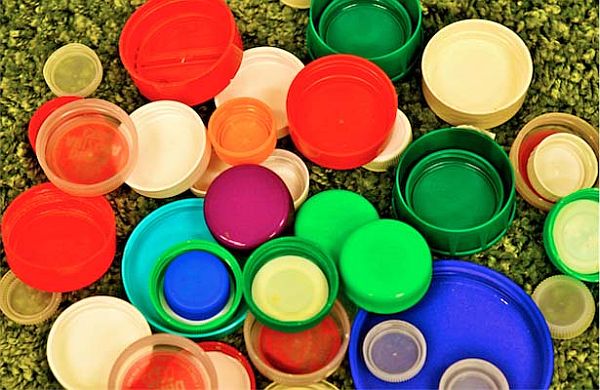 You can carve out a small path in your garden area wherein you can use plastic bottle caps of all colors. Though it is a meticulous task but extremely interesting. You need to have ample collection of caps for this craft. Place the caps one by one, closely attached to one another on the path to create a wonder lane.
Some other creative reuses of plastic bottle caps
Plastics are recyclable– it is a fact that we all are aware of. But do you even know that plastics caps can be of use even without recycling them. All these years bottle caps had the only purpose of preventing leakage of the liquids.But you will be surprised to know that bottle caps do have much more applications. Other than plastic bottles, their caps would be other most produced objects on this planet.Here are some multifunctional creations made from bottle caps. The designers have made use of bottle caps to create everything ranging from camera tripods to lighting fixtures.
1. Bottle cap timepieces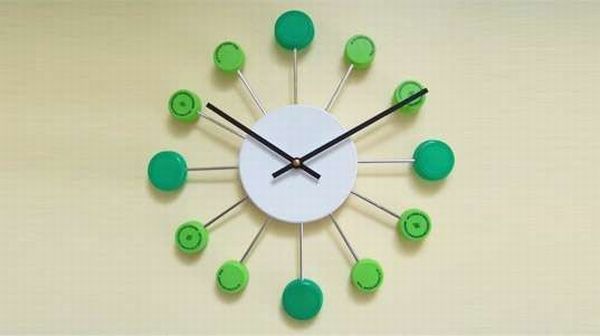 This is a Cute as well as an ecofriendly creation that can be of an important use to everyone. The designer Alison Davidson's creation Clockpops shows how creatively and elegantly plastic bottle caps can be used. This timepiece like any other, shows time but what makes it different is how the components are put together to make it. You can find these timepieces in a variety of designs ranging from retro, colorful clocks to feminine ones and that too at prices that range from $15 to $25.
2. Furniture from bottle caps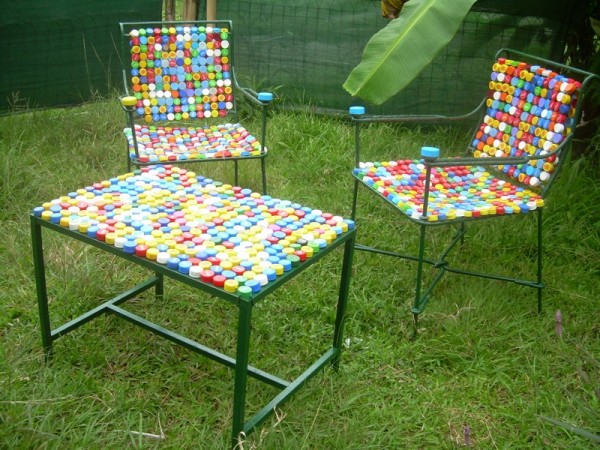 These discarded plastic bottle caps can also beautify your home décor amazingly. The designer, Rick Ladd stacks the beverage tops to make one of the best astounding mirror frames, cabinets, and chairs. The artist has taken inspiration from Burmese temples and grottos as well as sculptural environments.
3. Bottle cap planters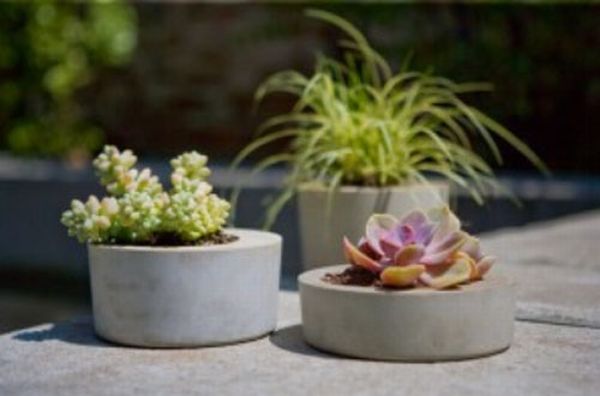 You won't believe that all the bottle caps that lie around can be used as mini planters. But you must be wondering what kinds of plant would grow in these tiny planters. The Merry Farming Kit allows you this freedom as well. You can grow your vegetables and with less of space. The Farming Kit has everything required to get your own farm running. It provides both seeds as well as soil.
4. Upcycled trash toys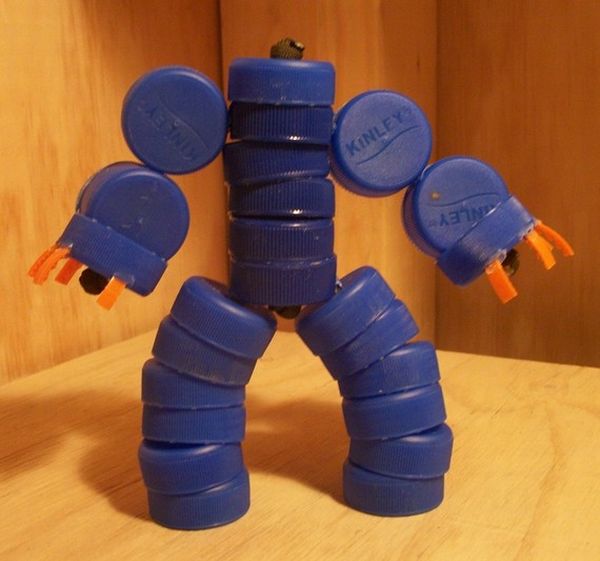 Artist Rupert Valero had made splendid action figures by making use of Bottle Caps. These action figures are US soldiers made from bottle caps. The size of these toys vary based on the materials used to make it. The action figures have around four to six inches of height and have completely movable limbs.
5. Recycled creations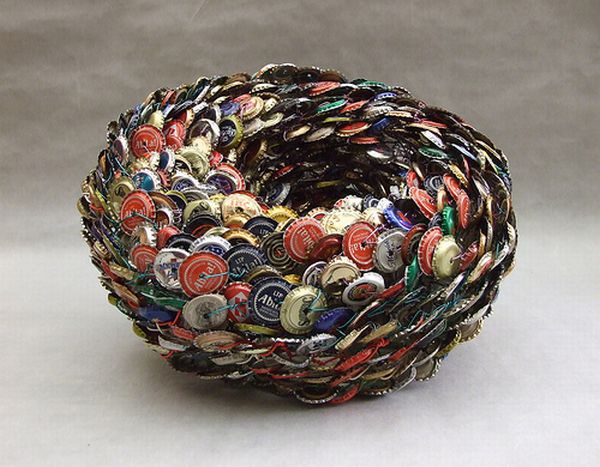 Yoav Kotik, an Israeli designer makes use of metal bottle caps to make stunning chandeliers, jewelry, sculpture as well as other fanciful goodies. Just by bending, cutting, folding, and pressing the designer makes beautiful things out of these caps.
6. Bottle cap tripods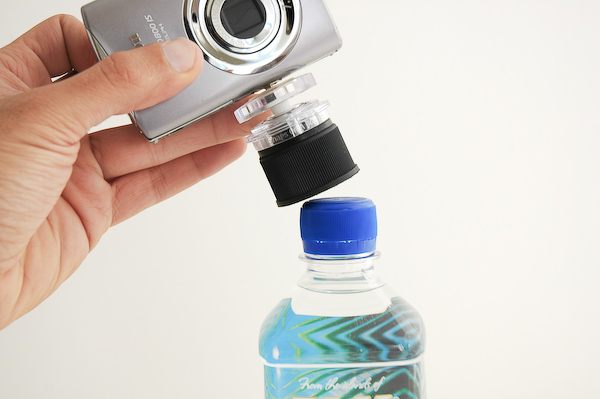 Finally this creation will help you Screw Your Digital Camera to a Bottle. You all must have always wished to balance your camera on a bottle. Well you can now do that without having to worry about your camera falling on the ground. The bottle cap tripod easily fits bottles that have diameters around 28.5 to 30.5 mm. It costs around $19.95 and is ideal for taking self portraits as well as for taking night shots.
7. Cute Eco Jewelry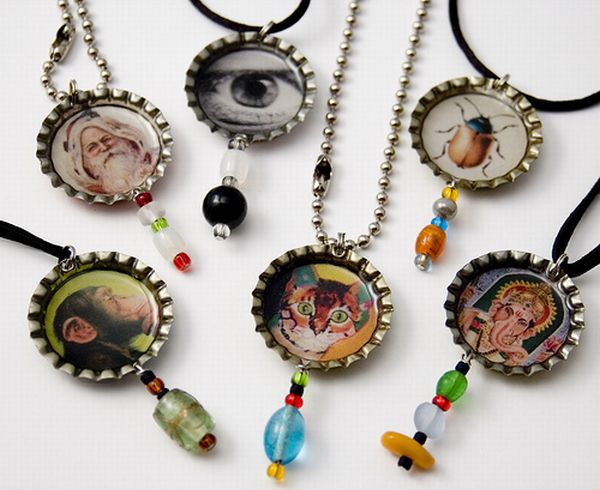 Recycling is always on the go, but these days creative recycling has more demand. Creative artist Christine Esposito has used her creativity to recycling things to make cute jewelry items for kids. Aren't they too cute?
8. Bottle cap portraits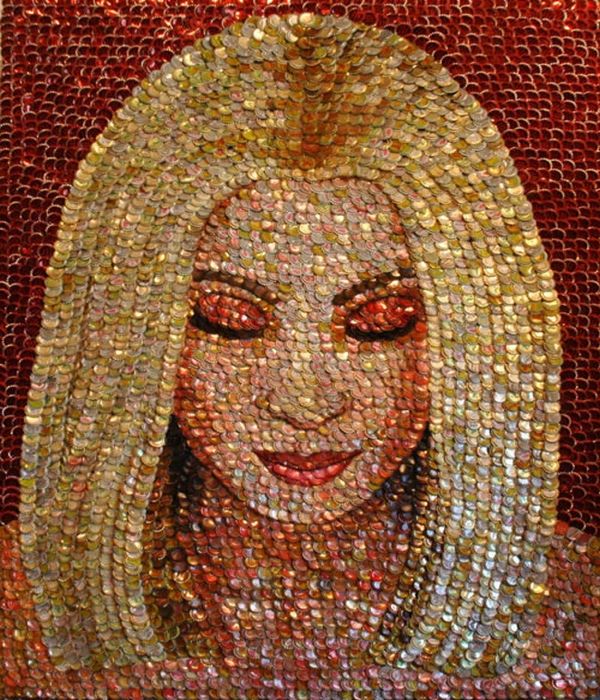 You can also make portraits out of bottle caps. Yes you just need to bring out your creativity to make new portraits of persons you like or admire. Here is one such creation of Mr. Abraham Lincoln by Molly B. Right. The artist has also made portrait of Dutch master Johannes Vermeer's Girl as well as Billie Holliday, an iconic Jazz singer among others.
9. Bottle cap lamps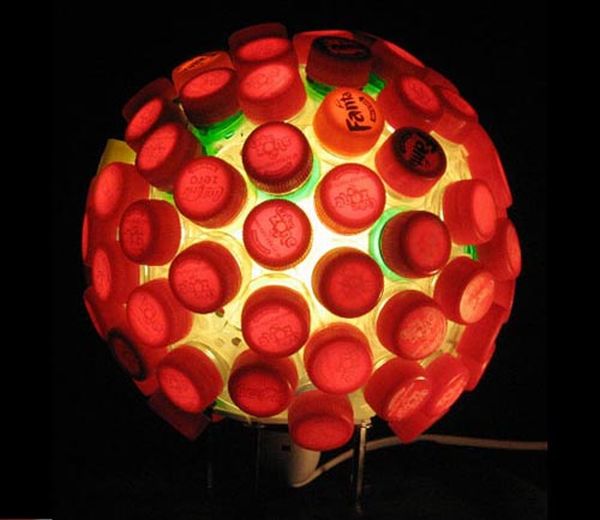 Luladot's The Captivate light reuses plastic bottle tops as well as caps for ambient lighting. By making use of different colored bottle caps it enables users to change the color and pattern of the light. These lamps encourage plastic bottle recycling. These lamps come with approximately 50 caps, but you might need more to cover it. So instead of chucking out the caps into the landfill put them to some use.
10. Reindeer Masquerades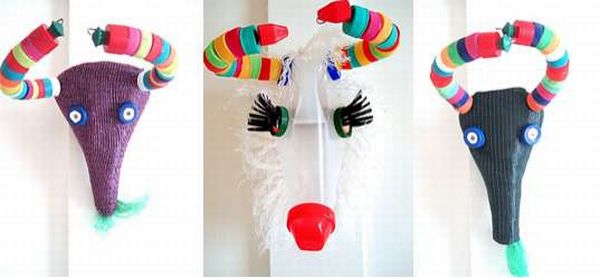 This a very interesting DIY craft project that you can make on your own during holidays. Just take some idea from these KEAG masks made from recycled plastic and make your own design with your own creativity. These reindeer-like multi-colored crafts feature horns are made using unrecyclable bottle caps as well as snouts from the plastic jugs' handles and bike seats.
How to use beer bottle caps in an eco-friendly manner?
As there are alarming concerns regarding the degradation of environment, efforts are being taken by responsible citizens for combating the problem. While governments and companies have been doing their bit by implementing eco-friendly and practices, it is important to understand that individuals can also contribute by ensuring that each step taken doesn't have any negative impact on the ecosystem. One important aspect in this case would be to stop the wastage of non-degradable materials and recycling of such entities.
Beer Bottle Caps are mostly made of Steel and are hence recyclable. Some caps are also made out of tin. However, recycling at individual level is to prevent the wastage and also ensure that you try and make 'best out of waste'. We shall see some methods by which we can recycle and reuse beer bottle caps.
Beautiful wall clock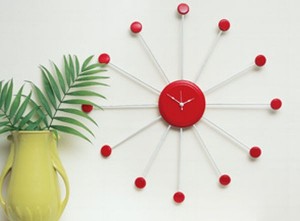 Many people want to go for a wall clock design that can look attractive as well as innovative. Not only does it attract the attention of the guests, but it can be done in an eco-friendly manner. For example, you can make a hub and spoke model wherein you stick the clock on the hub which is made out of a bigger beer bottle cap. The spokes will be present as the hands of the clock wherein the terminals will be capped with beer bottle caps, giving it an extremely pleasing ultimate look.
Curtains
You can make a fly curtain by inserting a series of beer bottle caps. The process of making a fly curtain will remain the same; you just need to put together the beer bottle caps in the required design. Do note that you can display some amazing creativity with this design idea and color addition will only serve to enhance the attractiveness of these fly curtains. However, it can be extremely taxing to make these fly curtains using beer bottle caps.
Wall tile design
Many households have a particular fascination for beer and what better than using beer bottle caps as wallpapers on the wall tiles? Moreover, you can sport various different types of beer caps to show off your collection. This is an extremely innovative way by which you can add creativity to your home décor and also be eco-friendly in the same breath.
Summary
Recycling is an important part of our lives. Instead of throwing things away, reuse it. It saves a lot of money and helps save environment. So recycle unused things at home and promote recycling.The plastic bottle caps are not just a junk, and you can make some fabulous crafts out of them. All you need is a creative mind and a good collection of plastic bottle caps to make super cool crafts.Beer bottle caps can be used in multiple different ways in addition to the ways mentioned above. It is dependent on the user as to how they wish to make use of them. Innovation and creativity is the key in this aspect.