Cars, bikes, trains and other vehicles contribute to nearly a quarter of the total greenhouse gas emissions in the world. This has prompted many companies to come forward with electric and hybrid vehicles that reduce emissions while allowing commuters to travel around cities without any hindrances.
The Unique Concept of Moveo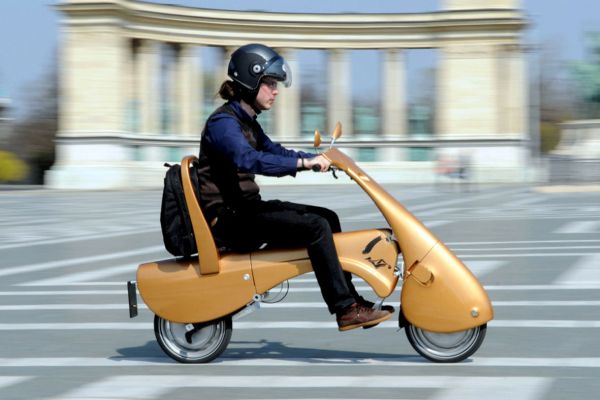 Moveo belongs to that category of electric vehicles that can offer a safe transportation option in congested cities with ease. Manufactured by the non-profit organization Antro Nonprofit Ltd. Which has given us the likes of the Solo multi hybrid drive concept car, Moveo was launched at the Paris Motor show in 2008 and went on to bag a place in the list of '50 Best Innovations' published by the Times Magazine.
However, there is more to the eco-friendly vehicle than meets the eye. For instance, the Moveo does not resemble your normal electric scooter. In fact, it looks like a traditional fuel powered electric scooter, complete with a leather seat for ultra-comfort while driving. But wait! There's more you will want to know about this one of a kind electric scooter that can very well be the perfect solution for daily morning office commute issues.
Salient Features of the Moveo
Here are some of the salient features of the Moveo that will inspire many to own and ride it.
Moveo is the only electric scooter of its kind to feature a rather unique foldable design. After reaching your destination, you need just 2 minutes to fold the scooter up to a luggage the size of a suitcase. The wheels remain at the bottom of the suitcase while an integrated handle allows you to pull the scooter along behind you as walk.
This foldability makes the Moveo a great option for cities which are synonymous with traffic jams and congested parking spots. Imagine, you never need to hunt around for a parking spot again or fight for one with another commuter. Simply fold up Moveo and take it along with you wherever you go.
The compact size of the folded scooter also makes it easier for you to fit it into elevators, balconies, car trunks, camper vans, motor homes and even yachts. It can also easily move on cyclist, bus and even restricted lanes with no hindrances. The closed design of the scooter when folded also helps you stay safe from any dirt or grub that may have caught on to the vehicle on the way.
Lightweight Design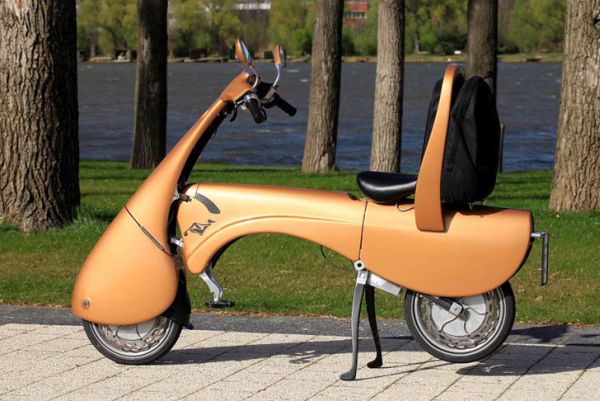 The Moveo features a lightweight design that makes it very easy to handle the vehicle. It comes with a monocoque body made of carbon composite fiber as well as advanced components to achieve a maximum weight of only 25 kilograms. In fact, the Moveo happens to enjoy the tag of being the lightest vehicle in its respective category.
Extremely Low Running and Maintenance Costs
When you look for an electric vehicle, you will want one that comes with a low maintenance and running costs tag. The Moveo features minimal to no drive train losses while on the road. This is due to its light weight and the use of in wheel motors fitted in both wheels. This means the scooter consumes very little energy for operation, making it one of the very few electric scooters that can let you ride for at least 22 miles without worrying about recharging the battery. The removable battery can also be charged at your home or workplace and needs just a standard power outlet for the same purpose.
Other Features
The other features of the Moveo include an adjustable leather seat which can be adjusted horizontally for maximum comfort while driving, and low consumption LED light fixtures for enhanced visibility on dark roads.
The Moveo is a unique and innovative electric scooter that comes with several impressive features. In addition to being light weight, the scooter features a foldable option and a low maintenance operation which makes it the best choice for commuting in congested cities.