We live in a world where we place a high value in eating healthy. The price too ought to be a good value for money and a penny saved is a penny earned. But it is not as easy as it sounds to have both the right product and at a pocket friendly budget. Or is it?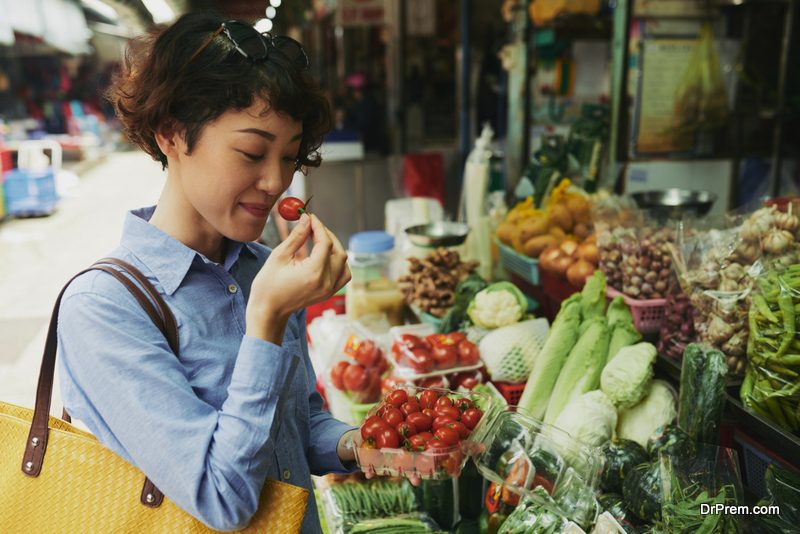 We bring to you a smart and healthy yet economical route to your diet in this article where we will be giving you some tips on buying local food on a budget. This can serve as a beginner's guide for you and can help you get into a healthy lifestyle without having to worry about the extra money spent.
Tips to buying local food on a budget
Shop at the farmer's market:This will help you stay clear of the middlemen and corporate giants who would tamper with the food and affect its nutritional value. Here you are buying from the direct source. Not only would you get the fresh seasonal fruit and vegetables as options to add to your cart, the price too would be the cheapest that you can lay your hand upon.
Scan the markets thoroughly: Even in the best of farmer's markets there are some with the better products or the rare products. Identify them, take your time and get new ideas on how to prepare the best of food with the best of resources.
Buy from the local grocery: Often time does not permit the visit to the farmer's markets and yet you can be buying local food on a budget by buying from the local grocer. Just check with his authenticity and the kind of products on offer and once you are sure, this can be the easier way to get the freshest of produce without having to take the trouble of going to the farmer's markets.
Eat at eateries that support local food: In today's era of information readily available it is not difficult to find such a restaurant. Not only will you be getting the freshest of food, chances are that the prices on these food items too would be easy on your pockets.
Processed food must be avoided: The health issues cause by the use of processed food is no secret. So when you have health and environmental benefits from the local food consumption we suggest you stop on this unhealthy habit of eating processed and frozen food products.
Eat the full vegetables: You may know all about how to buy the best vegetables but still may be unaware that some parts that you discard are actually edible. The vegetable parts like a radish or a beet top must never be thrown away and you can easily use them in soups for a better flavor and also a better nutritional value.
Cook at home:
As a part of the beginner's guide we must tell you that while the fresh products are great to purchase it is even better if you combine this practice with the consumption of home cooked food. Not only does it save you a lot of money, it also allows you the freedom to cook according to your whims and fancies, keeping your health in mind.
Store the food purchased properly: While buying local food on a budget it is very important to remember that the foods have no added preservatives. This means that the onus is on you to ensure that the food products are stored in appropriate conditions and there is no trouble of rotten food in your kitchen.
Ask for the seconds: Local food produced might not catch your fancy in terms of looks. There may be visible lumps and bumps on the fruits and vegetables because their growth is not regulated and is completely natural. Instead of completely avoiding such items, buy them at a cheaper price and save on money. They are no less nutritional than their fancier looking counterparts.
Learn the art of cooking the cheaper cuts of meat: While buying local food on a budget the meat products and meat cuts often end up being expensive. But that is because you opt for the traditional popular cuts of the meat known to make a tasty meal. However there are many cheaper cuts which offer the same taste or in some cases even better taste. Just learn the best way to cook those cuts from the person you procure your meat from and enjoy a cheap and healthy meal.
Buy in bulk: While you are buying local food on a budget try buying in bulk as it saves both money and your regular commute to the markets. You can always freeze your products once you have purchased so there is no real need to purchase everything in moderation.
Use local condiments: If you avoid the big brand while picking your jams sauces and other such condiments you would make a significant saving. You would also find out that the locally made substitutes are no less tasty and are also freshly made for a healthier you.
Start a garden:
While we are talking of buying local food on a budget, how about you start with your very own garden. That way you can produce a lot of the fruits and vegetables that you consume and also can be absolutely sure of the fine quality of your naturally grown products.
Purchase seasonal goods: For the best buy, always opt for the fruits and vegetables that are fresh in season. Your health would receive a significant boost if you adopt such practices.
Final words
While buying locally grown food you would not only be eating healthy and doing good to your body but also be benefitting the environment. Also apart from the environmental benefits you would benefit the local farmers and also stay away from all the processed and packaged products that are not healthy for your body. Now that you know how to buy and what to buy we hope that you are going to try these out soon and change the lifestyle for the better.