People of all ages like to spend time in gardens. This love towards green gardens evolved since childhood and grows as the time pass by. And, if you also love to visit lush green gardens then you must visit the Rock Garden situated in Chandigarh. This wondrous garden is also named as Nek Chand's Rock Garden. It was his unique devotion that gave us a new definition of a garden. He dedicated his spare time to make this historic & memorable masterpieces.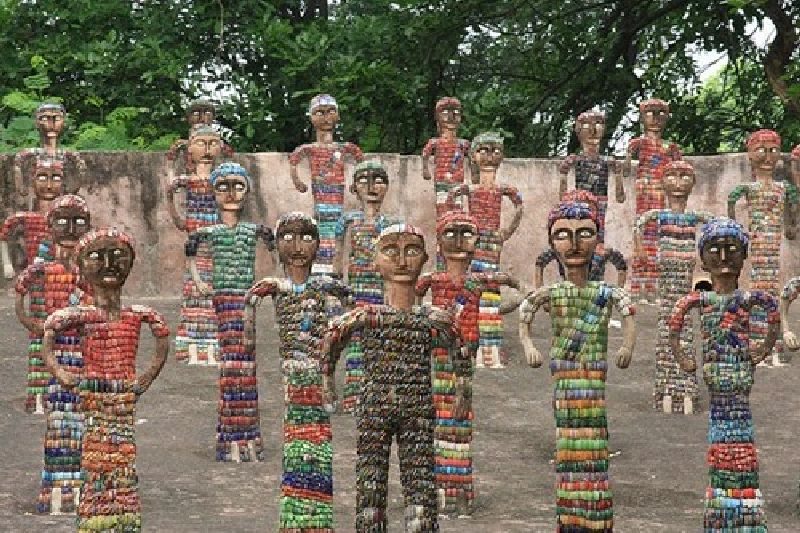 Image Source : viola.bz
We've gathered some interesting fact about Rock Garden that you must know:
The Secret Discovery:The Rock Garden a unique sanctuary of sculptures strategically located in the city beautiful Chandigarh-an illustrious city of Northern India. This beautiful creation is known by Nek Chand's Rock garden as he secretly discovered this project in his spare time in 1957. He struggled for many years around the Shivalik foothills and collected rocks, stones resembling animals, human, birds and living creature forms as well as he collected industrialized scraps, waste materials on his way. There was a land conspiracy aroused when Nek Chand started working on this project but by good luck, the government authorities approved this garden and it was officially launched in 1976 as a public place. Nek Chand was rewarded for his dedication, he was appointed as Sub-Divisional Engineer of Rock Garden and with a team of 50 laborers to help him during construction of Rock Garden.
Rock Garden's Architecture:This marvelous garden has an admirable design. The entryway door leads you to an ambiance of Indian tradition and rare delicacy. The visitors need to pass through various aesthetic grandeurs like vestibules, passage, and lanes. It has an open Amphitheatre with suitable sitting provisions with a big midway stage. Traditional events and dance performances give an awful delight to visitors. The green festival 'Teej' concludes entire attention for the Rock garden. The whole garden decorates with a complete traditional festive look and fascinates a number of visitors. You can visit Rock Garden on any evening you want because the weather in Chandigarh remains enjoyable during all seasons.
A Kingdom of Waste:
Image Source : media2.intoday.inNek Chand fulfilled his vision to make marvelous kingdom with the help of government. The time you step into this beautiful kingdom, a narrow passageway welcomes you by discovering environs of mankind in the existence of aristocracy. The magnificent entrance leads to a wonderful kingdom that includes 14 distinctive chambers i.e., an elevated poet's chamber, an entertainer's chamber, the prime court with an emperor cathedra and depictions of lords and idols etc. in the entire garden you will see the sculptures formed by the combination of industrial, household and natural waste materials. Nek Chand recycled forge lime-kiln and alloy factory scraps and gracefully carved them into beautiful sculptures of creatures, humans and philosophical structures. Rest of the sculptures were formed with discarded items like old frames, broken bangles, burnt slabs and so on.
Preserving the Vision: As per now, Rock Garden is spread across an area of more than 40 acres and extends to be a miraculous dynasty ultimately formed with the mixture of natural things like rocks, marbles & stones, and industrial waste. Its presence and endured efforts for continuity highlight the flexibility of the civilized vigor and its unbelievable endowment to remodel usual scraps into individual remarkable and divine. Though its ancient implication and global support, Rock Garden's Future last The Garden supporters and founders should continue to preserve Nek Chand's Vision of the Marvelous Kingdom and should ensure that this beautiful garden will prosper in the future too.