The bedroom is the place which you can decorate with complete freedom. It's where you can relax and unwind, but doing this in an eco-friendly manner will benefit both you and the environment. Every single element of your bedroom could adhere to your green lifestyle. Your green bedroom could be just what you need, after a long day at work, to know that you made choices for the benefit of nature and you. Here are some eco-friendly bedroom ideas thatmight help you transform your bedroom.
14 Eco-friendly bedroom ideas
 1. Choose nontoxic paint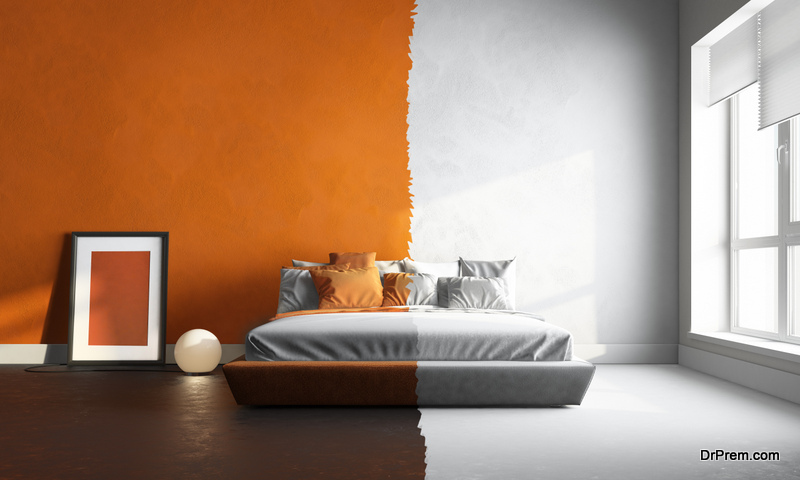 Mostly, it's the paint which is by far the most toxic thing lurking in your bedroom. Regular paint is overloaded with dangerous chemicals which damage the environment and might cause allergies, respiratory illness and other problems. There have been many studies centered around the VOCs or volatile organic compounds which are present in conventional paint, linking them to diseases such as cancer.
For your environmentally friendlybedroom, choose plant based/natural paint or non-toxic paint. These paints do not release VOCs. Taupe and lavender are soothing colors to help you relax.
2. Choose eco-friendly furniture
While furnishing your bedroom, choose furniture made of recycled wood or reclaimed wood furniture. The beds, dresses, nightstands, chairs etc. can be recycled or second-hand. You might find beautiful vintage pieces of furniture in vintage furniture shops. The older or used furniture is non-toxic as the toxic finishes have already been offgassed. Besides, buying used sustainable bedroom furniture is cheaper too.
3. Organic or latex bedding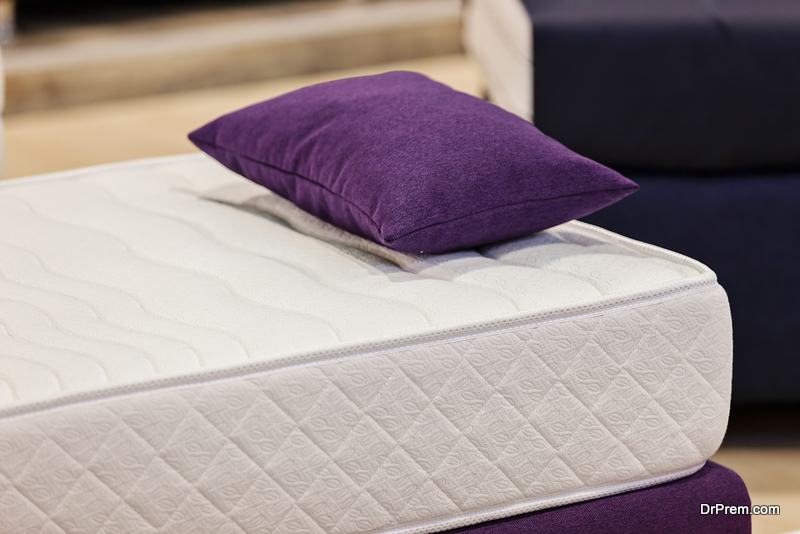 The perfect mattress is one which is so comfortable that you fall asleep immediately. However, the conventional mattresses have some quite undesirable materials included in them. Such as flame retardants, which are obviously not good for the health of the environment or for you.
Go for environmentally friendlymattresses made out of organic cotton, hemp, wool or natural latex. Bamboo mattresses are a good option too, as bamboo is a sustainable material and many products are being made out of bamboo these days.
If you already have regular mattress which you do not want to dispose of just yet, then your best option is mattress cover. There are mattress covers made from food-grade polyethylene that are superior to the PVC included covers.
The mattress which is very popular these days is the memory foam mattress. These mattresses are treated with the flame retardants which also contains VOCs causing health problems. So be a little judicious when buying your mattress. Better to buy sustainable bedroom furniture as well as mattress such as natural latex which also conforms to the body shape, rather than memory foam. Or choose plant-based memory foam mattresses, made from organic cotton, or wool.
There might be local farms nearby that sell spun yarn or unprocessed fiber to use as bedding.
4. Avoid all suede and leather items
In the process of converting your bedroom into a natural, eco-friendly one, you have to avoid suede and leather items. These products are manufactured using several chemical processes in order for them to lose their natural odors, texture and so on. So, think twice before buying the leather or suede throw pillows which look so good. You would find vegan alternatives for these pillows from online or offline vegan stores.
5. Hardwood floors, area rugs are preferable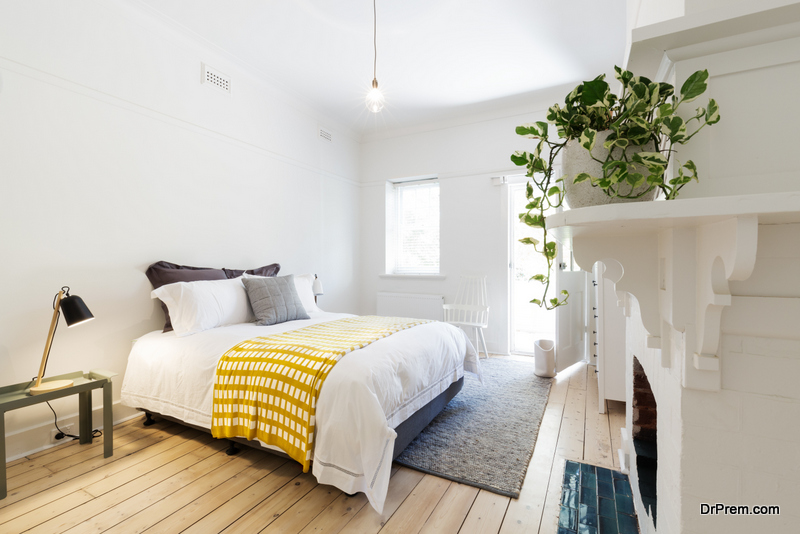 Though it is nice to walk around on wall-to wall carpets, the kind of carpets matter too, as the conventional carpets have carcinogens which have the potential to be absorbed into the blood stream through the skin. The traditional carpeting is harder to clean too. Tons of dust, microbes, insects and irritants can be lodged in the carpet leading to aggravation of allergies.
Floors which are made from wood like bamboo or hardwood is a better choice. Lay down area rugs made in an organic, eco-friendly manner. These rugs can be shaken out, vacuumed and put out in the sun to get rid of microbes and dust. Carpets which have been awarded Green Label by Carpet and Rug Institute or carpets similar to these, are ideal for a green bedroom.
Avoid carpets which are made using benzene, p-Dichlorobenzene, 4-PC, formaldehyde and xylene as these chemicals will be released overtime in your home. Stain resistance, microbial treatments and fire retardants sound desirable, but these are also chemical treatments which you should stay away from.
Having a natural floor and area rugs are part of thenatural bedroom décor that you should embrace.
6. Cover the windows wisely
Thick coverings on the windows are a simple way to retain the heat in winter and keep the heat out in summer. Curtains with thick lining material or blinds will act as natural insulation that will cut down the cost of heating as well as cooling. Save a lot of energy and save money also.
7. Keep a house plant on your nightstand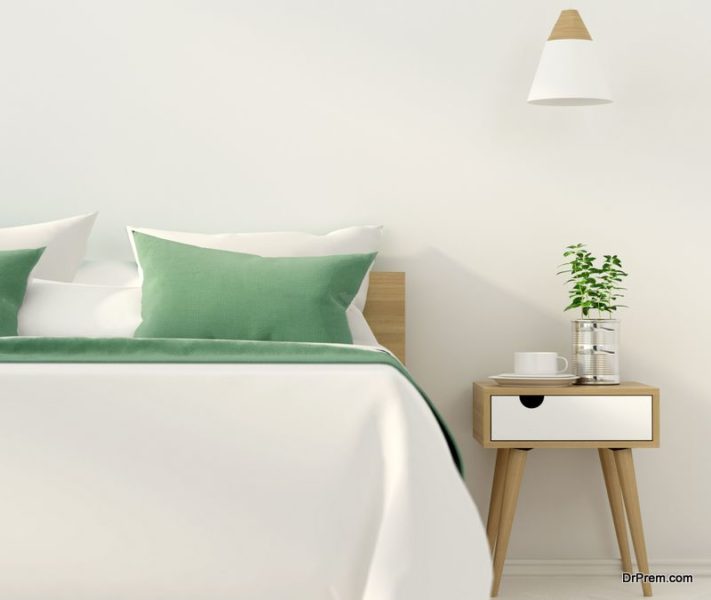 It's a well-known fact that plants purify the air and many experts recommend including a few plants within the home to purify the air. A house plant like peace lily on your dresser or nightstand would look charming and clean the air in your bedroom. Keep some flower pots on the windowsill or some fresh cut flowers in a vase. Looking at the beauty of the flowers and the plants will bring peace to you instantly, and fulfils the requirements of natural bedroom décor.
8. Buy eco-friendly bulbs
Regular bulbs are quite energy consuming. Instead of these bulbs, buy eco-friendly bulbs such as LED bulbs which consume much less energy and last longer also. All the lights in your bedroom, from ceiling light, wall lights and nightstand light bulb could be LEDs. Besides this, let your bedroom be flooded with natural light. It will do wonders for your mood and it's for free!
A word of caution – CFL lights also consume less electricity than conventional light bulbs, but they have been found to emit UVA as well as UVC rays. To prevent the exposure to these dangerous rays, choose LED lights or conventional lights (if you cannot get hold of incandescent lights). To save electricity, always remember to turn the lights and fans off when you're not in the room.
9. Declutter regularly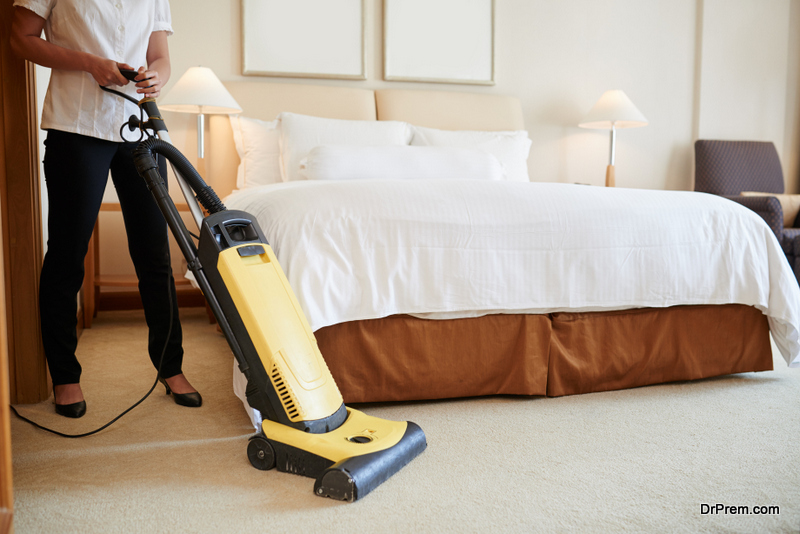 One of the easiest ways to transform your bedroom into a relaxing space is to keep the cutter under control. Make sure that the paper stacks do not accumulate on the nightstand or laundry accumulate in a chair. A pretty, wicker basket for laundry looks good, and the room looks more organized. Donate all the used or unwanted clothing. Give away any excess bedding too, in case you don't have space to store. Homeless shelters would appreciate your used sheets, blankets and pillows that are still in good condition. Wash or dry-clean them before you give them away.
10. Rummage the vintage stores
Buying something new would create demand for those items and raw materials will continue to get used. Buying used, preloved items from garage sales or vintage stores will add beauty to your room, without any cost to the environment.
For your nightstand, get a charming vintage lamp. This lamp would light up your room at night and add charm to your room.
11. Reclaimed wooden nightstand/bookshelf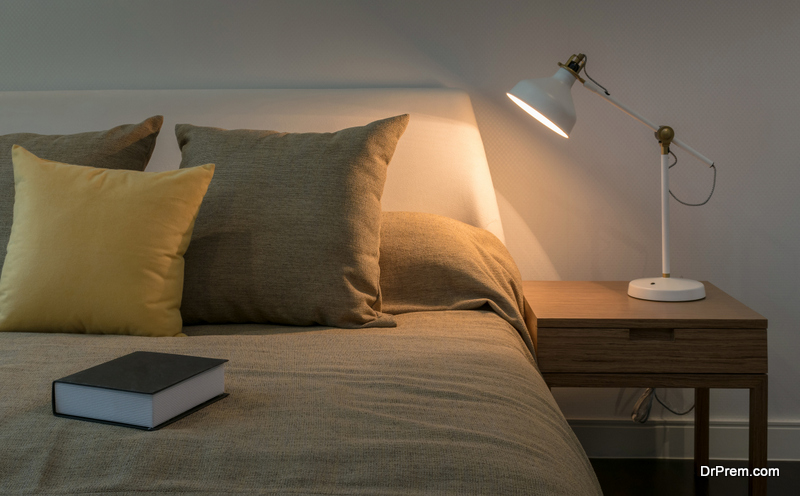 Your bed and other furniture in the room can be of recycled wood or reclaimed wood. There are very beautiful nightstands which look quite artistic, that you can DIY from reclaimed wood or buy it from sites which offer furniture items such as this.
If you're fond of reading books, then a bookshelf made out of reclaimed wood would be a good addition to the room. For a rustic vibe, install barnwood floating shelves to display knick knacks and other memorabilia.
12. Recycled paper décor
For the décor items in your room, check out recycled paper items. The handcrafted items add a personal touch to the room. For example, a vase from recycled paper, glass and plastic bottles will look great on the dresser or the nightstand.
13. Select green throws and blankets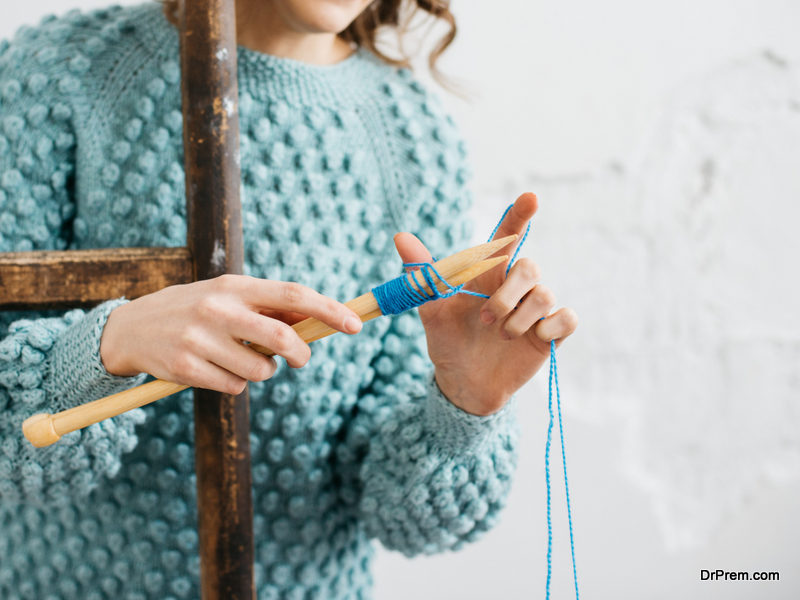 We've talked about green choice of mattresses already. For blankets and sheets, too choose ones which are made of organic flannel. You might try taking up a new hobby of crocheting or knitting and make your very own quilt. Or join a group which makes quilts. It will be fun to meet like-minded people. Throw blankets made from organic or recycled materials are perfect.
Whatever your choice, the flame resistant, stain resistant, wrinkle free sheets are a no-no, as they are chemically treated.
14. Water powered clock
Batteries are just as bad for the environment as plastics. They are necessary evils that don't seem to have many alternatives. But with advances in environmental technology, people are coming up with innovative solutions to replace batteries in the simplest to the most complex devices. The water powered clock is one such invention from the company called Bedol. All you have to do is fill up the clock with tap water. A great initiative to reduce batteries from our lives.
The bedroom reflects your lifestyle choices. Decorate this space in sync with your green lifestyle, and maybe you could begin a green lifestyle by going green with your bedroom choices. Almost everything in your bedroom can be given an eco-friendly upgrade that would create a natural, relaxing and healthy atmosphere you would love to spend time in.